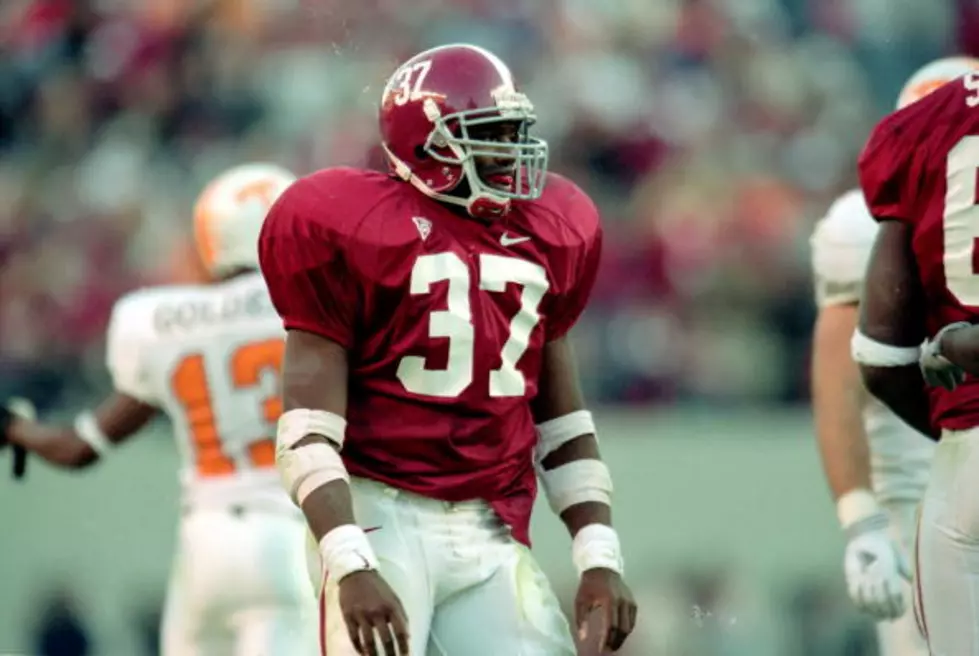 Shaun Alexander Happy to See Derrick Henry Break His Career Rushing Yards Record
Getty Images
GLENDALE, Ariz. – Of all the former Alabama players in Monday night's postgame locker room, Shaun Alexander may have been the proudest of all.
The Crimson Tide, of course, had just won another national championship – its fourth in seven seasons and its 16th claimed overall – but it was the current player who stood only a few feet away that seemed to get the best out of the former star running back.
During Alabama's 45-40 win over Clemson in the College Football Playoff National Championship, Derrick Henry passed Alexander's Alabama career rushing yards record, with the latter on hand witnessing it all from the team's sideline. When reporters surrounded Henry in Alabama's locker room after the win, Alexander was fielding questions of his own nearby.
Hearing everything he had to say about him, the 2015 Heisman Trophy winner finally had to cut him off for a moment.
"I've still got a lot of work to do, so don't talk about me too much," Henry said with a smile.
Alexander turned to respond.
"We ain't done yet," he said. "Just 'cause you got mine, now you got to get the next one at the next level."
Alexander, who played at Alabama from 1996-1999, rushed for 3,565 yards during his Crimson Tide career before moving onto have a successful eight-year NFL career with the Seattle Seahawks (and one with the Washington Redskins).
Alexander, the SEC Player of the Year in 1999 and NFL MVP in 2005, didn't know his record was in danger until he arrived at University of Phoenix Stadium for the game. Henry, who had already broken numerous school and SEC records before Monday, was 133 yards shy of passing Alexander's career total ahead of the Crimson Tide's title game matchup against the Tigers.
"I said, 'You need to break this in the first quarter so I don't cheer against you,'" said Alexander, jokingly. "No, but we know what this school does. We run the ball and we stop the run. So running backs are supposed to carry the torch to the next guy and do better than the one before me."
Henry ended up with 158 yards to go along with his three touchdowns in the win, setting the record on a 2-yard run in the third quarter – his 22nd rushing attempt of the game. The junior running back needed only 589 carries and three seasons to move past Alexander, who, in comparison, had 727 career carries in four seasons.
Henry, who will likely declare for the 2016 NFL Draft, now has 3,591 career rushing yards on 603 attempts. He rushed for an SEC-record 2,219 rushing yards during the 2015 season after totaling only 382 yards as a freshman and 990 as a sophomore.
Alexander was anything but bitter after seeing his record fall.
"It's awesome," Alexander said. "He's supposed to. I was telling everybody earlier, when you come to this university, your job is to carry the torch. Somebody will break Derrick's records or the ones that we're tied with and it's good. We want the next guy up to break all the records because that means we won again."
When Alexander took claim of the record in 1999, he moved past Bobby Humphrey, who was also present at the game. Humphrey, the father of redshirt freshman cornerback Marlon Humphrey, had 3,420 career rushing yards on 615 attempts in four seasons from 1985-88.
Mark Ingram, another renowned former Alabama running back who ranks sixth on the school's career rushing yards was also at the game and in the victorious postgame locker room. He served as the team's honorary captain during the game's opening coin toss.
"At the end of the day, it doesn't really matter," Alexander said about the record. "We want guys to keep on winning. … We want each one to win.
"Who knows what Bobby Humphrey would have done in this offense? Who knows what Derrick Henry would have done in the '80s? You don't know. So we don't care. We want to win national championships. We want to carry the torch well and then be able to pass the torch to the next guy and have him carry it well."
Alexander said he has a close relationship with Henry, describing him as his "little nephew" in the postgame locker room. The pair keep in regular contact through texting and phone calls.
"I love him to death," Alexander said. "I've been in his life since he's gotten here, encouraged him to be better, keep working hard and he's sweet. He's humble and hungry, and that's what we appreciate at this place, playing this position at this great university. The running backs are going to carry the load, and they're going to be humble and hungry."
And while breaking his record was fine, Alexander wasn't ready to place Henry ahead of him – or any other past Alabama running backs – on an unofficial list of the school's all-time best at their position.
"We're all tied for No. 1," said Alexander, still grinning. "That's what it is. That's why we're the best."
Watch postgame videos of Alexander below: