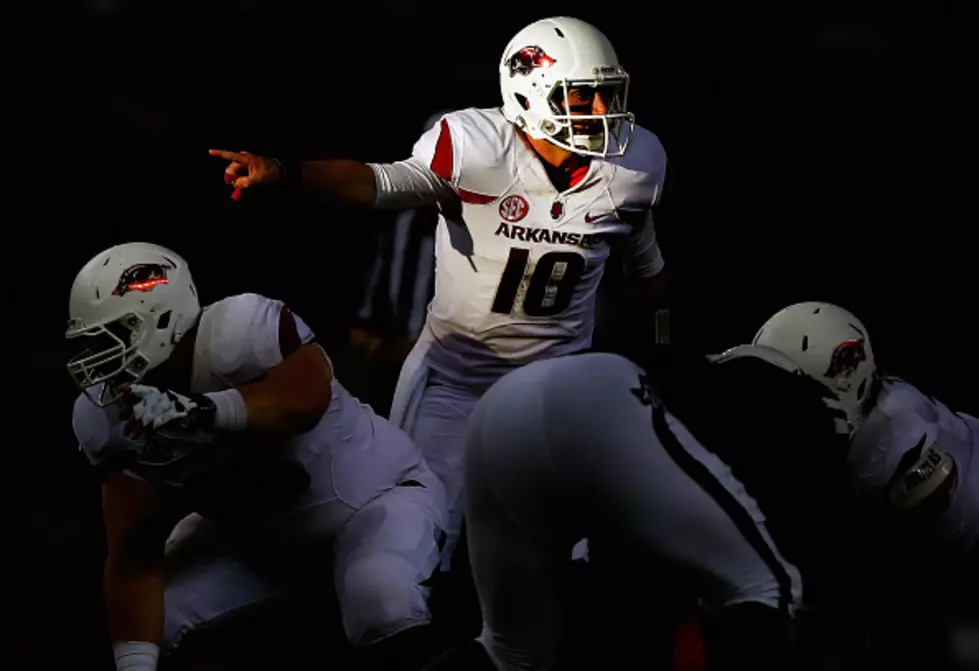 Staff Predictions for Alabama vs. Arkansas
Getty Images
After a tough loss on the road to Ole Miss, Alabama is looking to redeem itself against a much-improved Arkansas team. Bret Bielema is a coach the prides his success on the run and that is exactly what this Arkansas team will try to do against the Crimson Tide with a committee of running backs.
For Alabama, it will look to quiet those that are questioning the program. The Crimson Tide doesn't have much time or room to falter on the field. With every game being a must win, lets take a look at the Tide 99.1 experts for their take on this week's matchup.
Chris Stewart (Host of 'The Chris Stewart Show')
This one scares me - for a lot of reasons:
No. 1 - I think Arkansas is pretty good.
No. 2 - They've had a week to move past a tough loss, Alabama hasn't.
No. 3 - Back-to-back years of 52-0 losses to a team will get you fired up to play.
No. 4 - Back-to-back years of beating one by that score won't exactly motivate you.
No. 5 - Despite all the talk about this being the "type" of team that Alabama matches up well with, the Hogs are big, physical, and punishing. Not exactly the best thing in the world to face when you are beaten and battered following a game that featured not only a loss on the scoreboard, but three key ones on the roster.
That all being said, I think this Tide team will indeed respond well. Alabama 24, Arkansas 20
Ryan Fowler (Host of 'The Game')
Alabama needs to find a way to slow down a rushing attack that averages 316 yards per game. Alabama's defense only gives up only 64 yards per game so this part of the game is strength vs. strength. It'll be a great game within the game. Alabama finds a way to slow the Razorbacks rushing attack down enough to win.  Alabama 28, Arkansas 17
Ryan McMunn (Producer for 'The Chris Stewart Show' and 'The Game')
Well, tough loss for the Tide last week, but I think the pain of defeat ends this Saturday. Bret Bielema's Razorback squad is much improved from last year (although he STILL hasn't won a conference game), and they have the biggest offensive line in the country; not just college football, but NFL included. They love to run the ball, then run the ball, then run the ball a little more with all three of their stout running backs, so they rarely get tired come crunch time. Alabama has had success defending the run this year, coming in at #3 in rush defense, but they haven't seen a running game like the Hogs have. They'll run for over 150 yards on the Tide, but the lack of a passing game will haunt Arkansas, as Alabama will score almost at will against the 74th ranked total defense. Alabama 38, Arkansas 17
Trey Brooks (Producer)
Arkansas has improved more than any other SEC team, except maybe Kentucky. However, they run an offense that the Bama defense was built to stop.  Defensively, the hogs aren't quite there yet. Still, with this being the 2nd road game in a row for the Tide, anything can happen. Alabama 34, Arkansas 24
Kevin Connell (Contributor)
Starting with the second sentence of his post-game presser at Ole Miss last week, Nick Saban was already asking the media -- and his players indirectly -- how Alabama would respond in its next test in the gauntlet that is the SEC West.
The Arkansas Razorbacks have already proven to be a much improved team this season and now it gets to play at home against an Alabama team coming off a loss. But can they take advantage? They will, to an extent as it surely won't be a third straight 52-0 blowout, but Bret Bielema's team still isn't quite there yet to compete with Alabama for four quarters. Expect the Crimson Tide to answer Saban's call and bounce back in a pretty big way. Alabama 37, Arkansas 14
Benjamin George (Digital Managing Editor)
Everyone wants to know how Alabama will respond to its first loss of the season, but we might not get a complete answer until next week. Arkansas might be the worse team in the division, but that also makes them better than about 100 other FBS teams. Bret Bielema's team boasts the heaviest offensive line in any level of football and will try to pound the Tide's defense for four quarters. That will be a challenge against a stout Tide run defense. Ultimately, Alabama sets up well for this game and should prevail on the road. Alabama 38, Arkansas 24