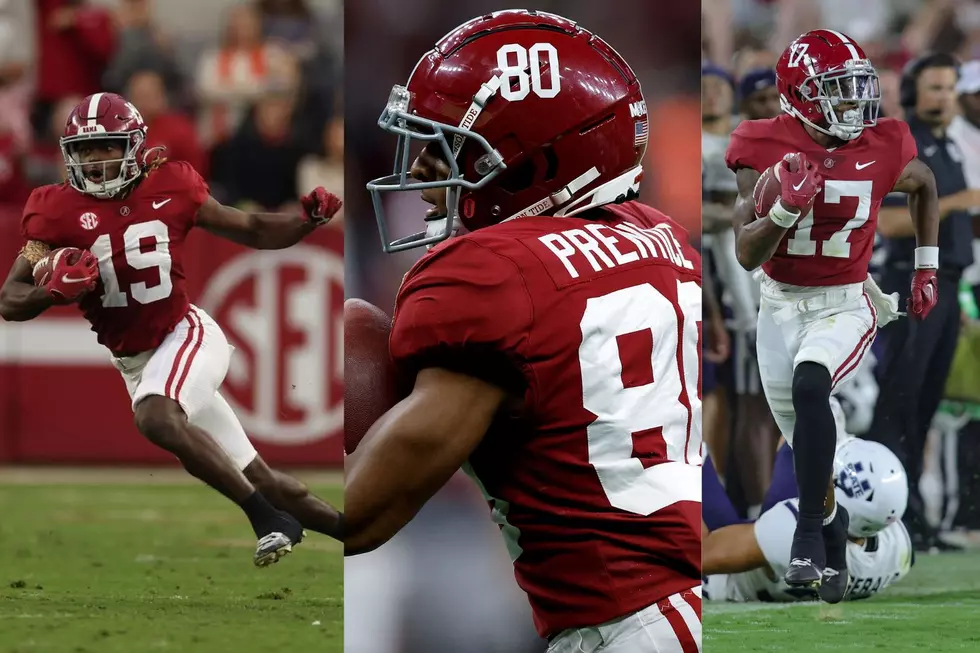 The Future of the Alabama Wide Receivers Looks Bright
Photo Courtesy of Crimson Tide Photos and Getty Images
In the Allstate Sugar Bowl, the Alabama Crimson Tide defeated the Kansas State Wildcats 45-20. Alabama, with this win, has won 11+ games for the 12th straight year. The key to beating the Big 12 champions in the Superdome was the freshman-wide receiving trifecta of Kobe Prentice, Kendrick Law, and Isaiah Bond.
The three wide receivers combined for only 53 yards but scored two of Bryce Young's five total touchdowns. The lead receiver of the trifecta was Prentice with only one catch. That one catch, though, was a 47-yard touchdown reception, where Prentice broke two tackles, and walked into the end zone for the Crimson Tide.
Prentice might have gotten the longest touchdown but Bond had the most crucial touchdown. Kansas State early in the game went up 10-0 after an 88-yard run by Deuce Vaughn and had all the momentum in the first quarter. In the final seconds of the opening quarter, Young found Bond in the back of the end zone to cut the Wildcats lead to three points.
The score was Bond's first of his promising collegiate career.
Law did not have a catch but was crucial on special teams. Coming into the Sugar Bowl, Kansas State averaged 24 yards a return on kickoff and punt returns. At Alabama, players typically have to prove themselves on special teams and that is exactly what Law did. He ended the game with two solo tackles on the kickoff that set the Wildcat offense up deep in their own zone.
Alabama is well known as an NFL factory for its receivers. Players like Julio Jones, Amari Cooper, Devonta Smith, Calvin Ridley, and Jaylen Waddle were all game-changers when they wore the crimson and white. If these three receivers can be game-changers at Alabama then their futures look bright in the pros.
Crimson Tide Class of 2023 Commits
A look at all Alabama commits from the class of 2023.
Alabama vs Auburn 2022