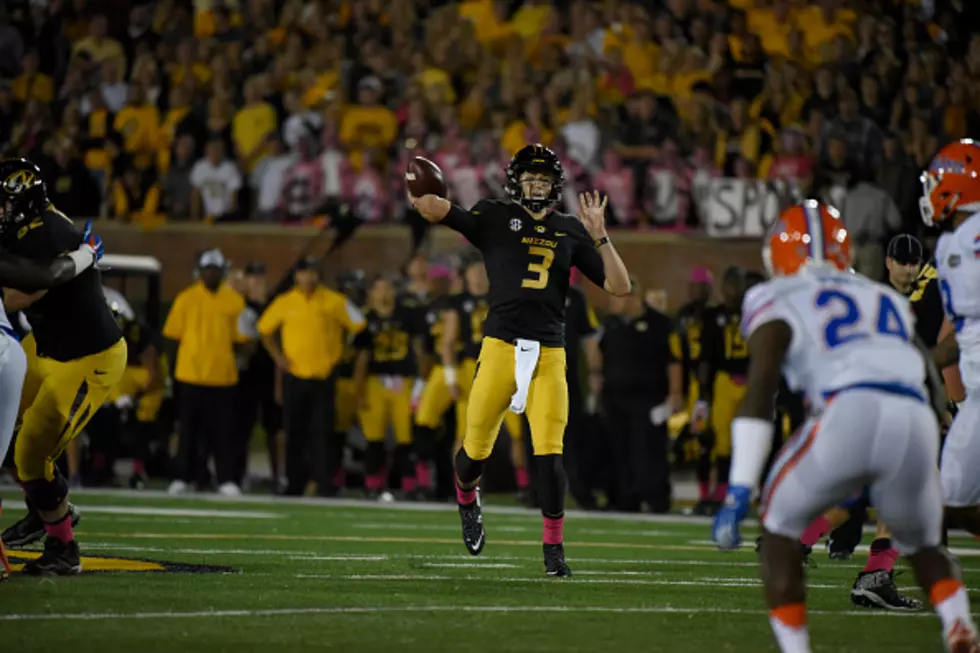 Three Things You Need to Know about Missouri
(Photo by Ed Zurga/Getty Images)
The Missouri Tigers roll into Tuscaloosa Saturday for a 6 PM contest inside Bryant- Denny Stadium.
The Tigers have dropped two in a row to Georgia and South Carolina after defeating UT-Martin, Wyoming and Purdue to open the season.
Alabama leads the all-time series 3-2 with two of their three wins over Missouri coming since 2012.
Prior to Saturday night's homecoming matchup, find out three things you need to know about the Missouri Tigers.
Maiden Voyage to Tuscaloosa
Saturday night marks Missouri's first ever game inside Bryant-Denny Stadium.
The Tigers did play the Crimson Tide inside Birmingham's Legion Field in a 20-7 victory to open the 1975 season.
Missouri and Alabama have played twice in Columbia, Missouri, along with single trips to Jacksonville, Florida, for the 1968 Gator Bowl and the 2014 SEC Championship Game in Atlanta.
For Missouri to have a chance against Alabama, their offense has to consistently move the sticks and punch the ball in the end zone.
Except for their 43-29 loss to Georgia, Missouri has scored at least 35 points in every game this season.
One of the big reasons for Missouri's 39 points per game average is their ability to move the sticks. Through five games, the Tigers rank fourth in the SEC with 139 first downs and have compiled at least 23 first downs in every game this season.
The increased amount of first downs along with a change in tempo has increased their average time of possession from 25:01 per game last season to 31:37 so far this season.
For any college football program, you find out how good a program is by looking at their performance against the best teams in the country.
Missouri will play their first game against a top ranked opponent since the 2014 SEC Championship Game against Alabama.
Coming into Saturday night, Missouri has gone 0-14 against top ranked teams in college football including losses to top ranked Alabama in 1978, 2012 and 2014.