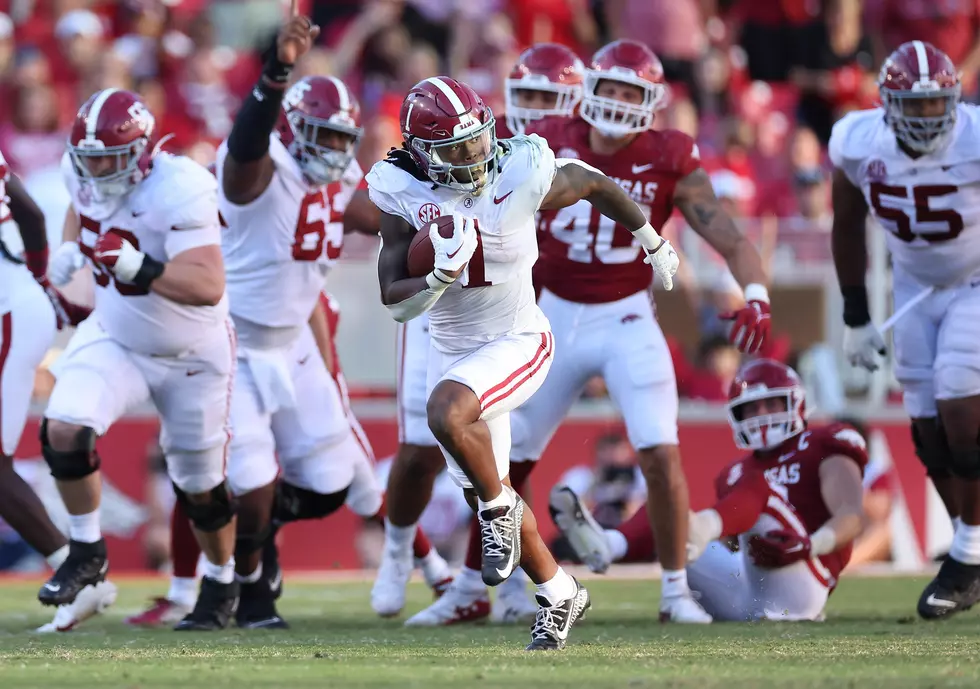 Tide 100.9 Score Predictions: Alabama vs Arkansas
Crimson Tide Photos / UA Athletics
It's homecoming weekend in Tuscaloosa! And that means an early, early matchup against the Arkansas Razorbacks.
Here are the score predictions from our Tide 100.9 show hosts and producers.
The Martin Houston Show
Martin Houston: Alabama 48 - Arkansas 13
Xavier Houston: Alabama 38 - Arkansas 13
"Jalen Milroe picks up where he left off of his Texas A&M performance. RB by committee right the ship after last weekend. The defense continues to show their dominance and make a long day for the Hogs."
- Xavier Houston
Inside the Locker Room
Wimp Sanderson: Alabama 28 - Arkansas 10
Barry Sanderson: Alabama 38 - Arkansas 17
The Gary Harris Show
Gary Harris: Alabama 35 - Arkansas 16
"I'm not picking against Alabama this week. The Tide will roll on Homecoming. "
The Millers' Edge
Christian Miller: Alabama 34 - Arkansas 10
Corey Miller: Alabama 37 - Arkansas 13
Big Noon Sports
Lars Anderson: Alabama 34 - Arkansas 17
Matt Coulter: Alabama 36 - Arkansas 17
"Another big day for Burton."
- Lars
"Tide establishes run and defense sets up a TD."
- Matt
The Game
Ryan Fowler: Alabama 35 - Arkansas 17
"Alabama is the better team."
Predictions from the Tide 100.9 Producers
Simon Besnoy: Alabama 45 - Arkansas 6
Justin Jones: Alabama 42 - Arkansas 10
Wyatt Fulton: Alabama 48 - Arkansas 14
Noah Haynes: Arkansas 20 - Alabama 14
"Milroe has clean game, running game picks up, defense stays dominant while the Tide pick up a hoco win."
- Simon
"Arkansas's a better team than they get credit for. Containing KJ Jefferson will be the key to defensive success."
- Wyatt
Hillcrest Dominated Central; Banks 3 TDs
Gallery Credit: ella-marie photography
Dallas County Hornets vs American Christian Academy Patriots
Gallery Credit: Photos Courtesy of JD Zasa