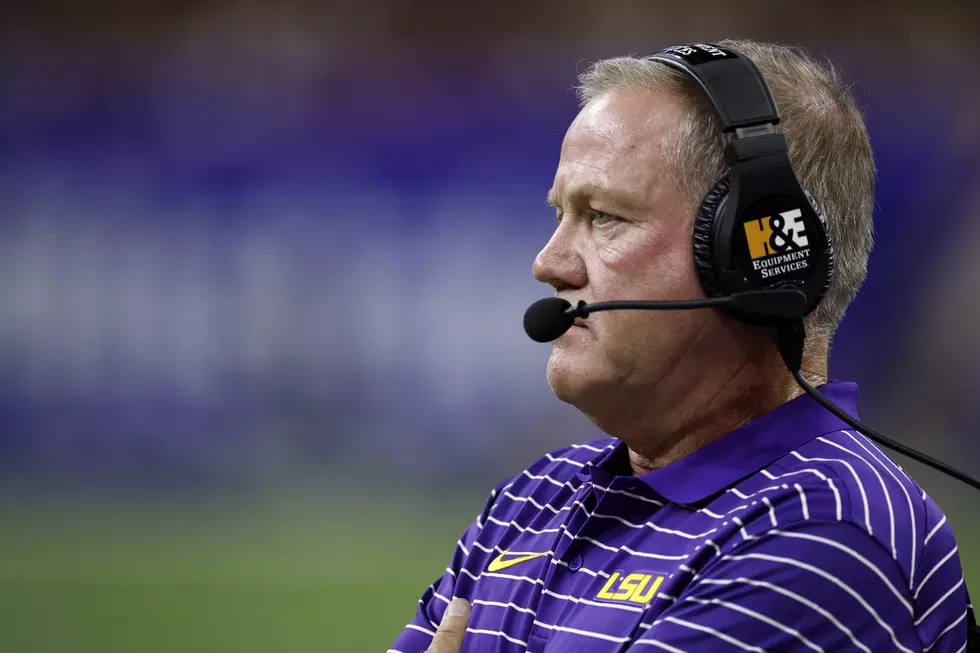 What LSU's Brian Kelly Said About the Bama Game
Getty Images
On the job done by Nick Saban re Balancing Staff/ Five-star Players 
"Coach Saban and his staff, (Alabama offensive coordinator Tommy Rees), should be commended for what they've been able to accomplish offensively since early in the season. Obviously committed to (Jalen Milroe). He's really done a nice job throwing the football. I think a lot of people were questioning his ability to throw it, but he's been effective and efficient with big plays.
"Certainly, (Isaiah Bond) and (Jermaine Burton) at the wide receiver position have given them playmakers. They are physical up front. I think they're massive on the offensive line. (Roydell Williams) and (Jace McClellan) at the running back position. And, of course, their defense has been as good if not better than anybody consistently over the last six weeks by giving up 21 points or fewer (each game).
"(Dallas Turner) and (Caleb Downs) and (Terrion Arnold), there's a number of players, and their defensive line is stout and physical. Outstanding in special teams. So, again, we know what we're up against. Outstanding football team on the road, playing at Alabama, and a great challenge and a great opportunity for us at the same time. So, we'll practice today and get an opportunity to begin the preparation for an outstanding football team."
On the Growth of Jalen Milroe
"I think at first there was this sense that he was just going to run all over the place, right? This is going to be a running quarterback, but he's not. I mean, he'll run, and he can go from 0 to 60 as well as anybody, and he is a threat to run. There's no doubt about that.
"But he's going to stay in the pocket, he's going to throw the football. And the way they create offense is through a balance of running the football, formations so you can get some shots down the field. And he throws the ball well. I mean, he throws the ball well. And he can hit the open targets, he can push the ball down the field.
"I think what he's done really well is when he's been given the opportunity to take shots down the field, he's hooked up. He hasn't missed receivers. When they've created the opportunities, he's come through for them. And I think that that's been impressive."
On Kevin Steele The Bama Defense
"Well coached, stingy. Kevin Steele and his staff do a great job. You know, again, as I said, I think that there's not a lot of air in that defense. You're going to have to be on top of things. We're going to have to be very balanced. You can't just want to throw it all over the place or think that you're going to go in there and move the line of scrimmage. They're big and physical up front. The linebacker play is outstanding, as I mentioned earlier. I think Turner, (Chris Braswell) on the edge, they're long and athletic. Look, they're both 6 '3″, 6 '4", 240 pounds, and they create problems in the pass rush and certainly can run and hit. So, it's a really good football team. Again, as I said, I think it's the best defense in all three phases.
"And, look, it's the challenge that an offense like ours really is up for and will have to play their best. But that's what this is about, right, is you want to be your best when your best is needed and our offense will have to be at their best when their best is needed."
On His PlayersPrepping for Milroe
"They're elite players coming out of high school. I mean, they're elite players and now you're putting them in a position where they just have to be confident and trust their technique and trust what we've taught them. Now it's taking that trust and putting it in from preparation to performance and playing emotionally at a level which allows them to do their job, and I think we've been at it long enough now where these guys are ready to go.
 "They got no choice. These guys are ready to play. They are young and are inexperienced. I get it. They haven't played a lot of SEC games, but these guys are really good players and they'll get out there and they'll compete they'll compete for LSU."
SEE INSIDE Northport, Alabama's Most Expensive Custom Lake Home
Gallery Credit: Mary K
Tuscaloosa's Premiere Condo is in the Heart of Crimson Tide Land
Gallery Credit: Mary K