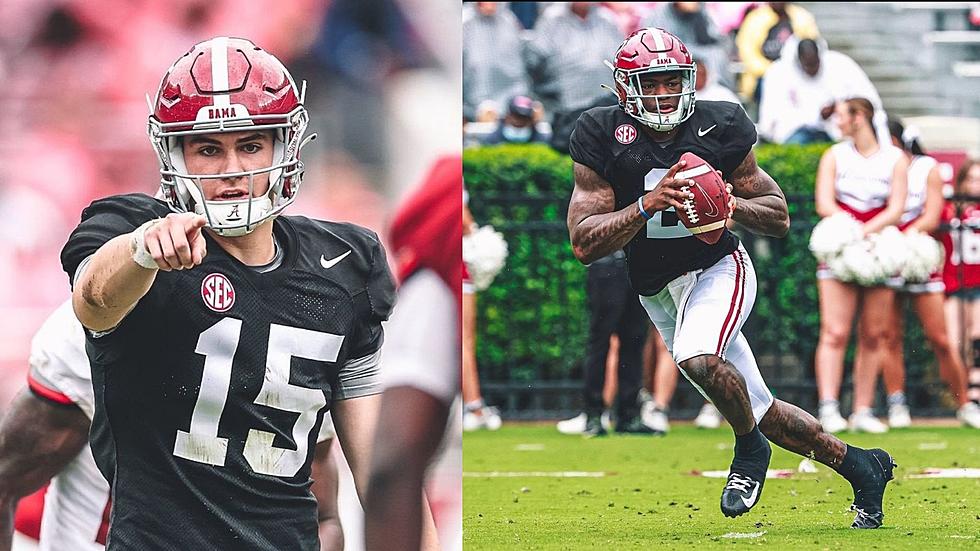 2023 Preseason Alabama Depth Chart Predictions (Offense)
Photo Courtesy of Ty Simpson and Jalen Milroe via Twitter
Alabama's home opener against Middle Tennessee is Sept. 2, which is 204 days away, but it is never too early to predict what the depth chart will look like this fall.
Quarterback
(R-Fr.) Ty Simpson
(Jr.) Jalen Milroe
(Fr.) Eli Holstein OR (Fr.) Dylan Lonergan
This starting quarterback battle will likely not be decided until after fall camp and both QB's have strengths and weakness. Milroe has more experience and more mobile, while Simpson's arm talent is highly regarded. Coach Saban and offensive coordinator Tommy Rees certainly have a talented pool of quarterbacks to choose from.
Running Back
(Sr.) Jase McClellan
(Sr.) Roydell Williams OR (So.) Jamarion Miller
(Fr.) Justice Haynes OR (Fr.) Richard Young
Alabama will have one of the most talented running back rooms in all of college football next year. McClellan headlines the room with the most starting experience, but Miller and Haynes possess the ability to possibly breakthrough the rotation.
Wide Receiver
(Sr.) Jermaine Burton , (Jr.) Jacorey Brooks, and (Jr.) Malik Benson.
(So.) Kendrick Law, (So.) Isaiah Bond, and (So.) Kobe Prentice
(R-Fr.) Shazz Preston, (Fr.) Jalen Hale, and (So.) Emmanuel Henderson
While Alabama doesn't have established elite receivers like a few years ago, there is certainly enough talent to produce future NFL wide receivers. Burton and Brooks finished last year strong and JUCO Malik Benson brings much needed game-changing speed. The sophomore group of Law, Bond, and Prentice will likely rotate often with the first unit.
Tight End
(Jr.) CJ Dippre
(Jr.) Robbie Ouzts
(Jr.) Miles Kitselman OR (So.) Amari Niblack
Dippre was a massive get for Alabama out of this years transfer portal, serving as the primary replacement for Cam Latu. Tommy Rees has a batch of tight ends to choose from this year with very unique sets of skills.
Offensive Line 
In order of: left tackle, left guard, center, right guard, right tackle
(Jr.) JC Latham, (Fr.) Kadyn Proctor, (Sr.) Seth McGlauglin, (So.) Tyler Booker, (R-Fr.) Elijah Pritchett
(R-So.) Jaeden Roberts, (Fr.) Olaus Alinen, (R-So.) James Brockermeyer, (R-So.) Terrence Ferguson II, (Fr.) Wilkin Formby
Latham and Booker are bound to play on Sundays in the next couple of years, while Proctor and Pritchett are very possible frontrunners to fill the vacancies left by Javion Cohen, Emil Ekiyor, and Tyler Steen.
Alabama vs Auburn 2022
Alabama vs Austin Peay
The Alabama Crimson Tide defeated the Austin Peay Governors by a score of 34-0 on Saturday November 19, 2022.
Alabama vs Mississippi State 2022