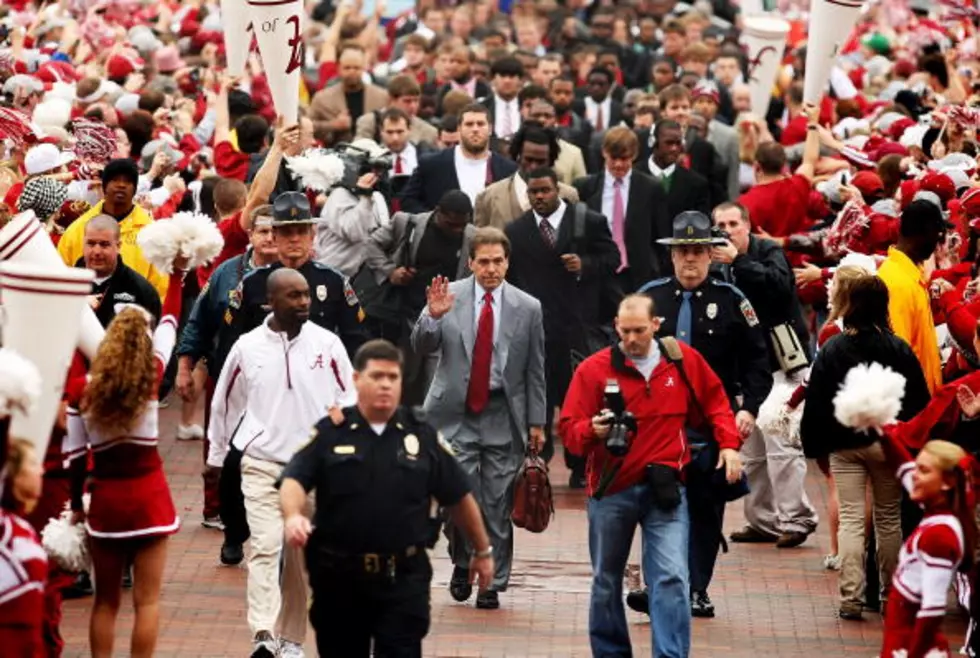 9 Reasons to Be Thankful for Nick Saban Coaching at Alabama
Getty Images
Even though we're all distracted with family obligations and Iron Bowl preparations, we felt it was a great time to take a few minutes to reflect on Nick Saban's nearly nine years at Alabama. 
With all of the coaching turnover happening right now and Saban's name inevitably being tied to most of those positions, it seems like a good opportunity to look at the impact he's made on Tuscaloosa. Quite frankly, many fans don't take enough time to step away and appreciate one of the most incredible runs in college football history.
As the majority of FBS teams have already closed the book on 2015, Alabama just won its 10th game for the eighth consecutive year. And despite what some people might argue, the dynasty is still alive and well.
As Thanksgiving arrives, we asked the staff and others around the office why Alabama fans should be mighty thankful that Nicholas Lou Saban Jr. is their head coach.
1

In the years following Bear Bryant, Alabama field a number of strong teams, but championships didn't come quite as often as fans had become accustomed to. After Bryant retired in 1982, the university won just three SEC championships and one national championship in 25 years.

Saban returned the program to prominence, winning three conference titles and three BCS championships in eight seasons.

2

Nick Saban's coined the term for the structure and strategy for building a winning program. But don't look at it strictly from a football perspective. It has as much or more application in life as it does in sports. We could learn a thing or two from 'the process'.

3

It's easy to point to the on-field accomplishments, but Saban and his wife, Mrs. Terry, have raised more than $5 million for deserving organizations through Nick's Kids. Having this charity in Alabama has provided our area with many opportunities and resources it wouldn't have otherwise.

4

Helping Grow the University

When Dr. Robert Witt took over as president of UA in 2003, he had an ambitious goal to grow the student body. At that time, there were fewer than 16,000 undergrads. His vision, combined with Saban's success and stature, created a perfect storm. Alabama has grown its student body to more than 30,000 undergrads while making the application process much more competitive.

5

Creating a Winning Culture in Tuscaloosa

There are many people that deserve credit for the Crimson Tide's recent athletic success, but no one has created a culture of winning like Saban. Not only has his work ethic and high standards carried over to every program at Alabama, but his football program has generated revenues in the nine figures. That money goes to support the entire athletic department.

Look at the results. Prior to his arrival, only football and gymnastics had won national championships. By 2014, Alabama had claimed eight titles across four sports in just a four year span.

6

Embracing Tradition while Moving Forward

One of the early "Sabanisms" you might remember upon his arrival dealt with the fact past success is no guarantee of future results. Some mistakenly took that to mean that he didn't care about Alabama's winning tradition, in light of what he inherited. To the contrary, he's actually upheld traditions of the past - and has even added to them.

What he has actually taught us is that you can embrace tradition...without wallowing in it.

7

This is another thing that can't be accomplished without multiple people, but there's no denying that Saban's success in Tuscaloosa has created a boom in the marketplace. The city is growing, housing is increasing, and businesses are coming to town.

8

It doesn't get talked about enough, but Saban and his football staff have put a big emphasis on academics for their players. From 2004-05, the football team's Academic Progress Rate (APR) improved every year through 2012. Alabama continues to have one of the nation's highest APR scores, and most recently finished second in the SEC.

9

We already mentioned that Alabama has won 10 or more games every year since 2008. That's only one fewer 10-win season than the Crimson Tide compiled during the 24 years between Bryant and Saban.

But beyond the wins and losses, Saban has given the program stability that it sorely lacked prior to his arrival. Alabama cycled through four head coaches in four seasons and still had to fight to overcome NCAA sanctions. Believe it or not, Saban is actually the third-longest tenured head coach in the program's history.