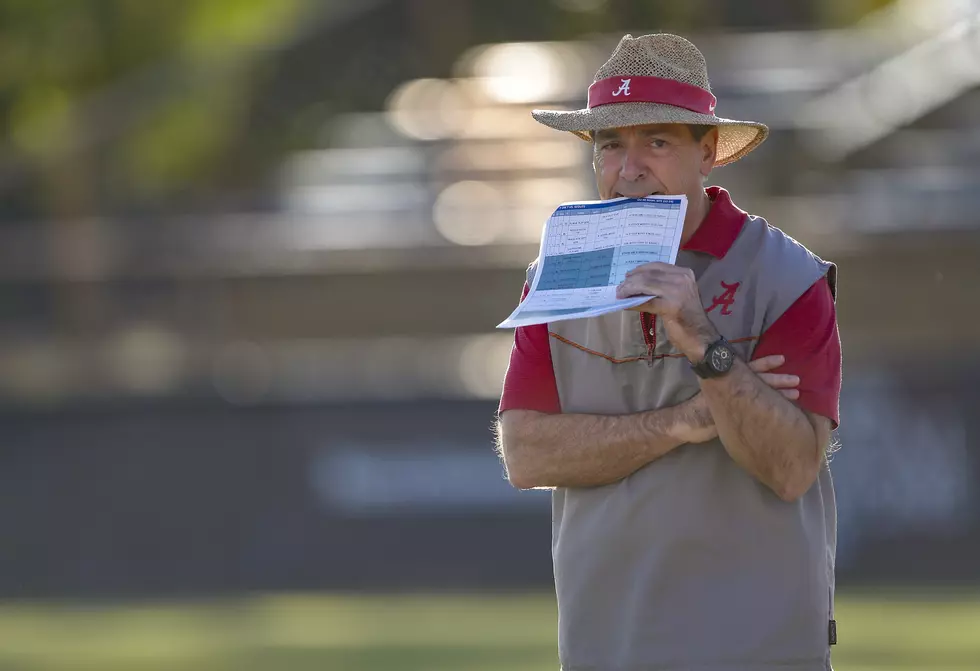 A New Side to Saban Revealed on The Dan Patrick Show
Crimson Tide Photos / UA Athletics
So it turns out that our fearless leader may just be a little more lighthearted than we thought. On Wednesday, Alabama's head coach and 6-time National Champion, Nick Saban, joined The Dan Patrick Show via phone-call. In the short interview, Patrick gets into Saban's coaching career and significant players who played a role in shaping the head coach into who he is today.
Nick Saban's first experience in power five head coaching came in the late 90s with the Michigan State Spartans. In that same time, Tom Brady was in a battle for the quarterback position at the rival University of Michigan. According to Saban, " We actually beat them, 34-31 and I think they scored 31 points when Brady was playing quarterback and they didn't score any when Drew Henson was playing."
Later in the interview, Dan Patrick asked the Crimson Tide HC about his confidence that Alabama will play football this fall. Saban responded with:
"Our players were practicing and preparing for a season with a lot of unknowns… it almost felt like you were sacrificing your time for a season… But I think now everybody has looked at it a little different. You have a schedule, you have a first game — Now we're back to investing our time in trying to create value for our team… and get ready to play football and I think that's the only way that we can look at it. The uncertainty that we've had ever since March has created a little different mindset for everyone in terms of 'Yeah, we're doing all this work but, what's it leading up to?' — And now at least we have direction."
Tide fans also found out that Alabama's favorite grandpa and head coach, at the age of 68, finally got his own e-mail account. "I've really made technological progress," Saban added with his classic grin. The call came from the boss, Miss Terry, who had previously sent and received all of the coach's e-mails from her own account. According to Saban, "…The first day of the pandemic, she got like five-hundred e-mails and she said, 'You're done, I'm not taking any more of your e-mails. So if you want your information, get your own e-mail.'"
At the end of the interview, Patrick played a short segment of a discussion he had with former Alabama running back, Josh Jacobs. According to Jacobs, "So one day I caught like five passes in a row. He was like 'Hey Josh, if you wanna hold all the ball, hold these.' I said, 'What coach?' I sat there for a second, like, did he really just say that?" Jacobs responded, "I was like 'Coach, I hadn't heard that since middle school.'" Patrick, attempting to attain more context on the humorous account asked, "Tua [Tagovailoa] confirmed that story there coach, would you like to comment on 'deez nuts'" [sic] After a few more seconds of laughter, Saban responded with: "Well, I like to have fun with the players — I think it's good that they see you, every now and then, in a different light… At least they [Tagovailoa and Jacobs] learned something."
Fans can tell that our head coach enjoys a little fun every once in a while. Because Coach Saban is so often in his football mode we don't always get to see his sense of humor. I think I can speak for a lot of Bama fans when I say, "Thank you, Josh Jacobs."
For more content from J.R. and all the talented interns at Tide 100.9, make sure to tune-in for Tide Tonight - MWF 6:00-7:00pm. You can hear all of our radio content on the new Tide 100.9 app!
Enter your number to get our free mobile app