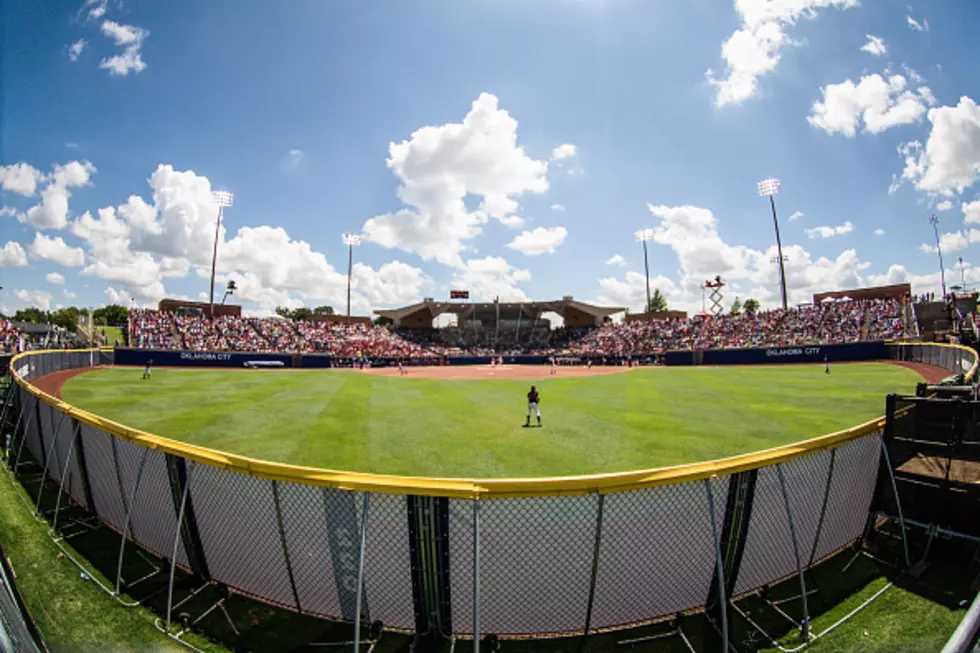 Across the Diamond: Alabama Softball Gears up for the WCWS
Corbis via Getty Images
For the 12th time in program history, Alabama softball will appear in the Women's College World Series beginning with an 8:30 PM first pitch Thursday against the top seeded Oklahoma Sooners.
After coming up short in super regional play in 2017 and 2018, the Crimson Tide returns to Oklahoma City as one of eight teams in the WCWS field.
With the exception of seniors Reagan Dykes, Caroline Hardy and Merris Schroder, the 2019 Alabama roster will make their debut appearances in the WCWS.
Following Saturday's win over Texas, sophomore third baseman Maddie Morgan described the feeling of accomplishment that this year's team has for being one of the last eight teams with a shot to play for a national championship.
"It means the world. We worked so hard, and the seniors have led this team so well. This team deserves everything in this world. and I'm just so proud of this team." Morgan said.
How Alabama Arrived at the WCWS?
The Crimson Tide earned their way to Oklahoma City with a hard fought series win over the Texas Longhorns in the Tuscaloosa Super Regional.
Montana Fouts opened the series with a seven-inning complete game masterpiece as the Longhorns did not score a run and managed just three hits against the true freshman hurler.
In Friday's game two, Texas rallied back from a 4-0 deficit to defeat Alabama 7-5 to force a series deciding game three. In their victory, the Longhorns lost their top pitcher Miranda Elish when she was struck by a throw from catcher Mary Iakopo in the face.
On a scorching hot Saturday afternoon, the Crimson Tide used a gritty complete game effort from Fouts along with timely hits from Maddie Morgan, KB Sides and Bailey Hemphill to beat the Longhorns 8-5. Sides and Hemphill launched back-to-back homer runs that accounted for half of their runs while Morgan produced a pair of huge two-out RBI singles.
Moving KB Sides to the Lead-off Spot
For most of the season, either sophomore Kaylee Tow or junior Elissa Brown occupied the top spot in the Alabama order.
In their third game against Texas, KB Sides moved up to the lead-off spot and came through with two hits, a home run, four RBIs and a run scored.
In addition to Elissa Brown's struggles with getting called out for making contact outside the batter's box, head coach Patrick Murphy relayed his reasoning for putting Sides at the top of the order.
"KB (Sides) has led off her entire career of summer ball and high school, and her summer ball coach actually told me when she committed that she was the best lead-off in the country that summer. She's used to that, and I told them pregame just some of the changes and the first thing she said was. 'Yes, sir.' It's just not a big deal and then Bailey (Hempihll) I wanted to give more at bats." Murphy said.
Bailey Hemphill Ties Single-Season Home Run Record
During Saturday's win over Texas, Bailey Hemphill belted her 25th round tripper of the season to tie Kelly Kretschman for the program's single season home run record.
In his observation of the impact of Hemphill's powerful bat has on a game, Patrick Murphy stated how hitting the long ball has become something that is expected of the junior first baseman.
"I think people, and you guys (reporters) and I probably expect it now. We moan and groan if she pops up or ever misses one. She's just become that type of hitter here. It's like a Mark McGwire or Barry Bonds sort of thing. She hits the ball so hard" Murphy said.
The veteran Alabama coach also pointed to another of Hemphill's strengths that helps her at the plate.
"She does have a good eye. She's been very, very consistent this year in terms of what pitches to hit. She can foul off a change-up as good as anybody in the country. So you're really not going to fool her there, just a steady offensive threat." Murphy said.
Well-Balanced Oklahoma Sooners
When the Crimson Tide takes the field to face the Sooners, they will face their toughest opponent of the season.
The Sooners won all 18 of their BIG XII games en route to a 54-3 record heading into the WCWS.
Prior to boarding the flight to Oklahoma City, Patrick Murphy spoke of the versatility and balance in Oklahoma's offense.
"Their whole lineup is very athletic, fast and they can pop it. They kind of mirror us in terms of power and speed. We've stolen a little bit more. They still have the capability of running." Murphy said. "I can go on and on. It's just a very well-rounded, athletic team."
The Sooners lead college softball in home runs (108), batting average (.355), on-base percentage (.447) and slugging percentage (.667). Although they only have 58 stolen bases in 57 games, Caleigh Clifton has shown her speed with six triples and eight steals on the year.
Just as Oklahoma has excelled from the plate, their pitching has been simply dominant. OU's trio of primary pitchers each have an ERA below 1.20 with Giselle Juarez and Maria Lopez combining for a 44-2 record along with 384 strikeouts compared to just 56 walks.
Importance of Staying in the Winner's Bracket 
The WCWS tournament format is double elimination leading up to a best two of three championship series.
The importance of the bracket for Alabama comes in winning the first game. IF the Crimson Tide can upset the Sooners, they will be able to advance to Friday's winner's bracket contest at 8:30 PM and avoid the heat of the day.
A loss to Oklahoma would give Alabama an off-day on Friday but force the Tide to play a Saturday afternoon elimination game and an evening game later in the day.