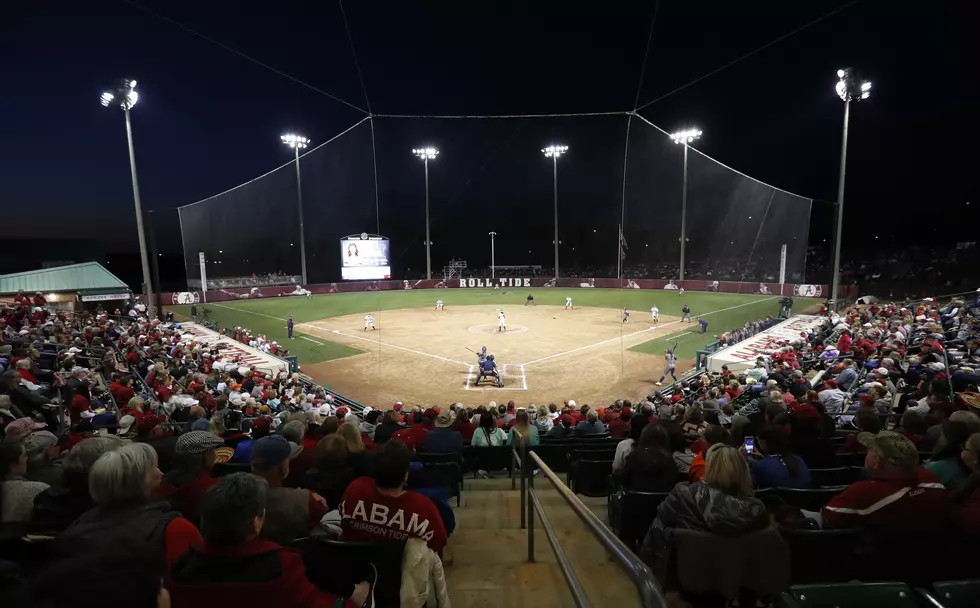 Across the Diamond: Alabama's 21st NCAA Regional Appearance
Crimson Tide Photos/UA Athletics
The tradition of excellence in Tuscaloosa continues as Alabama softball (52-7, 18-6 SEC) makes their 21st NCAA Tournament appearances and hosts their 17th NCAA Regional in program history.
Tuscaloosa Regional Scouting Report
Alabama will host three solid teams this weekend with two conference tournament champions this weekend.
Alabama State (24-23, 10-7 SWAC) took home their second SWAC Tournament title over the past four seasons while Lipscomb (41-13-1, 16-4 Atlantic Sun) won both the regular season and tournament title in the Atlantic Sun. Arizona State (33-18, 13-11 PAC 12) is the only at-large team in the Tuscaloosa Regional field.
Both Alabama State and Lipscomb rely on getting batters on base and their speed on the base paths. The Hornets have a .306 team average and 59 stolen bases with three players stealing at least 11 bases. The Lady Bisons possess one of college softball's speediest offenses with 104 steals including five players with 11 or more steals. Peyton Ward leads the way with 30 stolen bases while Graysen Gladden has 20 stolen bases.
For Arizona State, they have scored off the long ball. The Sun Devils rank seventh in Division I with 85 home runs as a team.
The Crimson Tide returns to Rhoads Stadium to host their 15th consecutive NCAA regional.
The Rhoads House proved to be extremely friendly to Alabama as they posted a 23-3 home record for the season. Including this season, the Tide has a 550-91 record at Rhoads Stadium since the stadium's opening in 2000.
Alabama head coach Patrick Murphy described what makes playing in Tuscaloosa so fun during the postseason.
"I know it's going to be a really fun atmosphere. I think our fans are going to come out and pull for us and really make it a true NCAA-type environment where you feel like something's on the line. I think that's one of the best things about having a regional in Tuscaloosa is you get that feel of a championship." Murphy said.
While opponents faced an uphill battle in Tuscaloosa throughout the regular season, Alabama's home field advantage comes into play the most in the postseason.
The Crimson Tide takes a 37-game home winning streak in NCAA regional contests into this weekend. The last time an opponent defeated Alabama in an NCAA regional was in 2007 when Tennessee Tech upset Alabama 4-2 to open the 2007 NCAA regional round.
Murphy touched on two factors that has made the Tide an unstoppable force in regional play.
"I think we peak at the right time. A couple of other coaches in the south have asked me about that before and I think one of the keys is we give them adequate rest throughout the season and I don't think enough people do that." Murphy said.
Combating Alabama's Home Field Advantage
Three teams will have the chance to accomplish the rare feat in toppling Alabama inside of the Rhoads House.
The Crimson Tide's first opponent will be SWAC Tournament champion Alabama State. The Hornets (24-23, 10-7 SWAC) are making their second NCAA regional appearance in four seasons under head coach Chris Steiner-Wilcoxson. The two teams will be facing off for only the second time in series history and the first since 2004.
During her press conference appearance at Rhoads Stadium, Alabama State's head softball coached talked about how playing at Auburn and Mississippi State earlier in the season can help her players stay composed for their contest against Alabama.
"I just want them to stay within themselves. I know there's a lot of people that are Bama fans. I know in this state, you're either an Auburn or Alabama fan and as a person who graduated from Auburn, I understand it. I understand what's going on. I think our kids see that a lot too and that's why we try to play in more of the SEC-type games throughout the season. Having played Auburn earlier, having played Mississippi State earlier, we get to be with their home fields as well. So we understand that whole SEC atmosphere." Steiner-Wilcoxson said.
Even with their trips to Auburn and Starkville, Steiner-Wilcoxson realizes that Friday's game against Alabama will be a stiff test for her team.
"It's going to be an eye-opening experience for them. I just hope they will just live in the moment and understand that it's a softball game, don't make it bigger than it already is." Steiner-Wilcoxson said.
Unlike Alabama State, Arizona State is accustomed to facing the toughest competition in the country having faced top 25 RPI opponents in Washington, Arizona, UCLA, Florida, Michigan, James Madison, Texas and Oklahoma State.
With one of the most competitive schedules in college softball, Sun Devils outfielder Kindra Hackbarth relayed how their schedule prepares them for NCAA regional play.
"Preseason really prepares us. We play a lot of good teams. We play in Pac (12) and I feel like we did a very good job in Pac (12) and it's very competitive so it really prepares us for postseason." Kindra Hackbarth said.
For A-Sun champion Lipscomb, head coach Kristin Ryman's believes the biggest key for her team to handle the Rhoads House environment is to continue the things that brought them an A-Sun title.
"I think the biggest thing for us right now is not getting too overwhelmed the moment and who we're playing and those types of things, but just continue doing what we've been doing." Ryman said.
Homecoming for Three Lipscomb Players
This weekend's trip to Tuscaloosa represents a return to the Yellowhammer State for Wetumpka's Destinee Brewer, Birmingham's Chloe Yeager and Camden's Mandy Jordan.
Yeager has played in three games while Brewer has started 48 games with a .257 average, 11 RBIs and 14 steals.
One of the biggest pieces to Lipscomb's championship success has been the pitching of Wilcox Academy alum Mandy Jordan. The senior from Camden has an 18-7 record, a 1.81 ERA along with 154 strikeouts.
Along with her talented arm, Ryman notices a character trait in Jordan that has elevated her into one of the team's primary leaders.
"Mandy's our bulldog. We've said it all year long but she's really shown that more of late." Ryman said. "She's throwing her best softball right now. Just the mentality that she brings I think is one of those things that sets her apart."
Lipscomb's head coach noted their 1-0 win in 12 innings in the A-Sun Tournament opener as a prime example of Jordan's grit and determination and how her teammates fed off that.
"We played a 12-inning game our first game of the A-Sun Tournament last week and she was not going to come out. She was determined to find a way to keep them down and give our offense a chance to find a way to score. Every inning, the conversation was, 'We got to do it for Mandy. She's just battling and giving us everything she has. We've got to find a way to scrap across one run,' and finally did." Ryman said.
Arizona State vs. Lipscomb 3 PM (ESPN3)
Alabama vs. Alabama State 5:30 PM (ESPNU)
Arizona State/Lipscomb winner vs. Alabama/Alabama State winner 1 PM
Arizona State/Lipscomb loser vs. Alabama/Alabama State loser 3:30 PM
Game 4 winner vs. Game 3 loser 6 PM