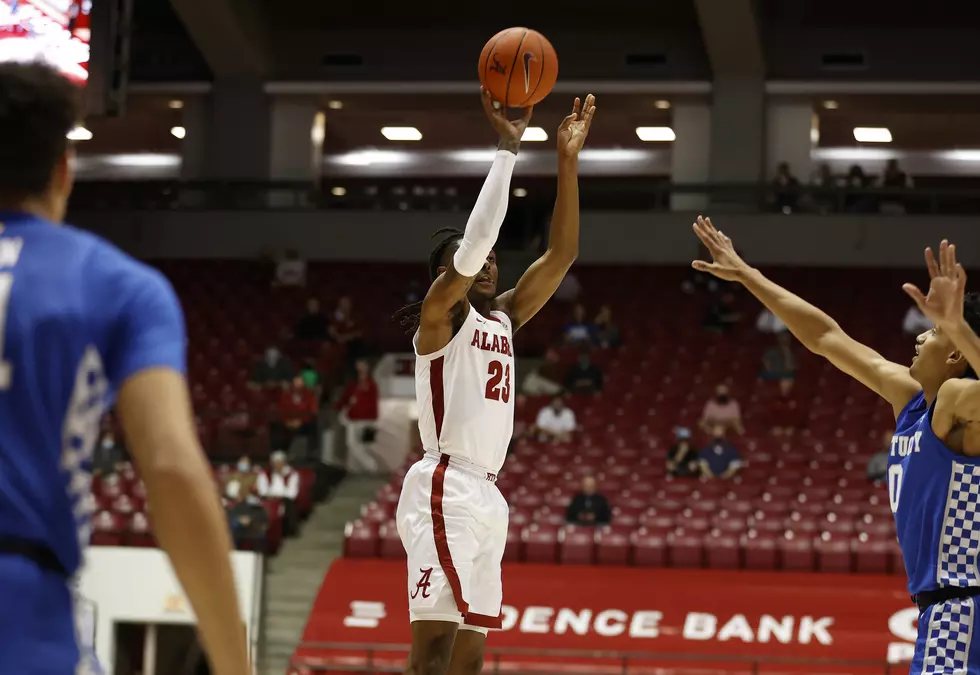 Alabama Could Clinch the SEC Next Wednesday, Here's How…
Crimson Tide Photos / UA Athletics
For the first time in what feels forever, Alabama basketball is in the running for the regular-season SEC title, along with the automatic bid to March Madness that comes with it. After Wednesday's huge upset in Oxford, where the No. 10 Mizzou Tigers fell to Ole Miss 80-59, Alabama's "magic number" dropped to just three.
This weekend will be eventful across the entire Southeastern Conference. Three teams- No. 16 Tennessee, Arkansas, and LSU- are all tied for second place in the SEC rankings. Of course, to the joy of 'Bama fans across the state, the No. 11 Crimson Tide have a three-and-a-half game lead on all three of those teams.
Alabama will be hosting a middle-of-the-road Georgia team in Coleman Coliseum on Saturday. Like South Carolina, this should be an "easy" game for the Crimson Tide and a chance to flex their offensive muscles. The only problem is that in the middle of February, easy games do not exist. Tiredness and fatigue are starting to catch to every team, and the ones that can outrun it are the same that can make a deep tournament run.
With that being said, here is the dream scenario for Alabama fans during Valentine's Day weekend.
First and foremost, Alabama needs to win on Saturday. A victory over the Bulldogs would mean both a 12th conference victory for the Tide- a feat not seen since the 2012-2013 season- and a new magic number: two.
Second, in this dream scenario, Alabama needs Tennessee, Arkansas, and LSU to lose on Saturday. Unfortunately for 'Bama, the 16th ranked Volunteers will be squaring off with the Bayou Bengals in Baton Rouge at 1:00 p.m. on ESPN.
Arkansas will be traveling to Columbia, Missouri for a date with No. 10 Mizzou later on Saturday at 3:00 p.m. on ESPN2.
Missouri already dropped an "easy one" on Wednesday night, so it isn't likely they will lose again.
If Arkansas loses, then that will leave only one team in second place in the SEC.
This takes Alabama into next week with the magic number of two and the shot to clinch as early as Wednesday and as late as Saturday.
So in conclusion, to be able to clinch as soon as possible, the following must occur:
Alabama must beat Georgia on Saturday.
Arkansas must lose to Missouri on Saturday.
Tennessee must lose to LSU on Saturday (If LSU loses then 'Bama will have a chance to clinch next Saturday.)
And finally, Alabama must beat Arkansas in Fayetteville on Wednesday.
Alabama Basketball All-Time Scoring Leaders