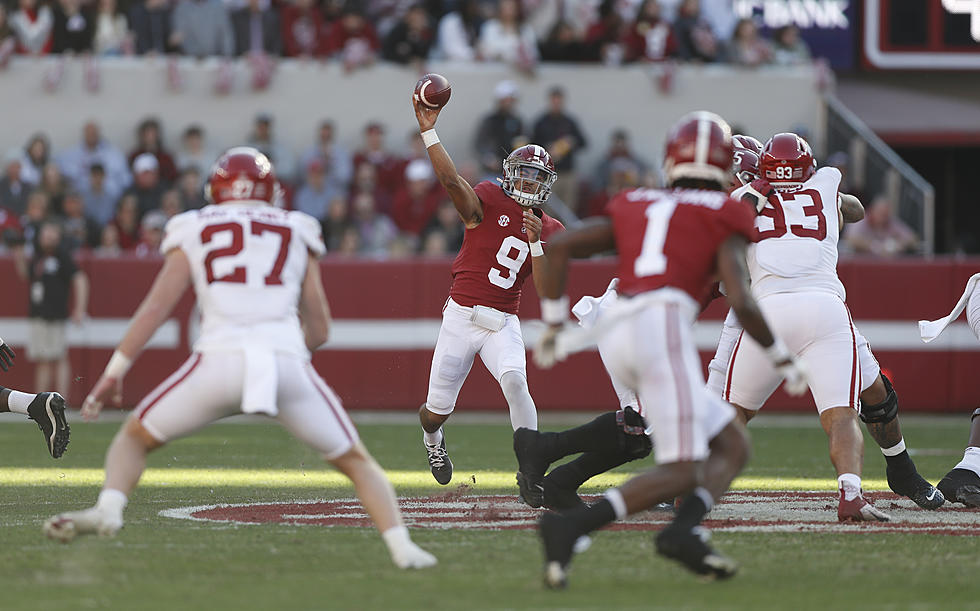 Alabama Slow-Cooks Razorbacks to Clinch SEC West Championship
Crimson Tide Photos / UA Athletics
The No. 2 Alabama Crimson Tide closed out the 2021 home season at Bryant-Denny Stadium with a 42-35 win over the No. 21 Arkansas Razorbacks. The Crimson Tide, led by sensational sophomore Bryce Young clinched the SEC West Division Championship with the win.
Young set an Alabama school record for passing yards in a single game tossing the pigskin for 559 yards. His effort was vital to keeping the Tide's championship hopes alive as the Alabama offense bounced back from a dismal showing in its last SEC contest against LSU.
Young finished the game completing 31-of-40 passes for 561 yards and five touchdowns. He utilized his receiving duo of John Metchie and Jameson Williams throughout the night as they terrorizes the Razorbacks' secondary.
Metchie hauled in 10 passes for 173 yards and one touchdown while Williams caught eight passes for 190 yards and three touchdowns.
The Crimson Tide has added pressure on Young and his receivers after losing another scholarship running back last week in Roydell Williams. Therefore Alabama leaned on its super senior from Hillcrest High School to shoulder the load on the ground. Brian Robinson too 27 carries for 122  yards
Arkansas would not go quietly into the night as they continued to challenge Alabama throughout the evening. The Razorbacks found success using quarterback KJ Jefferson on the ground and then pushing the ball downfield to stud receiver Traylon Burks.
Jefferson completed 22-of-30 passes for 326 yards and three touchdowns while also taking 13 carries for 22 yards. The Crimson Tide sacked Jefferson three times in the game for a loss of 23 yards, skewing the talented quarterbacks rushing threat.
Burks finished the game with eight receptions for 179 yards and two touchdowns.
Alabama on defense was of course led by "The Terminator" Will Anderson off the edge. Anderson tallied 11 tackles with 3.5 coming for a loss and got himself a sack as well to go along with two quarterback hurries. He was aided by inside linebacker Henry To'o To'o who turned in 13 tackles with three coming for a loss and two sacks.
Alabama has now guaranteed themselves a spot in December's SEC Championship game against the No. 1 ranked Georgia Bulldogs. However, the Crimson Tide cannot look ahead to the title game as first Alabama has a road trip to Jordan-Hare Stadium to take on arch-rival Auburn in the Iron Bowl.
Alabama and Auburn will play on Saturday, Nov. 27 at 2:30 p.m. on CBS. Coverage of the game can be heard locally on Tide 100.9 FM and 953TheBear.
Alabama Crimson Tide All-Time Passing Leaders
Alabama 2021 Quarterbacks with Select RBs and LBs
The Alabama Crimson Tide hit the practice field for the 13th practice of the fall camp. It was the first day of fall classes and the focus was on the quarterbacks, running backs and linebackers.
The 2021 Alabama Football Schedule in Photos