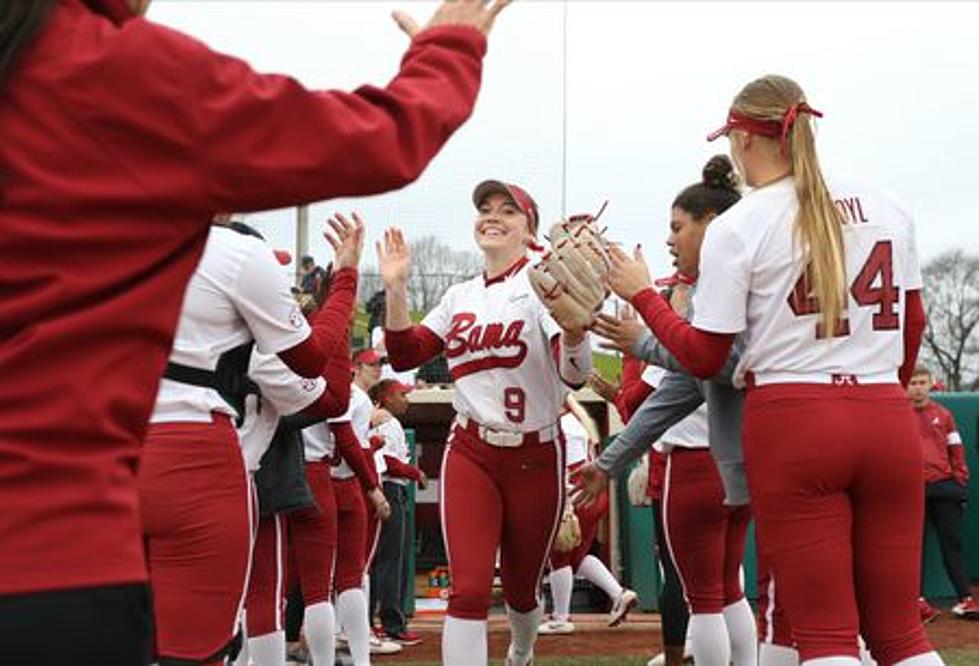 Alabama Wins First Game at Easton Bama Bash, Defeats Liberty 6-3
Photo courtesy of AL.com
Alabama Softball increased its winning streak to five and secured its first win in the Easton Bama Bash after a 6-3 win over Liberty on Friday.
A four-run first inning allowed the Crimson Tide to cruise to victory after all nine batters came to the plate during the bottom of the first inning. The middle of the lineup proved to be too much for the Flames as all got on base at least once with senior Kaylee Tow and freshman Bailey Dowling, the No. 4 and 5 hitters, each recording an RBI.
"I just told Bailey Dowling as we came out that I love hitting behind her because I know she is going to do something [at the plate]," Tow said. "I feel like I have an easy role there because the girls above me are always going to do their job. I'm very grateful to hit behind such great hitters."
The duo made their impact felt immediately as Dowling drove in the first run of the game with an RBI-single. On the next pitch and with a hit-and-run called, Tow singled to right centerfield allowing the freshman to score from second.
"It was perfect," head coach Patrick Murphy said. "Bailey Dowling did the rest scoring on a single and then after that it just kind of kept going and it looked like we weren't going to get anything and then boom you put up four runs."
The early four-run cushion did not last long as Liberty was able to trim the deficit to one after scoring runs in back-to-back innings. After the Flames broke Alabama's four-game streak where the team did not allow a run in the third inning, the team found itself in a bases loaded jam in the top of the fourth.
In Lexi Kilfoyl's first pitch in relief for Cornell, the ball slipped out of her as she made her pitch allowing the Flames runner to score from third. After a four-pitch groundout moved both runners into scoring position, a passed ball allowed another run to score in the inning.
"I've never seen that happen before," Murphy said. "Obviously runners can advance [on the error] and then the next play was a squeeze. If it's a fastball [the runner on third] is probably not going to score because the ball didn't get that far away from Bailey [Hemphill] but since she was running on the play, she scores. But Kilfoyl came in and I thought she did a nice job after that cleaning up a lot and having great movement on her pitches."
Graduate student Sarah Cornell would finished the game allowing just two earned runs on two hits in 3.0 innings pitched. After the strange fourth inning, Kilfoyl would throw 4.0 shutout innings in relief and adding four K's.
The Crimson Tide will once again host Liberty at 1:30 p.m. before facing No. 8/9 LSU at 4 p.m.
SEC Mascots