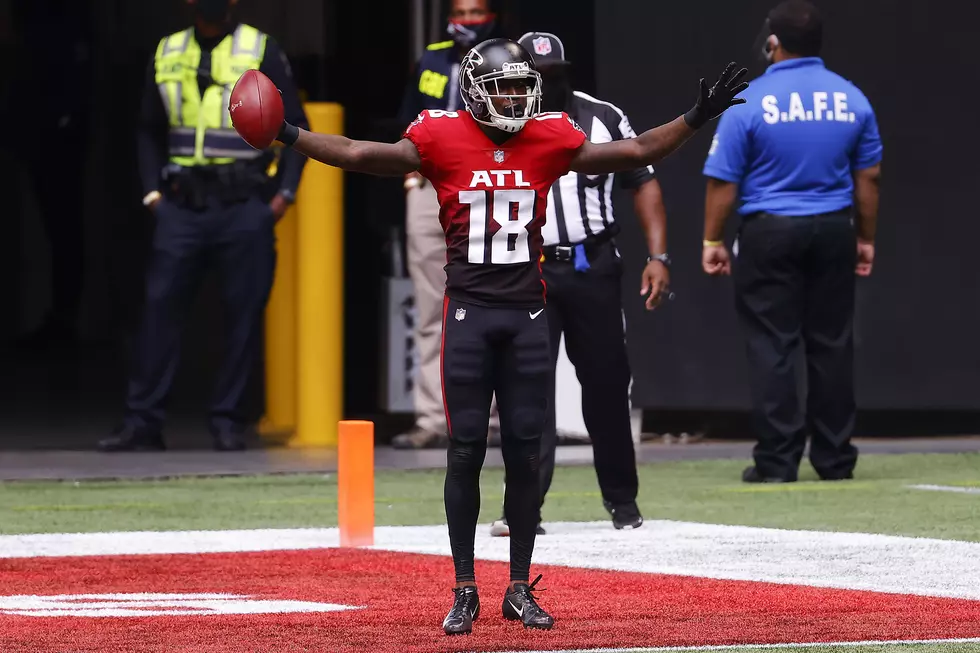 All-Alabama Fantasy Football Team
Getty Images
Have you checked your calendar lately? Quick, go count the days to your fantasy football draft.
The NFL season kicks off in less than two months and if your league hasn't already held its draft, then here's your chance to dominate your fantasy league with a roster slap full of Alabama Crimson Tide alumni. Sure, all your non-Alabama fan friends will groan every time you step to the whiteboard to select yet another Alabama player, but this year is different. This year, the NFL sets up to where you can compete with this strategy and compete for your league's championship on the talents of Nick Saban's finest.
Derrick Henry
Do whatever it is you have to do to secure a top-3 pick in your fantasy draft if you want to land the NFL rushing leader of the past two seasons. Anything deeper and you'll be forced to reach on Josh Jacobs or Calvin Ridley. The sweet spot of this draft for you to secure the best lineup of Crimson Tide alumni will be the third overall pick.
Some fantasy players will shy away from Derrick Henry with Julio Jones coming to Tennessee while others will see it as an opportunity for Henry to become even more dominant. This means backs like Dalvin Cook and Christian McCaffery will likely go ahead of Henry.
I don't have to sell you on drafting Henry, he's the best back in the NFL, though his lack of receiving production will make the nerds outthink themselves. You'll thank yourself when Henry suits up for all 17 games and the other backs don't, giving you confidence in your RB1 for the entire season.
Calvin Ridley
Priority number two is grabbing the new number one receiver in Atlanta. You may need to downplay his value on draft night and cover up your intentions to go straight Alabama players down your draft board though because the 2.06-2.09 range is his sweet spot in a 12-team league.
Ridley finished the 2020 season as the fourth-best standard fantasy wideout in the NFL, making him a hot commodity now that Jones is out of the picture. He finished top-10 in every receiving category last year except receptions. Heading into year four, Ridley is expected to crush his career highs from last season.
After you've secured these two players, the remaining pieces fall into place a bit easier, but now your opponents will be on to you, so tread carefully.
Najee Harris
Drafting rookie running backs in the third round is a questionable decision in the best cases, but to endure this strategy, it's the best decision to be made. You could sneak Amari Cooper or Julio Jones here, but you'd be vulnerable at running back for the remainder of the draft. Store up confidence in the Crimson Tide's all-time rushing and scrimmage yards leader and know the Pittsburgh Steelers have every intention of leaning on Najee Harris heavily in his first NFL season.
Harris's value is all over the place, so you may not raise too many eyebrows in the war room. Still, your roster is square at the most difficult position to manage with players who are key to their team's success and are known for staying healthy despite heavy workloads.
Amari Cooper
It'll take some luck to land Amari Cooper in the fourth round, but it isn't out of the question as your opponents who took stronger receivers early are forced to fill out their running back corps.
Cooper gets Dak Prescott back at quarterback after finishing as the 19th-best receiver with Andy Dalton and company tossing him the rock. The emergence of second-year wideout Ceedee Lamb will bury Cooper's value, but FantasyPros still projects the 27-year-old to haul in 90+ receptions and another 1,000-yard season.
Cooper is a valuable WR2 and sets your starting lineup to be a consistent threat each and every week.
Jaylen Waddle
There's no way around it, in round five your squad will have to reach on value. What better excuse to rush to the whiteboard with a Jaylen Waddle sticker?
Waddle ranks behind a handful of other Crimson Tide receivers like DeVonta Smith and Jerry Jeudy, but he provides a bit more excitement on your roster with his score-from-anywhere ability.
Even in standard leagues, the idea of Tua Tagovailoa relying heavily on his old counterpart is reason enough to trust Waddle as a swing option as your FLEX. He'll return punts, snag a few rushing opportunities and rack up crossing routes for big yardage.
Jalen Hurts
It's time to go after the quarterback. Believe it or not, Hurts is the ninth-ranked quarterback according to FantasyPros thanks to the additions on his offensive line and receiving corps. Meanwhile, Tua Tagovailoa is ranked 20th. You can grab both and play matchups, but the value for your first Alabama QB is right at the bottom of the sixth round.
Kenyan Drake
A solid RB3 option for your squad is Josh Jacobs's new running mate in Las Vegas, Kenyan Drake. Drake has been the feature back his entire NFL career, so his role with the Raiders is questioned by the fantasy football community. You're safe to draft him in the seventh round though because he provides a more reliable pass-catching option out of the Silver & Black's backfield.
Jerry Jeudy or Henry Ruggs III
Either of these options should be available for you in the eighth round. Both receivers carry massive question marks at quarterback, but both should show improvement in their own skill as NFL receivers. Both are too risky as WR3s but are perfectly respectable options as WR4s.
Irv Smith
One final reach. Irv Smith likely won't be the best option at TE on the board, even this late in the draft. However, you've done a great job of finding balance and consistency so far that a flyer on the true number one tight end in Minnesota is a decision that could prove to be a quality steal.
Fill In The Gaps
Your starting lineups and primary backups are set and all hail from the University of Alabama. Tua Tagovailoa, Mark Ingram, OJ Howard and your favorite deep round receivers can fill in the holes on offense. As for defense, the Washington Football team still sports the most Crimson Tide players in its starting lineup. Until Will Reichard is in the NFL in a few years, the options at kicker are void. Still, your squad is a competitor.
Let your opponents call you a homer, you've earned it. They can call you champion in December.
Alabama Crimson Tide All-Time Rushing Leaders
Crimson Tide's NFL Draft First-Rounders During Saban's Tenure
Take a look back on the Crimson Tide's first round selections under head coach Nick Saban.
Best Numbers in Alabama Football