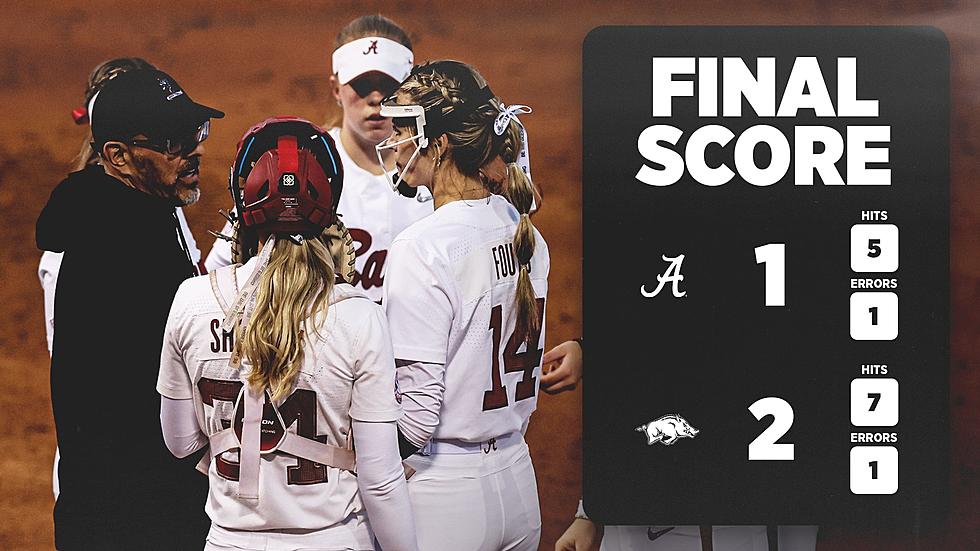 Arkansas Outlasts Alabama Softball
Photo Courtesy of Alabama Softball on Twitter
No. 12 Arkansas (22-8, 3-3) outlasted No. 13 Alabama (22-8, 1-2) 2-1 in 10 innings on Monday night to win the series in Tuscaloosa two games to one.
Rylin Hedgecock hit a solo home run in the 10th inning to break a 1-1 tie which had been in place since the fourth inning. It was Hedgecock's 12th home run of the year which is tied for fourth most in D-1 softball.
Alabama loaded the bases in the bottom of the frame with one out, but for the second straight night they could not complete the last inning rally as Chenise Delce struck out Faith Hensley and Emma Broadfoot to beat the Crimson Tide and finish off a 10-inning complete game.
Associate head coach Alyson Habetz took over the lineup card in the ninth inning after head coach Patrick Murphy was ejected arguing a check swing call. Habetz said that the tough series could swing the team either way.
"It depends on our team and what decision they make," Habetz said. "When you lose it hurts and you want to get rid of that feeling, and the only way to get rid of that feeling is to make sure that it doesn't happen again, so you get in here and you work."
Arkansas senior Chenise Delce (11-4) stifled the Alabama bats all game long. Outside of a second inning home run by Emma Broadfoot, Delce did not allow another run. She held Alabama hitless during innings five through nine. She surrendered five hits, walked four, struck out eight and threw 172 pitches for the Razorbacks.
"Because her drop was higher it was harder to tell if it was a drop or a low rise," Habetz said. "She was good tonight."
On the other side, Alabama ace Montana Fouts (11-4) did her best to keep Alabama in the game. Fouts gave up one run in the fourth inning and did not allow another run until the game-winning home run by Hedgecock. She pitched 10 innings, allowed seven hits, walked two, struck out 11 and threw a 173 pitch losing effort.
"Montana's a bulldog and she's all in for the team," Habetz said.
Alabama will look to turn things around on Wednesday when they play UAB at 6 p.m.
You'll Only Find These Dating Red Flags in Tuscaloosa, Alabama
Alabama's Most Affordable Places to Live