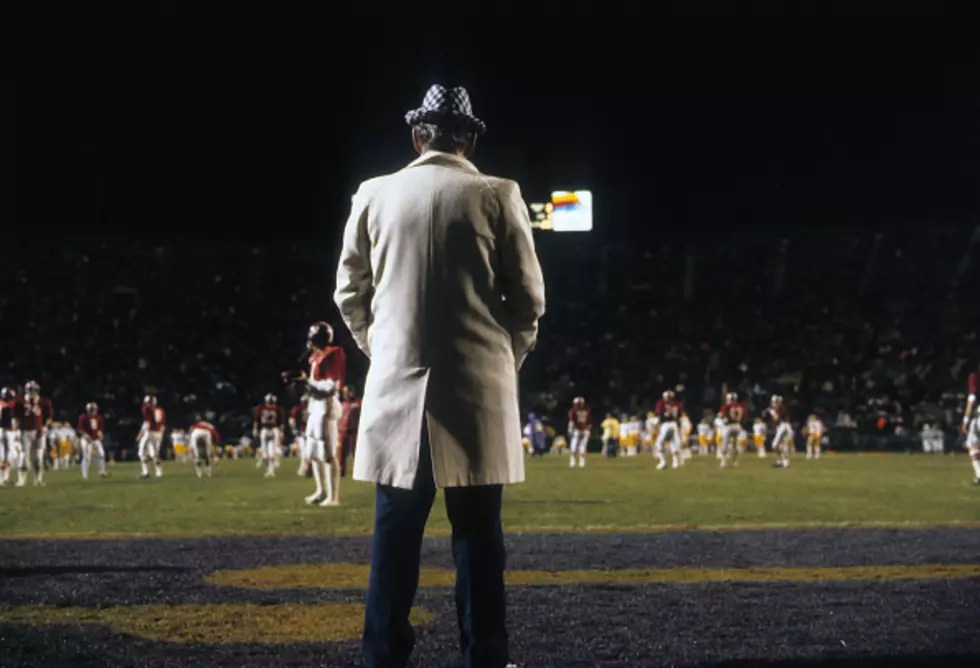 Best Nicknames in Alabama Football History
Sports Illustrated/Getty Images
"Broadway Joe", Paul "Bear" Bryant, "Snake", "King Henry". These are some of the epic nicknames in Alabama football history.
A nickname can say a lot about a player, such as their personality, experiences, play style, quirks and character. Everyone knows about the 18 National Championships, 29 SEC Championships, and 4 Heisman trophy winners, but it's the players and coaches with these nicknames that made all of this on-field dominance possible.
Paul "Bear" Bryant
This list has to start with arguably the best coach in college football history. Bear Bryant received the nickname as a 13-year-old when he bet $1 that he could wrestle a muzzled bear. Bear wasn't an ordinary 13-year-old, he stood at 6-foot-1 180 pounds which is absurd for a 13-year-old. Bear Bryant led a dominating 25-year span for the Tide which brought home six National Championships, but Mama would have never called without the misfortune of another legendary nickname.
"Ears" Whitworth
Jennings B. "Ears" Whitworth oversaw the fall of the Alabama empire. During his reign at Alabama, Ears led the Tide to a horrendous 4-24-2 record, which included a disgusting winless season in 1955 when the Tide was outscored a whopping 256-48. Coach Whitworth started his coaching career at Oklahoma A&M (which is now Oklahoma State) where he led them to a 22-27-2 over four seasons. While at Oklahoma St, he was a part of the infamous Johnny Bright incident, an on-field assault of an African-American player. Oklahoma St player Wilbanks Smith charged at Drake quarterback Johnny Bright after a hand-off, resulting in a broken jaw for Bright. Ears never suspended Wilbanks and Drake withdrew from the Mountain Valley Conference in protest after the conference did not take any disciplinary action. Oklahoma St finally apologized in 2005. Whitworth's woes led to Mama calling the Bear back to the Capstone.
Don Hutson, "The Alabama Antelope"
"The Alabama Antelope" was one of the best players in his era. Showcasing elite speed, agility, quickness, modern route running, and hands, hence the nickname. Hailing from Pine Bluff, AR, Hutson was a 3-sport star playing baseball, basketball, and football. Hutson starred for head coach Frank Thomas from 1932-1934 and helped lead an undefeated Alabama squad to a national championship in 1934.  After college, Hutson didn't plan to play professional football but, the Packers lured Hutson with a $300 a week salary (now equivalent to $6,487.80). The Alabama Antelope was pure dominance. Being the first 1,000 yard receiver, winning two MVPs eight First Team All-Pros, and three NFL championships. When Hutson called it a career he had earned an absurd 18 records, some of which are still standing today. The Alabama Antelope also played defensive back and kicker for the Packers. Hutson recorded 30 interceptions in his career (The stat was first recorded in 1940) and an insane 8 interceptions in 10 games during the 1943 season.
Cornelius Bennet, "Biscuit"
Known for his viscous hit on Notre Dame quarterback Steve Buerlein that eventually became known as "The Sack," Bennet received his nickname "Biscuit" due to his craving for his mothers homemade biscuits. "Biscuit" was a 3-time All-American linebacker, earning the Lombardi trophy in 1986, which is given out annually to the player who "best embodies the values and spirit of legendary NFL head coach Vince Lombardi." Bennet went on to be drafted to the Buffalo Bills 2nd overall in the 1987 NFL draft. Bennett made five Super Bowls, four with the Bills and one with the Falcons. Biscuit finished his career with 71.5 sacks, five Pro-Bowls, and one All-Pro.
Looking at the 2022-23 season, hopefully "Kool-Aid," "The Terminator," and "Hitman Hellams" can all writ their name in Crimson flame... fight on men! The University of Alabama has many legendary players with legendary nicknames, but no nickname can surpass the Crimson Tide.
Look Around Deontay Wilder's Lake Tuscaloosa Stunning Mansion
All Homicides in Tuscaloosa County So Far in 2022
A regularly updated list of the Tuscaloosa Thread's coverage of all homicides in Tuscaloosa County in 2022.