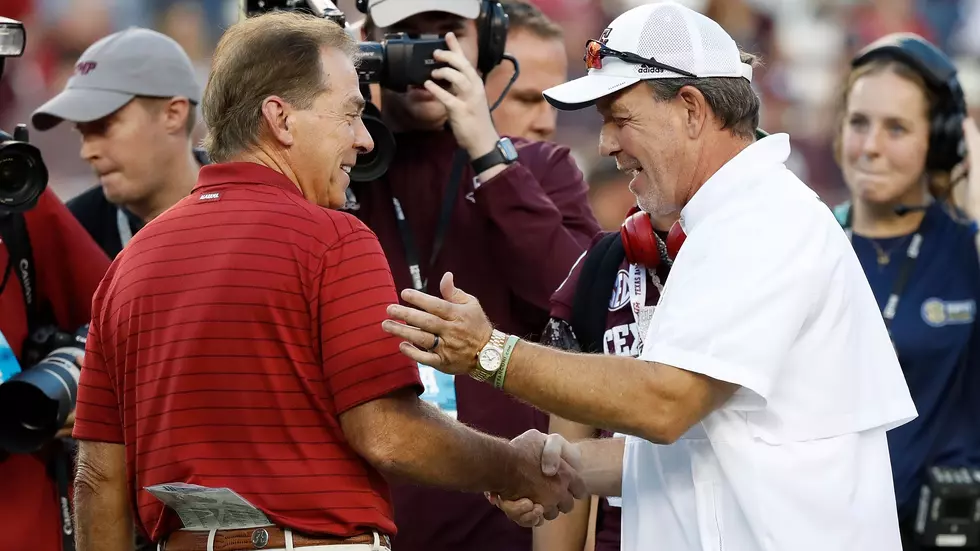 Betting Lines Have Been Released for the Alabama Texas A&M Game
Getty Images
According to Draft Kings Nation, Alabama is opening up as a 24-point favorite over Jimbo Fisher and the Texas A&M Aggies.
The game in Tuscaloosa is getting hyped up to the moon because of the beef between Nick Saban and Fisher. During the offseason, Saban called out Texas A&M for paying all of their players to come and ruin college football recruiting. Fisher then responded and fired back at Saban.
At the start of the year, many people would have expected this game to be a lot closer with A&M becoming a rising program, having the No. 1 recruiting class of 2022, and beating the Crimson Tide last year.
This year, though, the Aggies have taken a step back in their quest for their first national championship since 1939. They started out strong with a win over Sam Houston but then lost to an Appalachian State team that they were favorite by 19 to beat. The Aggies then rattled off two ranked wins over Miami and Arkansas but then got blown out by Mississippi State in Starkville.
The Crimson Tide, though, are the new No. 1 team in the nation after going on the road and defeating the Arkansas Razorbacks by a score of 49-26.
However, it has not been smooth sailing for the Crimson Tide. In week 2, they had to go on a game-winning drive to beat the Texas Longhorns. Alabama is also dealing with the status of Heisman Trophy winner Bryce Young. In the game against the Razorbacks, Young went down with a shoulder injury, which led the Crimson Tide to put in backup Jalen Milroe.
According to Saban, "Bryce Young is day-to-day with an AC joint sprain in his shoulder."
Even though the Aggies are newcomers to the SEC, these two teams have created a rivalry that will have every college football fan tuning in to see what happens.
Alabama vs Arkansas Week 5, 2022
Alabama vs Vanderbilt Week 4 2022