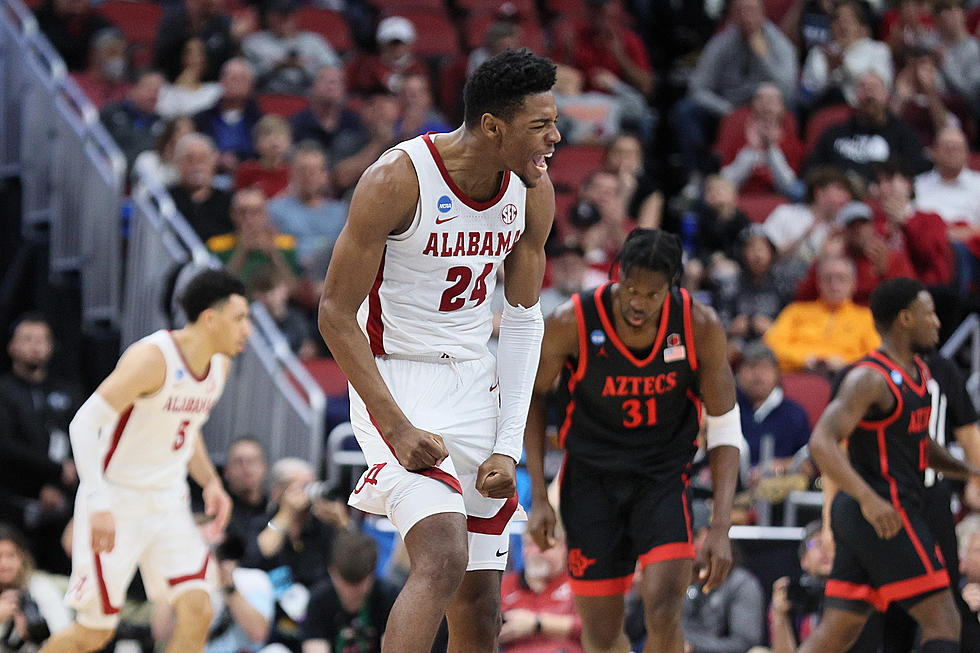 Brandon Miller Struggles In the NCAA Tournament
Getty Images
Alabama's men's basketball season came to an end on Friday night when the Crimson Tide were defeated 71-64 by San Diego State in the Sweet 16, thanks in large part to one of the worst shooting performances of the season.
Freshman forward Brandon Miller struggled throughout the tournament and on Friday night put on one of his worst shooting performances of the season in the biggest game of the year.
The SEC Player of the Year was 3-19 from the field and an abysmal 1-10 from three and had extreme difficulty finishing at the rim on contested layups.
Friday night wasn't the only game in the tournament where Miller didn't show up ready to play. In Alabama's first game against Texas A&M Corpus-Christi the future lottery pick scored zero points, going 0-5 from the field and 0-4 from three.
Miller's best game of the tournament came in the round of 32 against the eight seed Maryland Terrapins. The Antioch, Tenn. native finished with 19 points but was not that efficient from the field, only going 5-17 and 2-6 from beyond the arc.
Miller shot 19% from the field in the tournament, the worst by any player with 35 shot attempts in the tournament since 1985.
Despite having hardships in the postseason, Miller was considered on of the best players in the country this year and is poised to be a top five pick in this year's NBA Draft. The consensus second team All-American finished the year averaging 18.8 points per game, 8.2 rebounds and shot 43% from the field.
Alabama vs. San Diego State - NCAA Tournament Sweet 16
Alabama vs Maryland - NCAA Tournament Round 2
Alabama vs Texas A&M Corpus Christi - NCAA Tournament Round 1