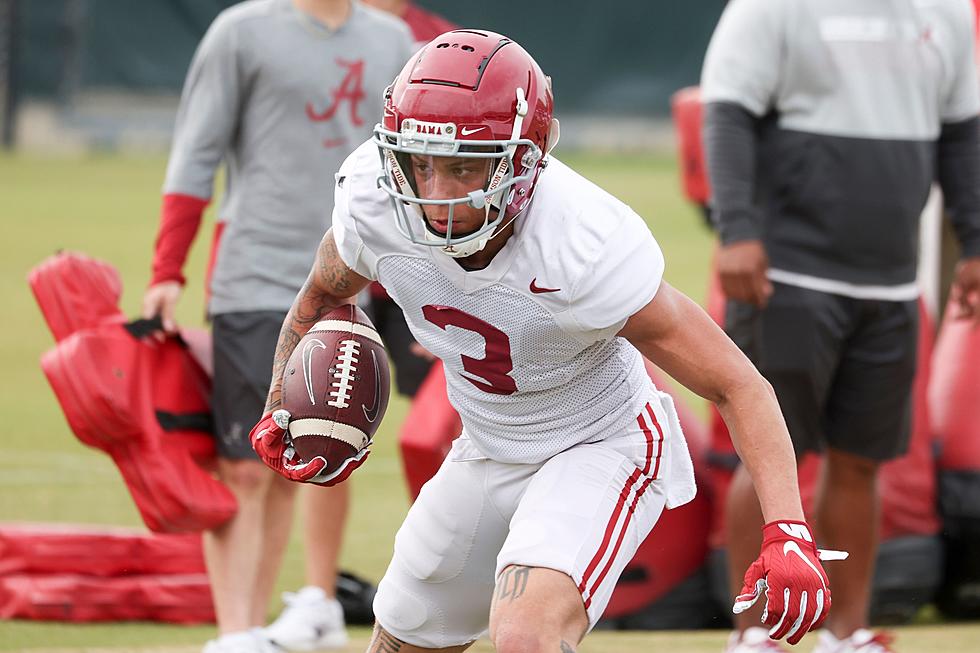 Bryce Young Talks Jermaine Burton and Tyler Harrell
Crimson Tide Photos / UA Athletics
Alabama quarterback Bryce Young spoke with reporters about his new wide receivers Jermaine Burton and Tyler Harrell on Tuesday.
"He's someone who comes into practice every day with a great attitude," Young said about Burton. "Before every practice, he's coming to me and say 'let's get it' ... he's willing to run any route, play any role."
Burton has quickly adapted to his new environment and is expected to a vital part of the Alabama offense in 2022. On Sunday, Nick Saban said Burton "is the guy who has played with the most consistency." He brings plenty experience to the wide receiver room, having appeared in 24 games for the Georgia Bulldogs. The junior wideout is a crafty route runner and can eat up a defensive backs cushion in a hurry. His ability to create separation and stretch the field vertically will make a prime target for Young in the fall.
At 6'0" and 200 lbs, Burton tracks the ball very well in the air and catches the ball with hands not his body.
Tyler Harrell was the second wide receiver to join the Crimson Tide via the transfer portal. Although Harrell has got off to a slow start during camp, he is someone Nick Saban said, "has shown a lot of ability."
"We've seen a lot of speed. Down the field, he ran really well," Young said. "He's ran a lot of stuff down the field. Being explosive is something that is definitely a premium for us. But really what sticks out is his willingness to learn."
Harrell is an explosive target for Young, having been clocked running a 4.24 in the 40-yard dash. Last season at Louisville, Harrell caught six touchdowns and averaged 29.1 yards per reception.
"Everybody hears he is very fast, and it's true," said Jordan Battle at SEC Media Days. "He is very fast. He is a great route runner, and he can take the top off defenses. We love that because we need guys on offense to give our secondary competition in practice."
He fills the void left by Jameson Williams in terms of someone who can simply just run by any defender in college football. Now it's just about getting Harrell up to speed with the offense.
Harrell is part of an intense wide receiver battle to fill the spots around Burton. The Crimson Tide will be back on the practice field Wednesday, Aug. 10.
Alabama's Second Fall Camp Practice