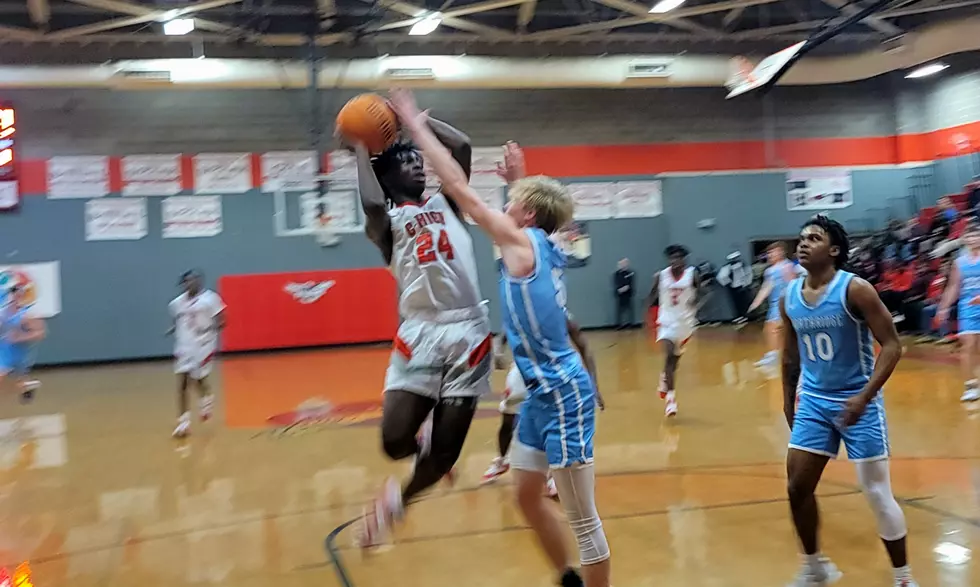 Central Wins An Instant Classic Over Northridge
Jalen Prince
In double overtime, the Central Falcons defeated the Northridge Jaguars 75-69. The Falcons were led by guards Javion Taylor (33 points), Jaydon White (16 points), and forward King Larkin (14 points). Guard Anderson Wilkins led Northridge with 18 points, followed by forwards Patton Currington (16 points) and John Walker (16 points) (13 points).
Taylor was honored before the game for scoring his 1000th point, and Central basketball coach Willie Moore presented him with a specially designed 1000-point basketball. A lot was at stake inside the Central High School gymnasium as a result of everything that had been going on prior to the game.
THE RECAP
Both teams were playing outstanding defense against one another. The score was tied at 23 at halftime. Central got off to a fast start in the third quarter when coach Moore decided to implement a full-court man-to-man press defense, which caused Northridge some trouble early in the half.
Central led by as many as eight points early in the third quarter before Northridge's Wilkins and Walker hit back-to-back three-pointers to reduce the deficit down. Northridge took control of the game late in the fourth quarter, thanks to improved defense and tough shots. With nine seconds remaining, the Jaguars led by two points. Coach Moore called a nice play in which Central's Tyler Colvin lobbed the ball up to Larkin, tying the game at 51-51.
Mr. 1000 point, Javion Taylor, knocked down Central's first three-pointer of the game to put Central up by three in the first overtime. Northridge quickly responded with three points from Wilkins. Taylor hits another three-pointer in the same spot to retake the lead for the second time. It was a nip-and-tuck ball game. Taylor drives in a layup to put the Falcons up three points at the 1:17 mark, but Northridge's Walker comes down the court and hits a game-tying three-pointer. Central blew a game-winning opportunity at the buzzer.
The fans of Northridge and Central were enjoying a treat as they watched a very competitive basketball game with four more minutes on the clock. Patton Currington of Northridge tied the game with two big free throws with a minute left in the second overtime. After a put back layup by White a few plays later, Central retakes the lead by two. The Jaguars missed several free throws late in the game, while the Falcons made theirs and went on to win the game on a special night for Central basketball.
COACHES REMARKS
Coach Moore felt his players were tough enough to face the adversity, and he knew the game would be theirs once he looked them in their eyes.
"We just stayed the course and kept fighting kept believing. Everyone looked me in the eyes and said: 'Yes Sir'. At that point, I knew.  Everybody played their butt off and that's what it takes."
Javion Taylor's 33-point performance was impressive for the Falcons, especially considering he played the fourth quarter and both overtimes with four fouls. When you watch him play, you can see he doesn't have the prettiest looking jump-shot, but making those two important three-pointers and closing the game at the free-throw line proved why he has accomplished what he has.
"Don't give up and try not to foul," Taylor said of the team's victory. "We did not give up, and we won!"
"Javion is a guy that gets us going offensively," said coach Moore on Taylor's performance. "He didn't back down. He kept playing, kept working, and kept getting the guys together. So that's what it takes, it takes every guy doing their job doing their part and we just played hard."
Central was able to find success in deploying a full-court man press defense as early as the third quarter. Coach Moore believes that his team was able to increase the tempo on Northridge later in the game.
"I think when we really sit down and guard we're really good," said coach Moore on his team's defense. "Trying to get them out of their comfort zone because they shoot the ball really well and so we wanted to speed them up a little bit and put a little pressure on them."
"I think by us being in the shape that I feel like we are in will help us down the road to play two overtimes," said coach Moore on his team playing two overtimes. "We played a whole game and a quarter. Just being able to push through mentally, and physically and get it done says a lot about our guys."
Central improves to 12-9 and travels to Bibb County on Thursday, Jan 12, at 7:30 pm. Northridge drops to 10-10 and will host Paul W. Bryant on Friday, Jan 13 at 6:30 pm.
Notable Bama Players to Play in the WNBA
Alabama Women's Basketball Photo Shoot 2022-23
2022 Black History Makers of Alabama