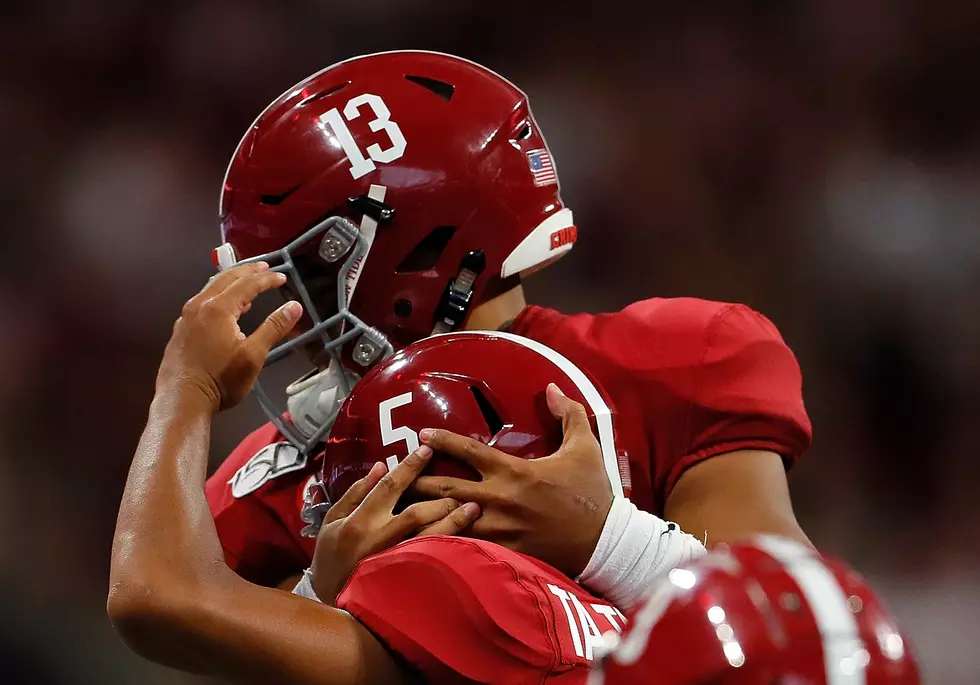 Continue To Cheer Taulia Tagovailoa On
Getty Images
But, we should still cheer on Taulia Tagovailoa as he heads north on his own path.
Let's get something straight from the beginning: Taulia didn't quit on the Crimson Tide. Yeah, I've been in the comment sections the past week. It's just not true.
There's something crucial fans of the Crimson Tide and college football have to understand in the age of the transfer portal: these are young men chasing dreams we couldn't possibly comprehend. At the end of the day, just as you or I would, they have to do what is best for them.
In all reality, winning the starting quarterback job at Alabama just wasn't in the cards. The path has been planned out and Taulia didn't have a fixed place in it. It happens.
Take this commentary for what you will.
Maryland is what's best for Taulia.
As a comparison, Jalen Hurts used his third year of eligibility to stay at Alabama and hone his craft before moving on to Oklahoma. In that pursuit, Hurts wanted to graduate and be the best possible player he could be for his next team. It payed off. He was the Heisman runner up for Oklahoma, showed improvements as a passer and became a second-round pick by the Philadelphia Eagles.
Most Alabama fans followed Hurts through that journey, cheering him on (some too much, but I digress.)
Had he stayed his final year, that may not have happened. It wouldn't have been best for him.
If there is anything I've learned in my past year in sports radio covering the Alabama Crimson Tide is the concept of fan loyalty here. It's truly amazing. It simply doesn't exist in other sports at the same level.
That said, that same loyalty bestowed upon Hurts through his challenges should be extended to Taulia Tagovailoa.
Of course, Taulia didn't provide the heroics and history making performances Hurts did. But his brother did. His family did.
This isn't an effort to keep Taulia under his brother's shadow. Hopefully he escapes all of that and makes his own name at Maryland. Turning that program into a Big 10 contender would be enough to do just that.
But it's a matter of respect coupled with loyalty.
Enter your number to get our free mobile app
We can be happy for Taulia's successes elsewhere while holding to our Crimson Tide loyalty. After all, his head coach was the offensive coordinator for two championship contending seasons, winning one thanks to Tua's heroics.
We have to stop viewing the transfer portal as a singular device for quitters and poor character concerns. Because sometimes players use it for the right reasons. Hurts did. Taulia is.
So cheer on Taulia Tagovailoa. Remember his family's contributions to this school and this team.
Good luck, Taulia. I've got your back.
Alabama Players in the NFL