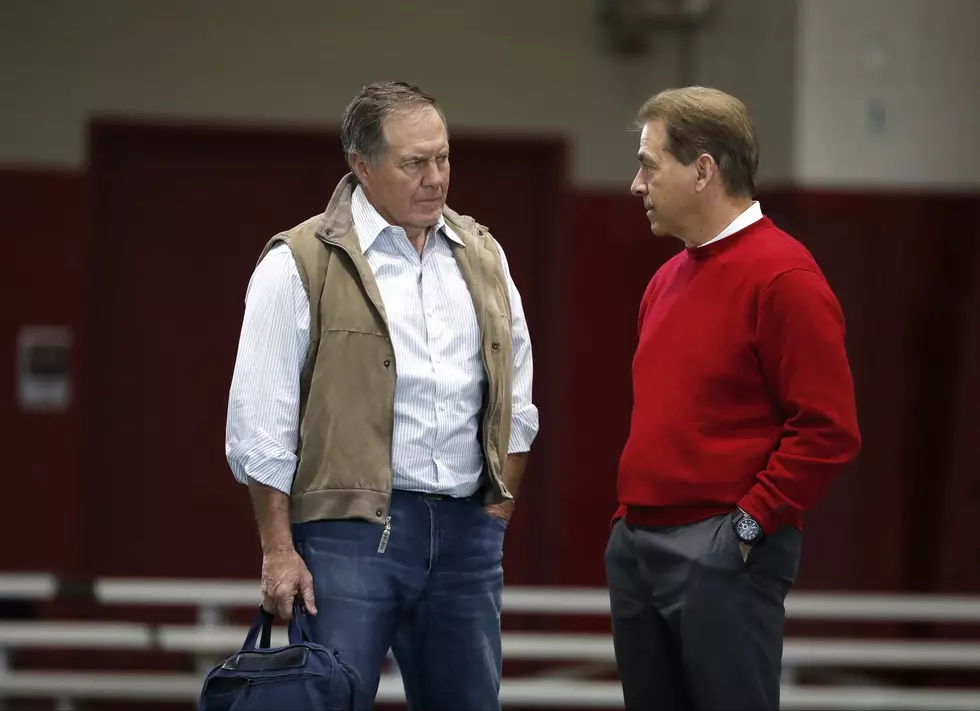 Could Bill Belichick Be Reunited With Nick Saban?
Crimson Tide Photos / UA Athleti
The rumors are swirling that the 2-8 New England Patriots could soon part ways with the legendary Bill Belichick, the guy who used to be Nick Saban's boss at the Cleveland Browns.
Saban learned a lot in those days, and its paid off handsomely but on the field and at the bank. The two men are eerily similar. All business. Football geniuses. Workaholics. Driven. And great friends.
One NFL pundit thinks the Buffalo Bills will make a push for Belichick.
But what about this: what if the eight-time Super Bowl winner decided he'd had enough of the NFL for a while? He's visited Tuscaloosa numerous times for Alabama's Pro Day. He respects what Saban has done in Tuscaloosa and before.
Could Belichick be a one or two-year analyst for his good  buddy?
You can never rule it out, right?
"I think the thing I learned most from Bill was how he defined every expectation of everything in the organization," Saban told ESPN two years ago. "How you brought players to the team, how you wanted a team to look on the field, how he defined critical factors for what he expected at every position.
"That's helped me tremendously because you know what you're looking for all the time. A lot of coaches don't define it so sometimes you get people that don't fit your system."
That respect is mutual. You better believe that.
"There's always good players here. They do a great job," Belichick told the Boston Globe at last year's Alabama Pro Day. These guys are going to play somewhere, whether we draft them or not," he said. "So, it's good to get to know them. They do a great job. I like watching film with the players and seeing some of the things schematically that they're doing."
All Bama fans know that Belichick has brought in quite a few Crimson Tide prospects since Saban took the program over in 2007, including Brandon Deaderick, Dont'a Hightower, Xzavier Dickson, Cyrus Jones, Damien Harris, Anfernee Jennings, and Mack Wilson along with Mac Jones and Christian Barmore.
Face it: these two guys have a history, and they love it other. Could there be a "second honeymoon?"
Crimson Tide's NFL Draft First-Rounders During Saban's Tenure
Take a look back on the Crimson Tide's first round selections under head coach Nick Saban.
Gallery Credit: Jacob Harrison