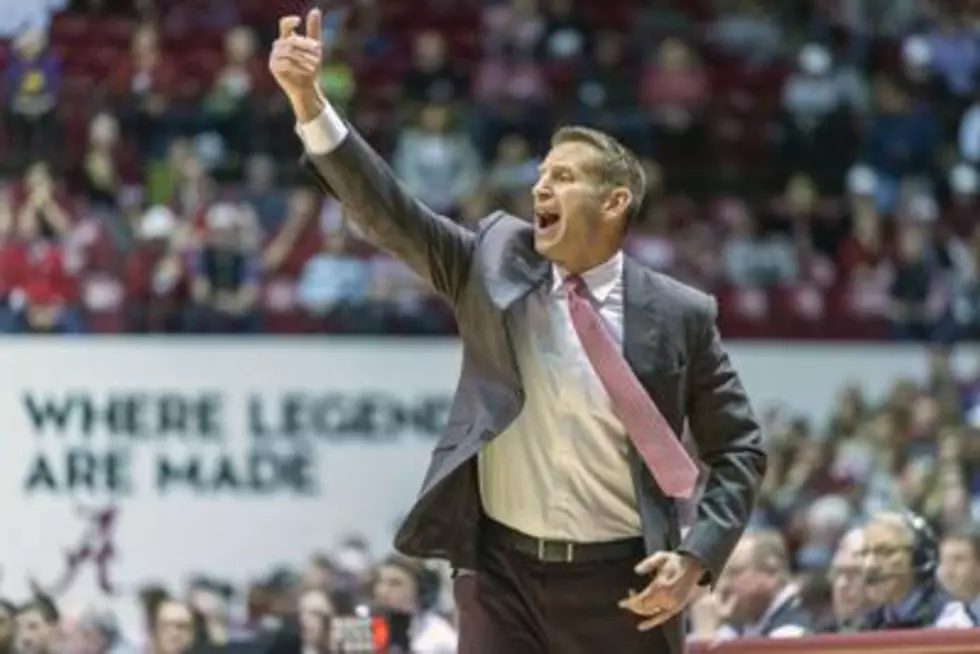 Crimson Tide Signs Recruiting Class
Photo Courtesy of Dothaneagle.com
When the 2019 season ended, Alabama basketball coach Nate Oats told the media he would look high and low searching for talent to bring into his program for the 2020 season. Oats spoke out, saying that all avenues would be explored, high school, junior college or even the transfer portal would be options to find prospective talent.
Today was the first day of the late signing day for college basketball. Coach Oats saw four signatures come through its fax machine. The Crimson Tide's recruiting class is the 16th rated class in the country according to, Scout.com.
The Crimson Tide went into today with Keon Ambrose-Hylton's signature already secured. Ambrose-Hylton signed with the Tide in November of 2019. He is a 6-foot-8, 200 pound forward out of Toronto, Canada. He is the 58th overall prospect according to ESPN and is ranked as the number two overall player in Canada according to North Pole Hoops. Ambrose-Hylton played for Canada's U17 FIBA World Cup team and on the Under 19 National Team. Ambrose-Hylton chose the Crimson Tide over Florida, Arkansas, Dayton, North Carolina State and more.
Jordan Bruner does not sign a national letter of intent, but he signs an institutional financial aide agreement, according to Cecil Hurt while speaking to Travis Reier on Southern Fried Sports today. Bruner is a grad-transfer from Yale who earned First Team All-Ivy League last season. The 6-foot-9 forward averaged a double-double in 2019-20 for the Yale Bulldogs. He helped the Bulldogs finish first in the Ivy League this past season. Bruner was one of the more coveted grad-transfers this offseason and he chose the Tide over Baylor and Maryland.
Joshua Primo signed his letter of intent after reclassifying into the class of 2020. The 6-foot-6 combo guard is ranked as a five-star prospect and the number 27 overall player in the 2020 class by 247Sports.com. Primo is projected as a mid-first round selection in next seasons 2021 NBA Draft. He played in the 2019 FIBA U-19 World Cup for team Canada as the youngest member invited to the team. The young guard was named a camp all-star at the Basketball Without Borders Global Camp in Chicago this past Feburary. He chose the Crimson Tide over Creighton, Ohio State, Auburn and others.
Coach Oats went to the junior college ranks and signed Keon Ellis out of Florida SouthWestern State in Fort Myers, Florida. The 6-foot-6 guard was ranked as a four-star JUCO prospect by 247Sports. Ellis averaged 18.7 points per game, shooting 40% from the 3-point line. He was named to the NJCAA Second Team All-American team, and helped his team to a 29-2 record and a number one overall ranking. Ellis was the Suncoast Conference Player of the Year in 2019-20.
Darius Miles signed his letter of intent today after spending this past season in a post-graduate year at IMG Academy. Miles is a 6-foot-7 forward who Rivals.com rates as a four-star prospect. Miles averaged 12 points and 2.5 rebounds per game on the IMG postgraduate team, he will have four years of college eligibility. The forward chose the Crimson Tide over Memphis, Minnesota, LSU and Georgetown.
Coach Oats got two recruits from high school, one with a reclassification. He found one recruit doing a post-grad year at IMG Academy, another from junior college and another from the transfer portal as a graduate transfer. He worked diligently to secure the number 16 recruiting class.
He brings in this class to Tuscaloosa and it still remains to be seen if any of his three players testing the NBA waters will decide to return to the Capstone for the 2020 season.
Enter your number to get our free mobile app
How To Stay Productive When You're Stuck At Home