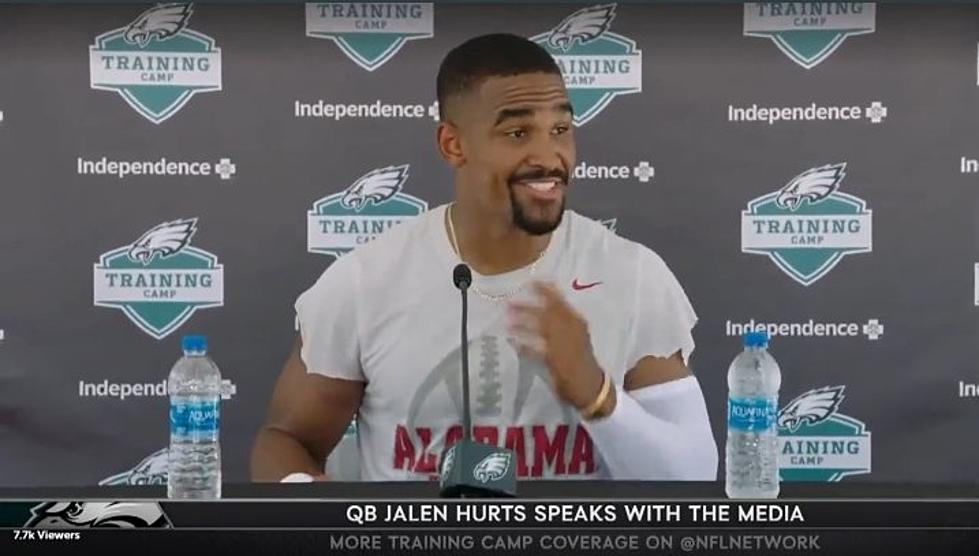 Eagles Make Jalen Hurts Highest Paid Player in NFL History
Photo Courtesy of @BamaProUpdates on Twitter
The Philadelphia Eagles have agreed to a contract extension with Jalen Hurts that makes him the highest paid player in the History of the National Football league, eclipsing even the half a billion dollars the Kansas City Chiefs allocated to Patrick Mahomes just under three years ago.
Hurts' deal, negotiated by Nicole Lynn of Klutch Sports, is a 5-year, $255 million deal that includes $179 million of guaranteed money. It also includes a no-trade clause, the first in Eagles history.
In just his second year as the full-time starter in Philadelphia, Hurts led his team to the Super Bowl. Though the Eagles came up short against the Chiefs, that shortcoming rested much more on the Eagles' defense than anything Hurts and the offense did. In the world's biggest football game, Hurts completed 71% of his passes for 304 yards and accounted for four total touchdowns, three rushing.
Hurts' time in Tuscaloosa is well-documented. He was famously benched at halftime of the 2018 College Football Playoff National Championship game in favor of Tua Tagovailoa, who went on to win the game on the historic "2nd and 26" play in overtime. Rather than transfer out of the program, Hurts decided to stay and fight for the starting role.
When Nick Saban ultimately chose Tagovailoa, Hurts still stayed, saying at the time he felt that the staff at Alabama could best help him develop his passing game. In the SEC Championship game that season, Hurts relieved an injured Tagovailoa and led the team to his own victory over the formidable Georgia Bulldogs.
Hurts entered the NFL as a second round draft pick after one season at Oklahoma, where he utilized Lincoln Riley's high-flying offensive scheme to showcase his new passing abilities to the world.
Ultimately, Hurts' commitment to the grind has paid off massively, better than it has for any player in the history of football.
Alabama Crimson Tide in Super Bowl LVII
Here are the best shots of former Tide stars Jalen Hurts, Landon Dickerson, Devonta Smith, and Josh Jobe in Super Bowl LVII. All four men played for the Philadelphia Eagles, who came up just short in one of the most competitive Super Bowls of all time, falling to the Kansas City Chiefs 38-35 in the waning seconds of the game.
Alabama at Auburn Feb 11 2023
Alabama Spring Practice Second Week 2023