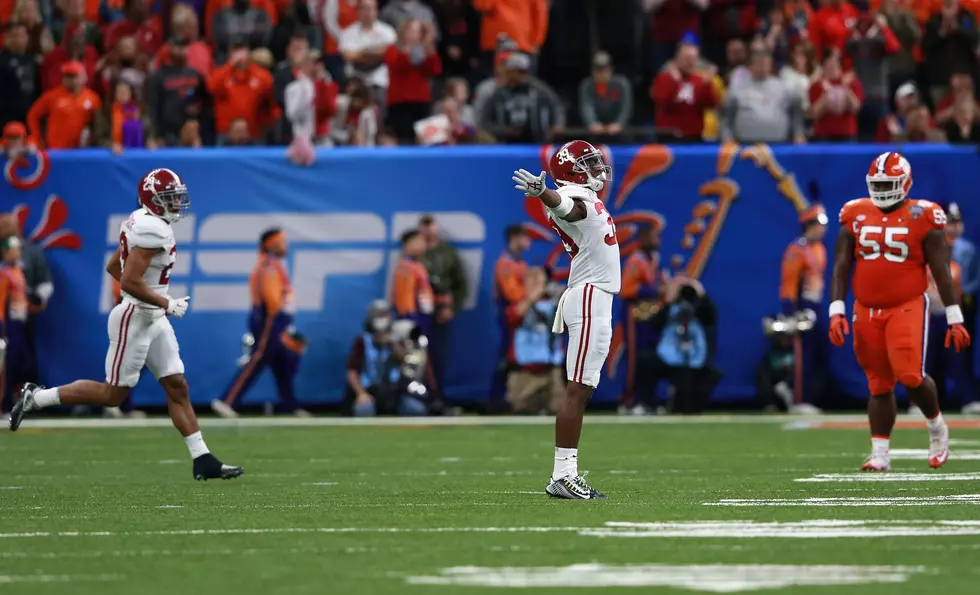 Five Former Alabama Football Players Sign as Free Agents Following 2018 NFL Draft
Getty Images
University of Alabama defensive backs Tony Brown and Levi Wallace, wide receivers Robert Foster and Cam Sims and offensive lineman J.C. Hassenauer signed free agent contracts following the conclusion of the 2018 NFL Draft on Saturday.
The five signings on Saturday and Sunday gives the Crimson Tide a total of 17 players either drafted or signed as free agents off of the team's 2017 national championship squad.
Brown signed with the Los Angeles Chargers, while Hassenauer and Sims inked deals with the Atlanta Falcons and Washington Redskins, respectively. Foster and Wallace both agreed to terms with the Buffalo Bills.
They join drafted teammates Minkah Fitzpatrick (Round 1, Miami Dolphins), Da'Ron Payne (Round 1, Washington Redskins), Rashaan Evans (Round 1, Tennessee Titans), Calvin Ridley (Round 1, Atlanta Falcons), Ronnie Harrison (Round 4, Jacksonville Jaguars), Da'Shawn Hand (Round 4, Detroit Lions), Anthony Averett (Round 4, Baltimore Ravens), JK Scott (Round 5, Green Bay Packers), Shaun Dion Hamilton (Round 6, Washington Redskins), Bradley Bozeman (Round 6, Baltimore Ravens), Bo Scarbrough (Round 7, Dallas Cowboys) and Joshua Frazier (Round 7, Pittsburgh Steelers) as members of the 2017 UA squad who will begin their professional careers in 2018.
The 12 draft selections is a record under Nick Saban and the most in school history, surpassing the 10 selected in 2017 and in the 32-round draft in 1945. The total is also the most for an SEC school in NFL Draft history.
Alabama's 77 draftees over the last 10 years is the most by any program in college football in that span. LSU is second with 65, followed by USC at 61.
Alabama has had 22 players selected in the last two NFL Drafts, including eight in the first round and 11 in the first two rounds. The Tide had six players picked on offense, 15 on defense and one specialist. The defensive draftee total from the last two drafts includes all 11 of Alabama's 2016 season-opening defensive starters.
| | | | | |
| --- | --- | --- | --- | --- |
| Alabama Draft Recap |   |   |   |   |
| Player | Pos. | Rd. | Pick | Team |
| Minkah Fitzpatrick | DB | 1 | 11 | Miami Dolphins |
| Da'Ron Payne | DL | 1 | 13 | Washington Redskins |
| Rashaan Evans | LB | 1 | 22 | Tennessee Titans |
| Calvin Ridley | WR | 1 | 26 | Atlanta Falcons |
| Ronnie Harrison | DB | 3 | 93 | Jacksonville Jaguars |
| Da'Shawn Hand | DL | 4 | 114 | Detroit Lions |
| Anthony Averett | DB | 4 | 118 | Baltimore Ravens |
| JK Scott | P | 5 | 172 | Green Bay Packers |
| Shaun Dion Hamilton | LB | 6 | 197 | Washington Redskins |
| Bradley Bozeman | C | 6 | 215 | Baltimore Ravens |
| Bo Scarbrough | RB | 7 | 236 | Dallas Cowboys |
| Joshua Frazier | DL | 7 | 246 | Pittsburgh Steelers |
| | | |
| --- | --- | --- |
| Alabama Free Agent Signees |   |   |
| Player | Pos. | Team |
| Tony Brown | DB | Los Angeles Chargers |
| Robert Foster | WR | Buffalo Bills |
| J.C. Hassenauer | OL | Atlanta Falcons |
| Cam Sims | WR | Cincinnati Bengals |
| Levi Wallace | DB | Buffalo Bills |