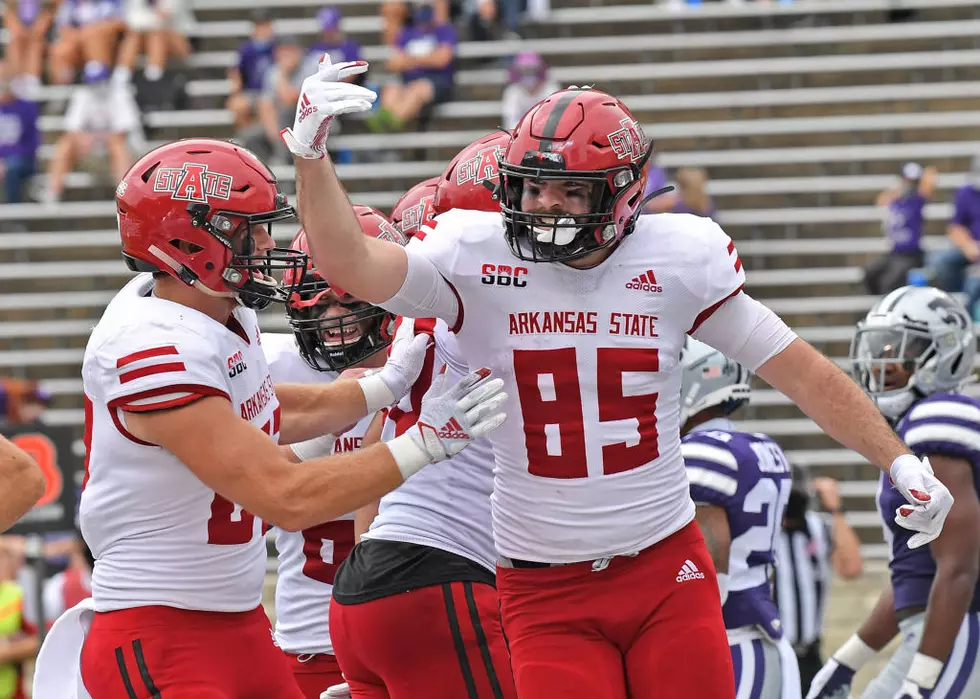 Former Tide Teammates Lead Red Wolves To Victory
Getty Images
The Sun Belt had a strong second weekend in college football this past weekend with Arkansas State, Coastal Carolina and Louisiana all defeating Big 12 opponents on the road. One team, Arkansas State had a pair of offensive players that Alabama fans should be familiar with.
The Red Wolves used redshirt sophomore quarterback Layne Hatcher and graduate tight end Giles Amos to work together to defeat Kansas State 35-31 in Manhattan, KS.
Hatcher threw two, second half, touchdowns one two Amos and one to senior receiver Jonathan Adams Jr. Hatcher's two touchdowns helped the Red Wolves tie the ballgame and then take the lead for good in the fourth quarter.
Hatcher had been splitting time with junior quarterback Logon Bonner this season, through two games he has passed for 227 yards and two touchdown. He was with the Crimson Tide as a true freshman in 2018 and he was the Sun Belt Freshman of the year in 2019.
Amos transferred to Jonesboro, Ark this past summer after earning his degree at Alabama. He earned playing time as a reserve tight end in 2019. Amos is tied for fourth in receptions for the Red Wolves so far in this young season. He has hauled in five receptions for 38 yards and one touchdown.
After two road games the Red Wolves return to Jonesboro for its first home game of the season, they will take on Central Arkansas this week.
Enter your number to get our free mobile app
Career Statistical Leaders: The Alabama Football Record Book