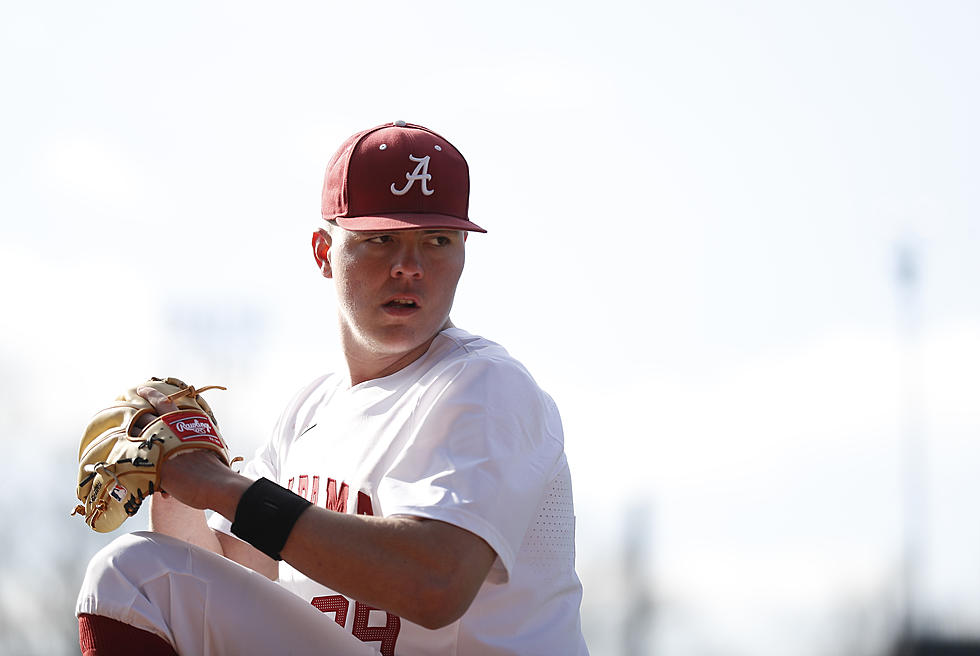 Garrett McMillan Secures SEC Co-Pitcher of the Week
Crimson Tide Photos / UA Athletics
The conference has announced Alabama junior right-handed pitcher Garrett McMillan as the SEC Co-Pitcher of the Week after his dominant performance against No. 9/7 Ole Miss on Friday. The award is split between him and Auburn sophomore RHP Joseph Gonzales who threw Auburn's first complete SEC game since 2018.
He threw 112 pitches in Alabama's 7-4 win on Friday – 40 pitches coming in the first inning – with just one run earned on two total runs allowed. The Hillcrest alum collected seven strikeouts in the appearance with just three hits and three walks allowed.
McMillan has been a consistently reliable starter for Alabama in 2022 despite being 3-2 on the season. He sits at a team-high 48.1 innings pitched and 51 strikeouts in 2022 while holding onto a 2.79 ERA.
As a Tuscaloosa native, McMillan played his first two seasons of eligibility at Shelton State Community College just down the road where he played high school baseball at Hillcrest. He went a perfect 12-0 with the Bucs and was a part of the squad taking Shelton to the NJCAA World Series in 2021.
Alabama baseball's next appearance comes on Tuesday in a non-conference matchup in Tuscaloosa against Belmont at 3 p.m. CST. The coming weekend series brings the Tide to Knoxville, TN to face the No. 1-ranked Tennessee Volunteers (31-1, 12-0).
For more from J.R. and all of the talented staff at Tide 100.9, make sure to check out our content at tide1009.com and on the Tide 100.9 app.
Alabama Crimson Tide Baseball Strikeouts Leaderboard
Look back on Alabama's top 10 strikeout artists in program history.
Alabama Baseball's Career Batting Average Leaders