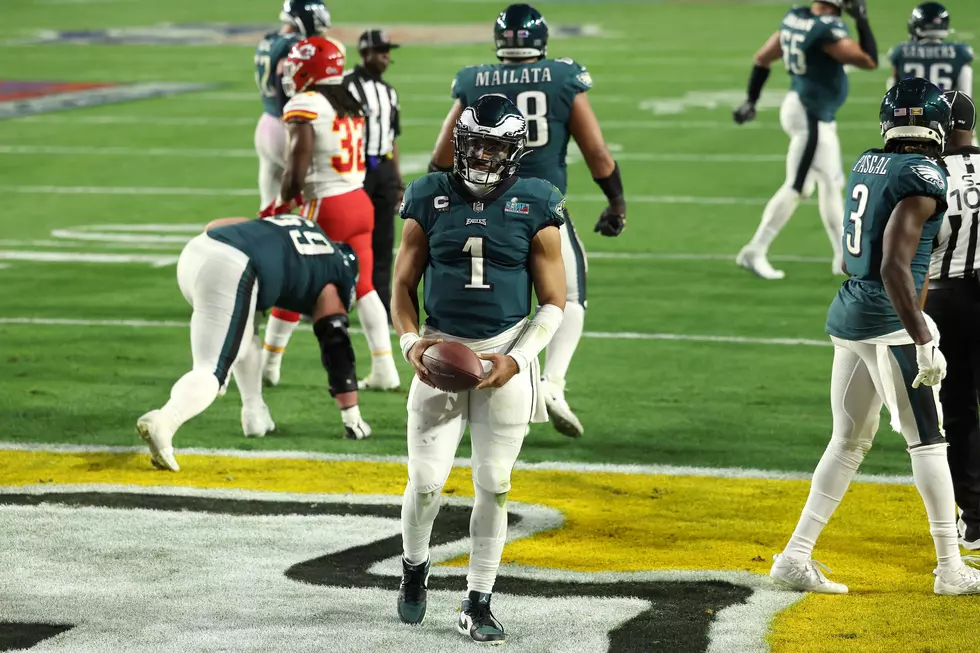 Jalen Hurts Shows Out In Super Bowl Loss
Getty Images
While the 38-35 result of Super Bowl LVII wasn't what Philadelphia fans, as well as many Alabama fans, wanted, quarterback Jalen Hurts still showed up on the biggest stage of his career.
He went 27-for-38 on passing for 304 yards, was the team's leading rusher with 70 rushing yards, and had four total touchdowns, outperforming Super Bowl MVP Patrick Mahomes of the Kansas City Chiefs, who passed for over 100 less yards and had less total touchdowns.
Of Hurts' four touchdowns, three of them were rushing, tying a Super Bowl record for the most of all time in one game with running back Terrell Davis in Super Bowl XXXII.
Hurts' biggest moment of the game came in the fourth quarter after the Chiefs scored a touchdown to extend their lead to eight points.
His response was leading a 75-yard drive downfield, highlighted by a 45-yard pass from Hurts to former Alabama wide receiver DeVonta Smith, which set the Eagles up for first-and-goal. Hurts then was able to run it in the end zone from two yards out, as well as run in the two-point conversion to tie it up at 35-35.
Even though Hurts did it all for the Eagles, he did make one mistake, which was in the second quarter when he fumbled the ball and it was returned for a 36-yard touchdown, tying up the score for the Chiefs. While in hindsight, this turnover proved costly. Philadelphia still did have a 10 point lead at halftime before giving up 24 points in the second half, which Kansas City got by scoring on every possession they had in the half.
Hurts spoke in a presser after the loss on how he felt about coming up short.
"I think the beautiful part about it is everyone experiences different pains. Everyone experiences different agonies of life, but you decide if you want to learn from it, you decide if you want to use that to be a teachable moment. I know what I'll do," said Hurts.
Mahomes also spoke on Hurts and his performance in the game.
"If there were any doubters left, there shouldn't be now... It was a special performance by him man and you make sure you appreciate that when you look back on this game."
Hurts and the Eagles will now go into the offseason looking to make moves to help get them back to the Super Bowl. Starting with the two first round draft picks they own in the 2023 NFL Draft, including the 10th overall pick, which they received courtesy of the New Orleans Saints.
Alabama at Auburn Feb 11 2023
Alabama Softball's Season Opener
Alabama softball's 2023 season opening weekend.
Alabama vs Florida - Feb 8, 2023
The Alabama Crimson Tide hosted the Florida Gators Feb 8, 2023 and came out on top 97-69.