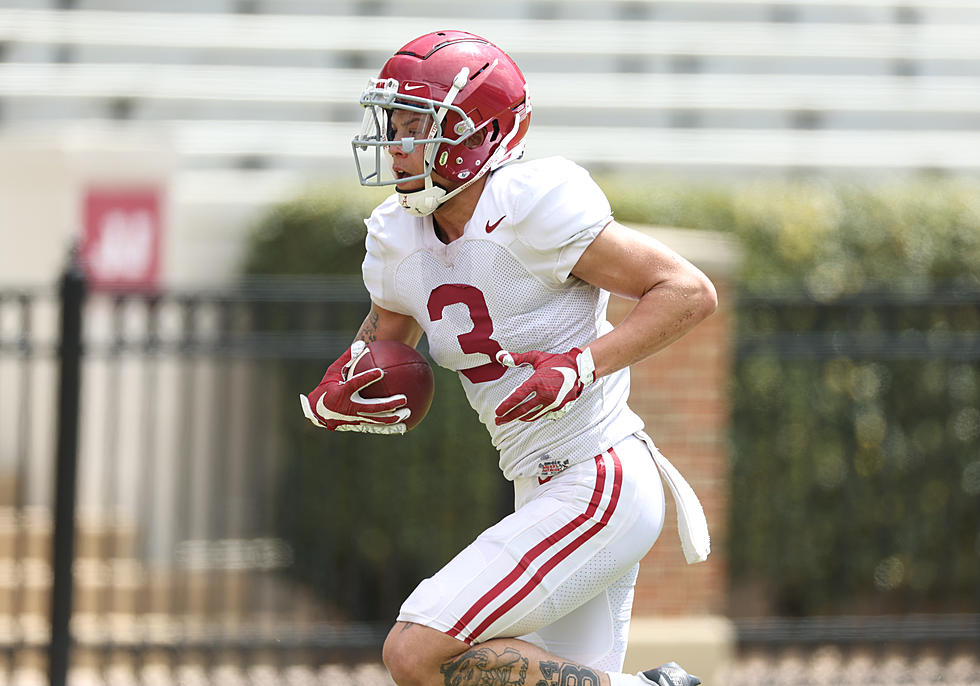 Jermaine Burton Added to the Biletnikoff Award Watch List
Crimson Tide Photos / UA Athletics
Alabama wide receiver Jermaine Burton was added to the Biletnikoff Award Watch List. The award is presented annually to the top wide receiver in college football. Three Alabama players have received the honor in the past, including Amari Cooper, Jerry Jeudy and DeVonta Smith. Jameson Williams was a finalist last season.
Burton spent first two seasons at Georgia before transferring to Alabama in January. The former four-star recruit in the 2020 recruiting class caught 53 passes for 901 yards and eight touchdowns for the Bulldogs.
With Williams, John Metchie and Slade Bolden off to the NFL, Burton fills an immediate need for the Crimson Tide offense. Bryce Young spoke about the addition of his new target during spring practice and how quickly he has adapted to his new environment.
"Jermaine's someone that I knew before he transferred here," Young said in March. "He was in California his last two years and we've been to the same camps, been in the same circles, so he was someone that I knew before college. He's someone who came in and really has a really professional mindset as far as early, right when he transferred in, he wanted to know the plays, wanted to know the system, meeting with Wiggs, meeting with and talking with me and asking me questions about how we did stuff, how our operation worked, certain routes, the specifics."
"He's someone who has worked hard to catch up as quickly as possible and kind of bridge that gap. Before spring starts, especially when it's newer faces, you get those sessions on the side of throwing and trying to get that chemistry down and get a feel for one another. We had a relationship before college, and we've had some stuff before spring practice."
Burton moves from a run first offense to a more pass-friendly system in Tuscaloosa. Alabama has produced five wide receivers in the last three NFL drafts that were selected in the top 15.
Alabama's 12th Spring Practice 2022
Alabama was back on the practice field on Tuesday. The Tide started its final week of spring practice this week and will celebrate the end of spring practice with the annual A-Day Game on Saturday, April 16.
Nick Saban's Coaching Tree: Where Are They Now?