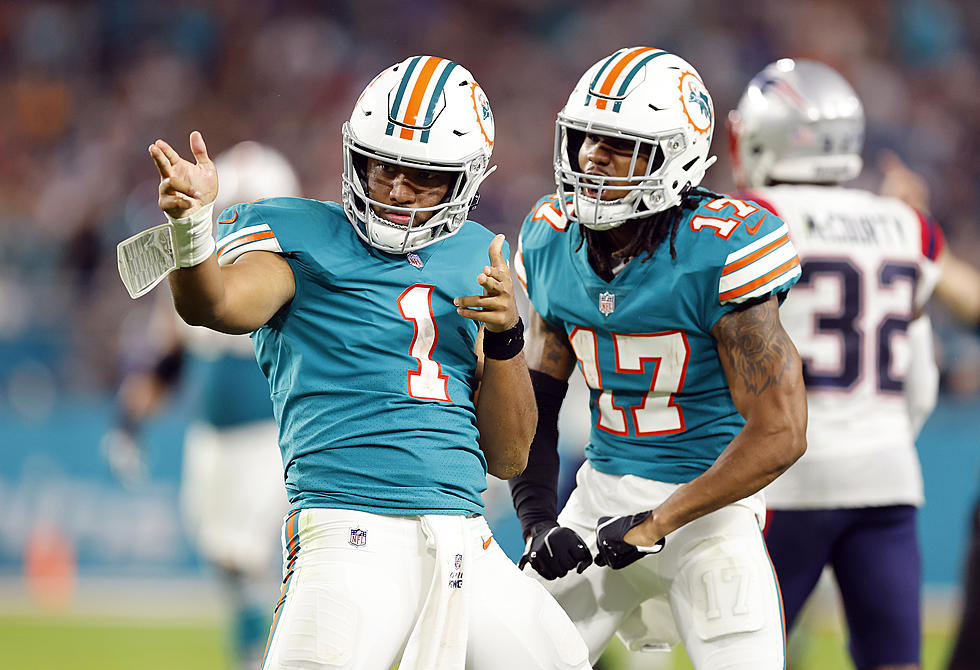 LOOK: Jaylen Waddle and Tua Tagovailoa Back in Action
Getty Images
The dynamic duo of Jaylen Waddle and Tua Tagovailoa were among the first players to arrive for Dolphins OTAs on Monday. Tagovailoa comes back for his third season in what many believe is a make or break year for the young quarterback. Waddle returns for his second season after setting the rookie record for receptions in 2021.
Tagovailoa finished last year with 16 touchdowns and 10 interceptions, throwing for 2,653 yards, but continued to struggle with injury, missing four games to fractured ribs. Though Tagovailoa struggled to put up eye-popping numbers, he managed to rank fourth in the league in completion percentage, completing 67.8% of his throws.
Overall, Miami underachieved in 2021, finishing just 9-8 with a terrible losses to Jacksonville and Atlanta who will both be drafting in the top ten this year.
Despite a tough finish last season, the Dolphins are poised to improve significantly after some impressive moves this offseason and should push to make the playoffs for the first time since 2016. Miami improved nearly across the board, but most importantly traded for arguably the best receiver in the NFL, Tyreek Hill.
The Dolphins also got Tagovailoa some help on the offensive line, signing former Saints offensive lineman Terron Armstead. Armstead is a three time pro bowler and was a second team All-Pro in 2018, so the veteran tackle should help protect the former Tide signal caller.
Tagovailoa has a lot to prove this season, but should have no problem doing it with a revamped offensive line and two of the league's top receiving threats.
Alabama Crimson Tide All-Time Receiving Leaderboard
Highest Rated Recruits of the Saban Era By Year
Check out Alabama's highest-rated recruit from each Crimson Tide recruiting class during the Nick Saban era.
Crimson Tide's NFL Draft First-Rounders During Saban's Tenure
Take a look back on the Crimson Tide's first round selections under head coach Nick Saban.