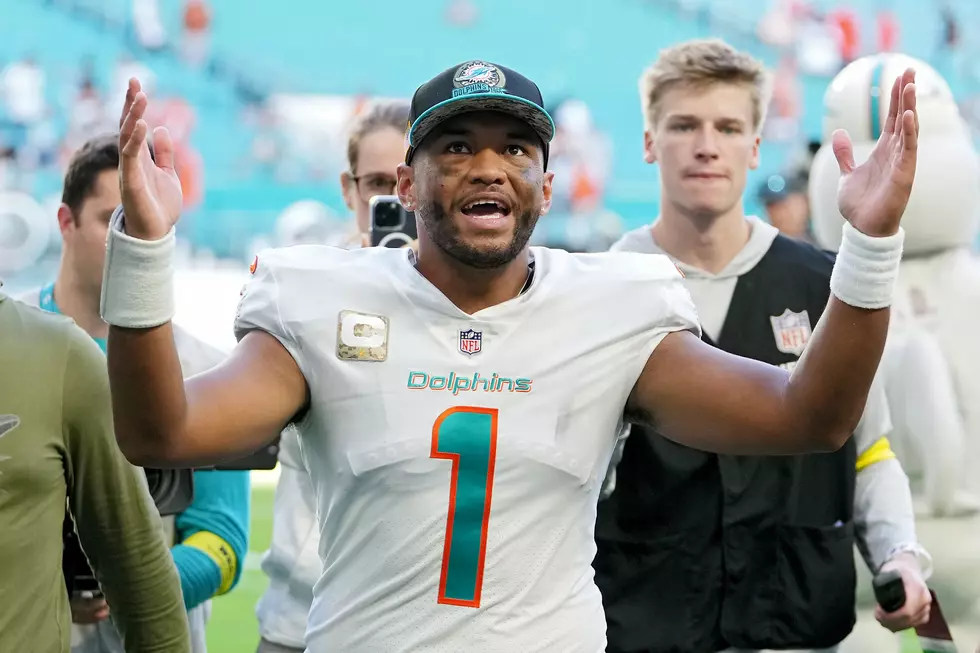 Miami Dolphins Pick Up Tua Tagovailoa's Option
Getty Images
The Miami Dolphins have sent out a clear statement of who the future of their organization will be.
The Dolphins picked up Tua Tagovailoa's fifth year option, ensuring he will be in Miami through the 2024-2025 NFL season. He will earn over $23 million in his fifth NFL season.
After being selected with the fifth overall pick in the 2020 NFL Draft, Tagovailoa signed a four-year contract totaling $30 million guaranteed. On top of his rookie contract, Tua earned a $20 million signing bonus.
The first three seasons of Tagovailoa's career have been just as noteworthy as any other  young quarterback in the history of the NFL. Since earning a starting job midway through his rookie campaign, Tagovailoa has been labeled the future, a bust, and the future again.
Tagovailoa has thrown for 8,015 yards, 52 touchdowns, and 23 interceptions in his first three season with the Dolphins. He had a chaotic 2022-2023 season highlighted by early MVP campaigning and suffering an upwards of three concussions.
Amidst Tagovailoa's serious health concerns, the Dolphins have now established the 25-year old as the quarterback of the future. It is also a financial statement, as Tua will be making an eight figure salary for the first time in his professional career.
Anyone who watched the Dolphins last year saw the potential of their offense. Tagovailoa was throwing darts to one of the league's best receiver duos, Tyreek Hill and Jaylen Waddle. With head coach Mike McDaniel calling plays and Tua staying healthy, the future is as bright as ever in South Beach.
Crimson Tide's NFL Draft First-Rounders During Saban's Tenure
Take a look back on the Crimson Tide's first round selections under head coach Nick Saban.
New Threads For Alabama's NFL Rookies
Check it out! The new NFL rookies out of Alabama already have their jerseys for 2022.
Every Alabama alum who scored a Touchdown in Week 2 of the 2022 NFL season
A photo of every former Alabama football player who scored a touchdown in Week 2 of the 2022 NFL season.