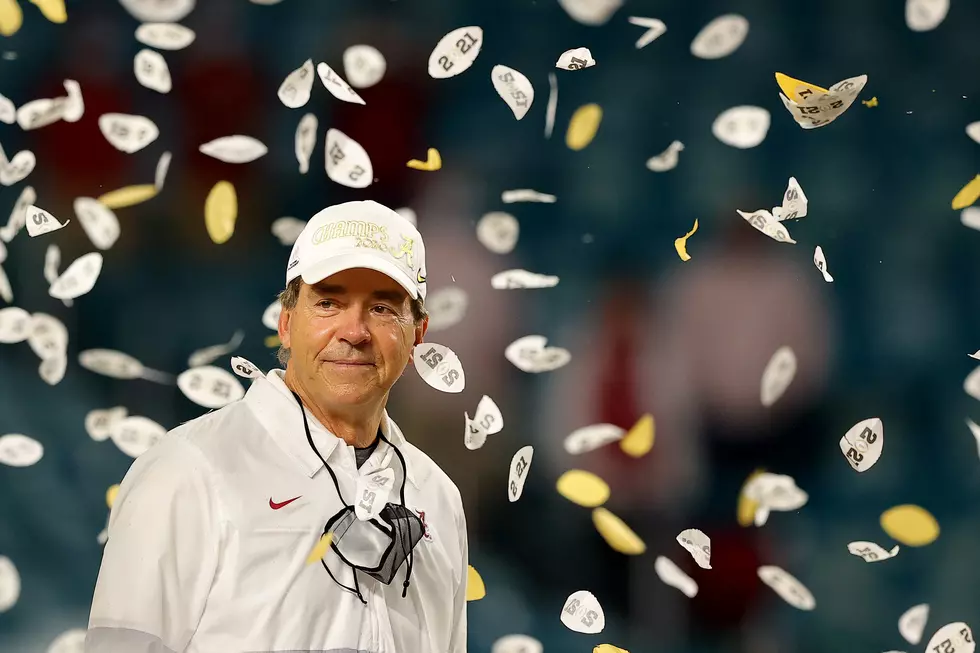 NFL Network to Feature Nick Saban in "A Football Life"
Getty Images
The NFL announced Monday afternoon that the NFL Network's Emmy-nominated series A Football Life will return for a 10th season September 17 with the season premiere focused on Alabama Crimson Tide head coach Nick Saban. The episode will premiere at 8 p.m. CST and profile the life of the seven-time national champion with Josh Charles narrating.
Saban, 69, has coached football for the past 48 years, dating back to his grad assistant position with Kent State in 1973 after his playing career with the Golden Flashes wrapped up. The West Virginia-born defensive mastermind cut his teeth as a position coach with the likes of Syracuse, Ohio State and West Virginia before taking his first defensive coordinator position with Michigan State from 1983-87.
After a stint with the Houston Oilers, Saban took his first head coaching job with Toledo where he led the Rockets to a 9-2 record. That effort led to being the defensive coordinator for the Cleveland Browns under Bill Belichick.
In 1995, Saban rejoined the collegiate head coaching ranks with the Spartans of Michigan State, leading them to a 34-24 record over five seasons. A 9-2 finish in 1999 presented Saban with the opportunity to coach the LSU Tigers, where he built a powerhouse program that won the BCS national championship in 2003.
Saban transitioned his collegiate success to the NFL for a brief stint with the Miami Dolphins. The Dolphins couldn't find a quarterback during Saban's tenure and in turn, the Alabama Crimson Tide began its head coaching search with Nick Saban. 15 years later, Alabama has gone a blistering 172-23 won, six national championships, featured the only three Heisman Trophy winners in program history and currently has the most players under contract in the NFL.
Saban is the fifth player or coach featured by the series with strong Alabama ties. Season 3 featured Derrick Thomas, Season 4 featured a two-episode profile of Joe Namath while Season 5 featured former Alabama offensive coordinator Bruce Arians and Kenny Stabler.
The 10th season of A Football Life will also feature Hall of Famers Calvin Johnson, Drew Pearson, John Lynch and two-time Super Bowl champion James Harrison.
From the NFL's press release: All NFL Network programming is available across multiple devices (smartphone, PC, tablet and connected TVs) through the NFL app and NFL Network app for subscribers of participating NFL Network providers. Visit NFL.com/watch for more information on how to watch.
Crimson Tide's NFL Draft First-Rounders During Saban's Tenure
Take a look back on the Crimson Tide's first round selections under head coach Nick Saban.
Starting Alabama Quarterbacks Under Nick Saban
Here is every quarterback that has started for the Crimson Tide under Nick Saban.
Top Offensive Lineman in Saban Era
PHOTOS: Alabama Celebrates #18