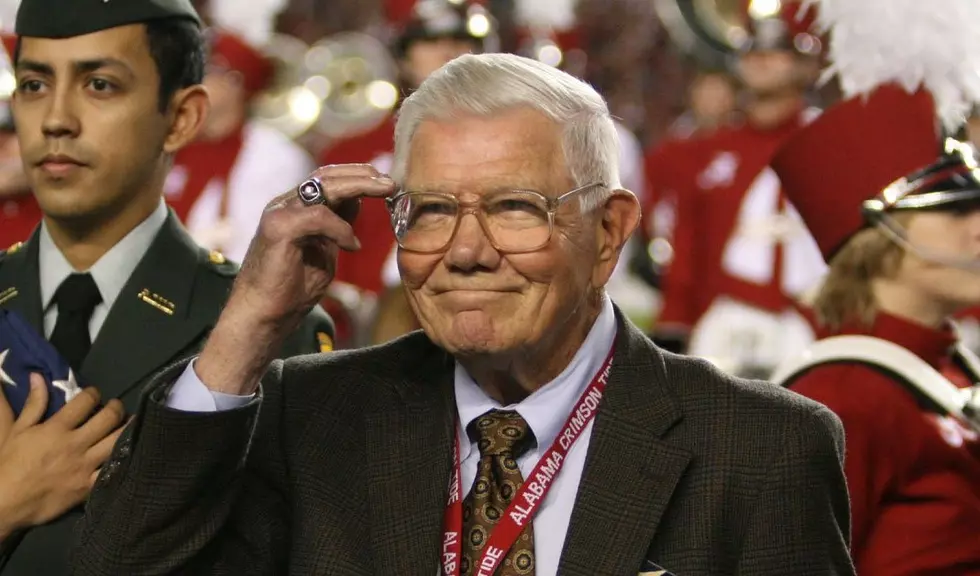 Oldest Living Alabama Player Beating COVID-19
Photo Courtesy of @bryantmuseum on Twitter
Former Alabama football player and World War II veteran Don Salls, 101 years old, recently received his second straight negative COVID-19 test after being in the VA hospital COVID ICU ward according to WVTM's Rick Karle.
Salls played football at the University of Alabama from 1938 to 1942. He went on to earn his master's and doctorate degrees. From 1946 to 1964 he coached football at Jacksonville State University. Salls continued to teach at JSU until he retired in 1981.
Salls went to high school at White Plains, N.Y. He was named MVP on his football team.  In the fall of 1938 he rode 1,000 miles from his home  on a bus to Tuscaloosa to attend college on full scholarship and to play under Coach Frank Thomas.
During Salls' time at Alabama he played in the Orange Bowl and the Cotton Bowl.
"It was fantastic to play in the two bowl games," Salls said.
On January 1, 1942, Alabama defeated Team A&M in the Cotton Bowl earning the Crimson Tide a national championship. Salls played the positions of fullback and linebacker.
Salls joined the U.S. Army after graduating from Alabama. He was stationed in Europe during the second World War. After two months of combat, he was shot in the hand while fighting in field. When he was hospitalized in England, Salls was diagnosed with a broken back. He was a Purple Heart recipient.
"The war was over for me. I got out alive and said the good lord has a purpose for me in this world," said Salls.
Salls returned to the University of Alabama and earned a master's degree in physical education.  Salls was then offered a job as a head football coach and head of physical education department at then Houston Cole, but now Jacksonville State University.
Salls remains the winningest coach in JSU history. He lead the team to win three bowl games and seven conference titles. Salls served as the Gamecocks coach from 1946 to 1964.
Salls earned a doctorate in education from New York University. He also wrote a book, "How to Live and Love to Be 100" in 1995. Salls dedicated this book to his wife Diane.
In 1992 Salls was inducted into the Alabama Sports Hall of Fame. He is also a member of the Jacksonville State University Athletic Hall of Fame, the Westtchester County, N.Y., Hall of Fame and the Calhoun County Sports Hall of Fame. Salls and Harry Gilmer received the National Alumni Associations Paul W. Bryant Alumni-Athlete Award in 2003 at the Alabama -Oklahoma game. Salls also received the Vaught Lifetime Achievement Award from the All-American Football Foundation.
Salls now resides at William F. Green State Veterans Home in Bay Minette. After two weeks of quarantining he will be cleared to return to his room at the VA.
Enter your number to get our free mobile app
Alabama Football Players in the Hall-of-Fame