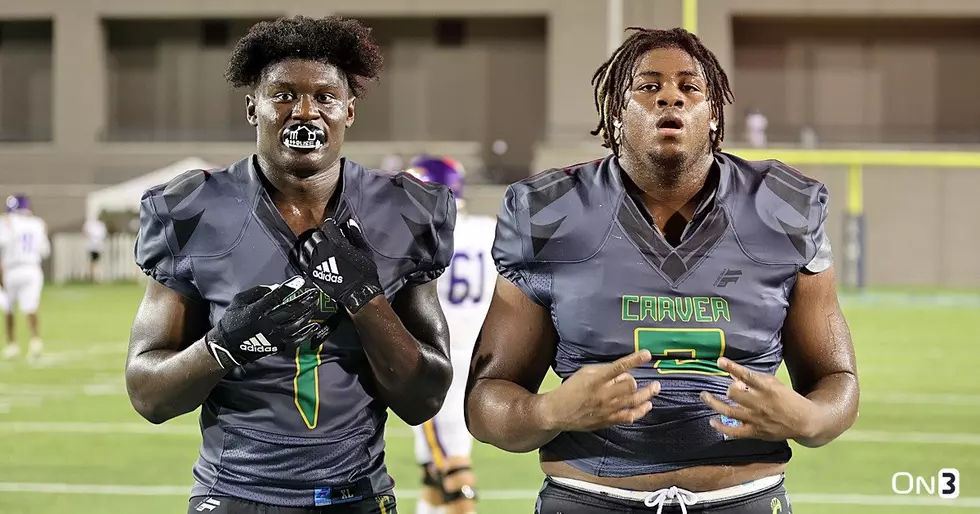 OPINION: Predicting Where Alabama's Main Targets Go
Photo Courtesy of On3
Nick Saban has spent the last two weeks making in-home visits to Alabama's commitments and remaining targets from the 2023 recruiting class.
Many of the nation's top recruits will sign their National Letter of Intent on Early Signing Day next week (Dec. 21-23) and enroll in the spring. With a week remaining before players sign on the dotted line, Josh Batchelor predicts where Alabama's top prospects will go.
5-Star DB Caleb Downs (Alabama commit)
Downs committed to Alabama on July 27, but Ohio State has remained in contact.  Instead of visiting the Iron Bowl, Downs attended Ohio State versus Michigan. However, it seems like the Tide has pulled away from the Buckeyes. After leading Mill Creek to the Georgia 7A State Championship, Downs reaffirmed his commitment to Alabama.
"It's time for me to go chase a ring...at Alabama" Downs said.
Prediction: Alabama
5 Star DL James Smith and 5 Star LB Qua Russaw 
The Carver (Montgomery, Ala.) teammates are two of the top uncommitted recruits in the country. The duo is a package deal and will sign with the same school. It has been an in-state battle between Alabama and Auburn for the top ranked in-state players. This race will come down to the wire, but the coaching instability on the plains makes me lean Alabama.
The two will commit on Dec. 21 at 1 p.m. CT at Carver High School.
Prediction: Alabama
5 Star OT Kadyn Proctor (Iowa Commit)
Iowa earned Proctor's commitment at the end of June, but Alabama has remained in contact. Saban and offensive line coach Eric Wolford have visited Proctor numerous times, attempting to flip him from the in-state Hawkeyes. If Alabama can get Proctor to visit Tuscaloosa this weekend, the Tide will have a good chance in landing his commitment.
Prediction: Alabama
5 Star CB Desmond Ricks
Desmond Ricks shook up the recruiting landscape when he reclassified from 2024 to 2023. The IMG Academy product has been highly recruited by LSU, Alabama, and Florida. Ricks visited Alabama Dec. 9 alongside the Carver duo, but will visit Baton Rouge Dec. 16. Ricks was in Baton Rouge when LSU defeated Alabama and has been trending towards LSU ever since. Alabama has put up a fight, but the Tide is more likely to land 4-star cornerback Damari Brown.
Prediction: LSU
Alabama currently has 25 commitments and the No.1 ranked 2023 recruiting class.
Highest Rated Recruits of the Saban Era By Year
Check out Alabama's highest-rated recruit from each Crimson Tide recruiting class during the Nick Saban era.
Alabama vs Auburn 2022
Crimson Tide's NFL Draft First-Rounders During Saban's Tenure
Take a look back on the Crimson Tide's first round selections under head coach Nick Saban.