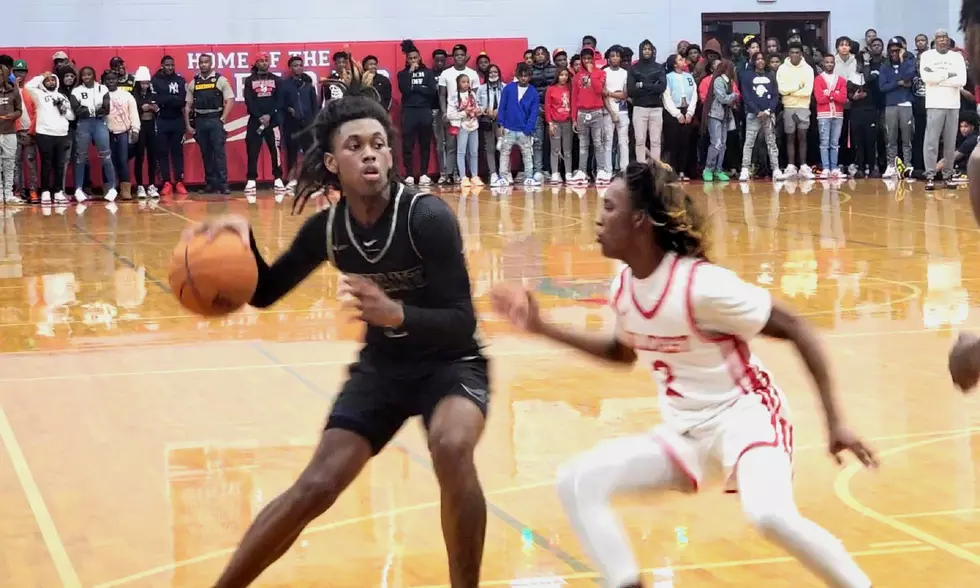 Paul Bryant Takes Down Hillcrest
Jalen Prince
In a very competitive sold-out venue, the Paul W. Bryant Stampede defeated their cross-city rivals, the Hillcrest Patriots, 42-37. Four minutes before tip-off, Hillcrest Gymnasium was declared a sold-out event, with no seating and hardly a place to stand.
Adrian Wooley, a junior guard, led the Stampede with 22 points. He was helped by senior guard Johnathon Crawford Jr, who had 10 points, and senior big Marquis Nash, who only had 4 points but had a lot of rebounds and crucial blocks.
Guard DJ Hamlett led the Patriots in scoring with 15 points. The majority of his scoring came in the fourth quarter. Hillcrest guard Osa Alohan had 13 points and standout forward Shah Hall had two points and nine rebounds.
HEADLINE OF THE GAME
There is just not much to say about this rivalry. Just that there will be a crowd that the game will be electrifying whenever you see Hillcrest and Paul Bryant scheduled to play each other, and today there was no disappointment. Both fan bases were treated to a performance by the game's stars when they showed up.
Both teams complimented each other nicely. Normally, there aren't many big guys in the area who can matchup against Hillcrest's 6-foot-8 forward Shah Hall's quickness and talent, but the Stampede have a big man who has been able to hold his own against Hall, and that is forward Marquis Nash, who is listed at 6-foot-7. The guard battles between Paul Bryant's Wooley/Crawford duo and Hillcrest's Hamlett/Alohan pairing were the crowd-pleasers tonight.
THE RECAP
The first half was low-scoring, but the intensity was there throughout. The score at halftime was 20-19 in favor of PWB. Both sides played tenacious defense against one another. Hillcrest, known for their quick pace and loaded athleticism, found success hitting the three ball in the contest, making only six three-point attempts. Hamlett and Alohan combined for 28 of Hillcrest's 37 total points.
The turnovers and missed free throws late in the game were a concern for the Patriots. Hillcrest committed seven turnovers in the fourth quarter and missed six free throws that would have reduced the lead to one possession.
The success of Paul Bryant was due to their defense and the pair of Wooley and Crawford. The Stampede defense suffocated the Patriots and forced a dozen turnovers.
Paul Bryant's Head Boys' Basketball Coach Shonn Peck-Love was strategic throughout the night on both sides of the court.  Peck-Love called a diamond press defense majority of the game to disrupt Hillcrest's offense.  The diamond press is a 1-2-1-1 press defense where you have one player play the front of the press and that player alone with one of the two behind them is responsible to trap the first person that catches the inbounded pass. The last two players are there to make sure nothing gets beat deep.  The stampede found a lot of success with that press and after Hillcrest got across half-court, Paul Bryant went into a 2-3 defense which caused a lot of problems for the Patriots if they were not making shots.
Adrian Wooley was Paul Bryant's offensive "focal point". This season, it's been Wooley or Crawford or bust. Either they're both getting the offense going, or the Stampede are in for a long day. Wooley was the man on offense tonight, sinking three-pointers and scoring clutch shots left and right. What made him a star in the game was how he was making great decisions throughout the night and how the crowd got into it, and some of the Paul Bryant fans who made the trip would chant to the defender guarding Wooley, "HE CAN'T GUARD YOU," and Wooley would go on and make a play for his team.
"He plays big for us every night." Coach Peck-Love on Wooley. "He's our main focal. Sometimes he's our first and second option. He's a good decision maker we put the ball in his hands a lot and let him make the decision. He's just a great overall player and makes other players around him better."
Crawford contributed to his team's score in the first half. On several instances, he was going to the hoop at ease and creating his own shot with his ball-handling ability. Crawford hit a nasty pull three-point shot on a Hillcrest defender early in the second quarter, energizing the crowds on both sides.
TAKEAWAY FROM TONIGHT'S MATCHUP
Paul Bryant won a big game against its opponent, and there was a lot to learn from the victory. Under Peck-Love, the Stampede's identity has been defense and speed on offense and he preaches a "championship formula". Wooley and Crawford have been the team's offensive bright spots, and both have the ability to take over games, which they have done throughout the season. Other players that contributed to the team's success were Eric Grant, who had six points in the game, Spiros Gasteratos, and, as previously stated, big man Marquis Nash. The assistant coaches deserve a lot of credit, especially during the key timeouts late in the game.
The Stampede have gone through a lot of close games this season and they have come up short in a few of them but according to coach Peck-Love those experiences have "prepared them for area play". It would not be surprising to see how far the Stampede can go with that experience and the talent Paul Bryant has.
Coach Scott Suttles still has a well-rounded team of talented and tough players at Hillcrest. He understands that there will be games where things do not go their way and that other teams will and have taken advantage of the situation. Suttles has reminded himself that he is still coaching a young team. The Patriots still have a lot of skill, and their big three of Hamlett, Alohan, and Hall are capable of taking this team to greater heights this year.
Paul Bryant will be home against Huffman School-Magnet Monday January 9th at 7pm.  Hillcrest's next opponent will be Hale County back in Hillcrest Gymnasium Tuesday January 10th at 7pm.
Highest Rated Recruits in Bama Hoops History
Take a look at the highest rated recruits to play for Alabama since 2000 according to 247Sports.
Notable Bama Players to Play in the WNBA
Alabama Women's Basketball Photo Shoot 2022-23