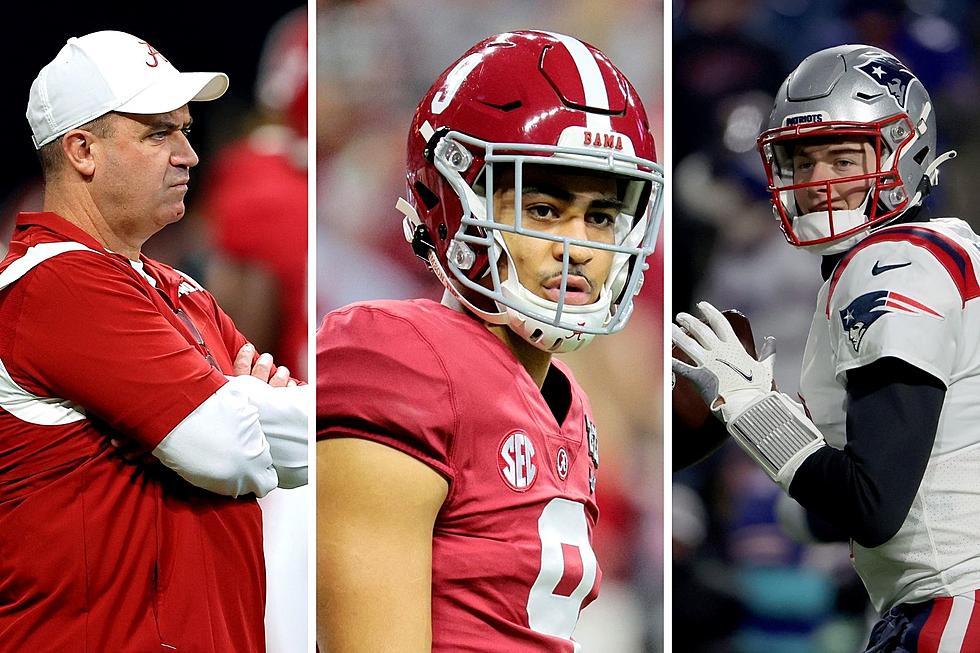 Result of O'Brien to Patriots Rumors Could Impact Jones & Young
Getty Images
The hottest rumor in the coaching carousel this week could have a huge impact on many Crimson Tide players both at the college and pro level.
New England Patriots longtime offensive coordinator Josh McDaniels is seemingly a favorite for the Las Vegas Raiders head coaching job. He is in Las Vegas and will have his official interview on Saturday, according to NFL Insider Ian Rapoport.
If McDaniels does indeed get his second shot at being a head coach during this cycle, the ripple effect could be felt all the way in Tuscaloosa. To little surprise, rumors have circulated that the first call Bill Belichick would likely make to replace McDaniels would be to his old friend and offensive coordinator Bill O'Brien.
The fit is natural. O'Brien is someone for who Belichick has a tremendous amount of respect. He served under Belichick in New England from 2007-2011, serving as the de-facto offensive coordinator from 2009 on, after McDaniels left the first time to take the head coaching job in Denver.
O'Brien was absolutely instrumental in developing the Patriots' revolutionary two tight end sets that bamboozled the league with a combination of Rob Gronkowski's freakish strength and athleticism as well as Aaron Hernandez's mystifying speed and ability after the catch.
It just so happens that the Patriots spent huge money on two tight ends last offseason in Hunter Henry and Jonnu Smith, but struggled greatly in getting them both involved, using two tight ends on just 18.6% of snaps this season, which ranked near the bottom of the league.
While coordinator turnover generally can stunt the growth of a young quarterback, O'Brien certainly has to be the best man for the job in terms of easing Mac Jones away from the playbook of Josh McDaniels. Not to mention O'Brien's familiarity with the offense Jones ran at Alabama.
Jones had the most success by far in a spread formation both in his rookie year and dating back to his days at Alabama, but McDaniels frequently insisted on six blockers and an outright refusal to institute any run-pass options, something he absolutely feasted on at Alabama. Here is an example:
Bringing in O'Brien could unlock new potential for Jones and a Patriots offense that appeared stale and extremely uncreative at times during Jones's rookie campaign. Whether that was an issue of play calling or personnel remains to be seen. But it cannot be denied that O'Brien would make the most sense to replace McDaniels.
For Bryce Young, on the other hand, this could be a little bit of a setback. Obviously, Alabama faces yearly turnover staffing and personnel-wise. This is not new. But losing all three of his top wide receivers to the draft along with his play-caller would certainly sting.
I am of the opinion however that if Josh McDaniels were to leave New England, between the two quarterbacks, Jones would benefit more from the services of O'Brien than Young.
Why? Young is simply a better quarterback and lifts the play of everyone around him more so than Jones is capable of doing.
Heading into his junior season and second year as a starter, Young will be just fine no matter what is around him. He is just that good. For Jones on the other hand, this is an absolutely critical season of NFL development, and he nor the Patriots can afford plays to be called by someone who is not up to the task.
Of course, all of this is pretty much for naught until McDaniels is hired to be the head coach of the Raiders, but every rumor points to that being very possible. If or when that does happen, O'Brien should be keeping his cell phone on him, and his ringer turned to maximum volume.
Alabama Crimson Tide All-Time Passing Leaders
The 2021 season is in the books and after Bryce Young's Heisman campaign, the all-time passing leaderboard requires an update.
2021 SEC Championship Game Alabama vs. Georgia
The Alabama Crimson Tide defeated the No. 1 ranked Georgia Bulldogs 41-24 to win the 2021 SEC Championship.