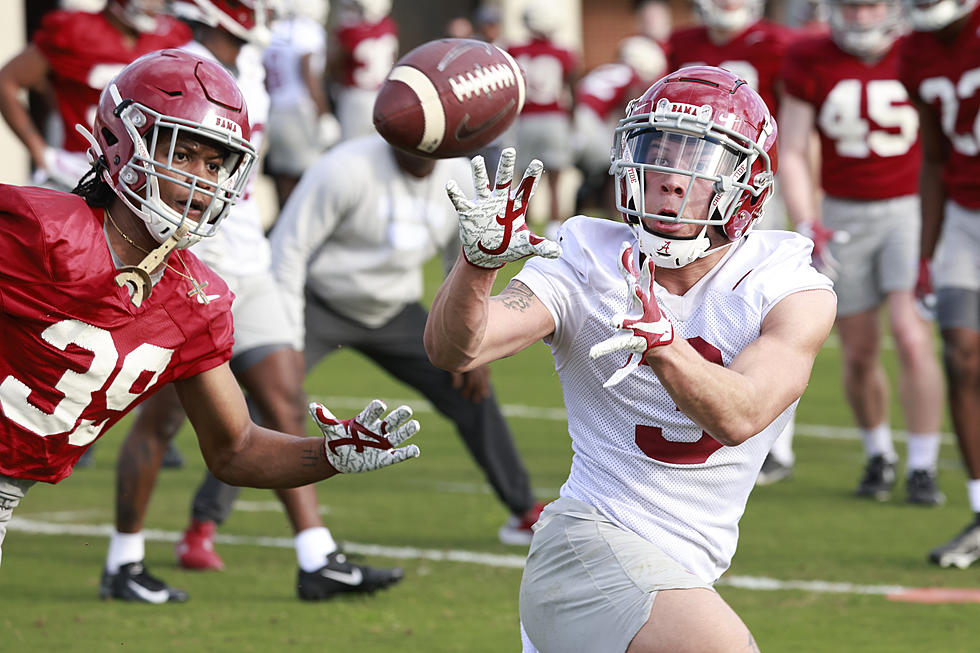 Saban Says Transfers Shined in Spring Practice
Crimson Tide Photos / UA Athletics
Alabama kicked off spring practice on Friday afternoon, starting one of 14 total practices prior to A-Day, which is five weeks away on Saturday, April 16, 2022 at 2 p.m. CST, according to the football press release.
Saban spoke to the media after the two hour long practice and sounded hopeful for the future of the program and players.
"Well first of all, we're really excited about the offseason program that we've had, the attitude that this team has sort of presented, the work that we were able to get done, the conditioning level that we're able to achieve with a lot of the guys. I think the commitment has been good," said Alabama head football coach Nick Saban.
Saban also mentioned how the new transfers looked in crimson and white for the first time.
"We also have three transfers, all of which I think will create a role on the team for themselves. They were all impressive out there today. I'm talking about older guys who have played in this league or in the ACC and I think those three guys will be very helpful for us," said Saban.
The transfers Saban mentioned are: wide receiver Jermaine Burton, cornerback Eli Ricks, and running back Jahmyr Gibbs.
Burton, a transfer from Georgia, has seen a good amount of time on the field, picking up 53 receptions for 901 yards, and 8 TDs during his two years in Athens, Ga. He knows Alabama well, as he saw time in the 2021 SEC championship and national championship, plus the regular season matchup in 2020. He has fast feet, easily getting a step ahead of his defenders, can out-run the opponent, and according to ESPN, ran a 4.43 40-yard dash in 2018.
Ricks, a transfer from LSU, grabbed 31 total tackles (20 solo, 11 assisted), defended six passes, picked off five throws for 113 yards, and two TDs in his two seasons in Baton Rouge, La. As a prospect in the class of 2020, Ricks ranked at No. 14 nationally, No. 2 in cornerbacks, and No. 2 in the state of Fla., in the 247 Sports Composite.
Gibbs, a transfer from Georgia Tech, attempted 232 rushes for 1,206 yards, and 8 TDs during his two seasons in Atlanta, Ga. He is a dual threat, with experience receiving as well. During his tenure with the Yellow Jackets, he grabbed 60 receptions for 773 yards, and 5 TDs.
According to the football press release, there will be no practice next week due to spring break, and will resume on Monday, March 21, 2022.
Sage Wisdom for the Alabama Football Team, Told in Fortune Cookies
Save your fortunes! They could help take the Alabama Crimson Tide to the 'ship.
Alabama Crimson Tide All-Time Passing Leaders
The 2021 season is in the books and after Bryce Young's Heisman campaign, the all-time passing leaderboard requires an update.
Top 10 States That Have Produced the Most NFL Players in History (Population/Per Capita)
Ever wondered how many NFL players the state of Alabama has produced compared to other states? Here you go!