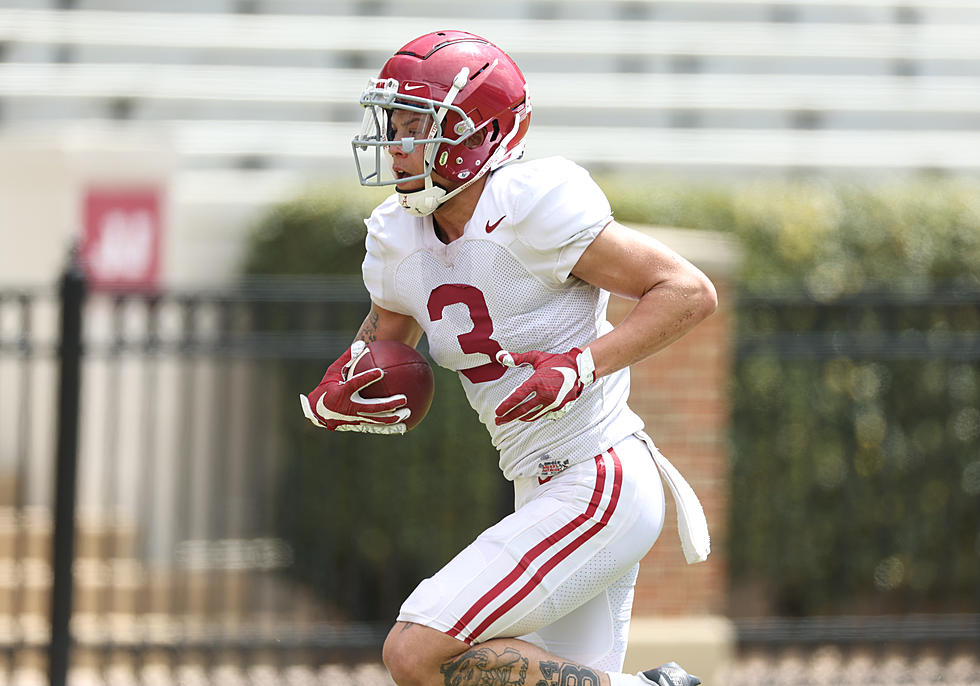 Saban Says Wide Receivers Show Lots of Promise
Crimson Tide Photos / UA Athletics
Alabama head coach Nick Saban spoke to the media on Saturday afternoon about how the team looks, just two weeks ahead of the annual A-Day Game. One major key: the wide receivers group.
"Jermaine Burton did a good job today. Little Aaron Anderson had a couple big plays. Did a nice job. Really good run after catch ability. Took a five-yard play and ran for 35, 40 yards with the first team defense. So, I think the receivers are coming along. Traeshon Holden has been pretty consistent all spring. Of course you know Ja'Corey Brooks is not out there, but the young guys seem to be getting better and better. JoJo, Leary, Thaiu Jones-Bell, they all seem to at times show a lot of promise in terms of what they can do," said Saban.
Burton, a transfer snag from Georgia has gotten multiple praises from Saban since joining the Crimson Tide. During his two seasons in Athens, Ga., he picked up 901 yards for eight touchdowns in the air, and saw four rush attempts for 50 yards. Burton knows Alabama well, as he saw time in the 2020 regular season matchup, 2021 SEC Championship and 2021 national championship games.
Aaron Anderson committed to the Tide back in October, and although he has yet to see a snap, he is already turning heads. Anderson ranked at No. 69 nationally, No. 8 in wide receivers, and No.6 in the state of Louisiana in ESPN 300's class of 2022.
Last season, Traeshon Holden played in 15 games, with 21 receptions for 239 yards, picking up one touchdown.
Ja'Corey Brooks has potential on multiple sides. First, as receiving. In 2021, Brooks had 15 receptions for 192 and 2 TDs. One of those scores was a crucial catch to help secure the 24-22 4OT win against Auburn in the 2021 Iron Bowl.
JoJo Earle is a dual threat on the receiving side. The sophomore from TX, saw time in 12 games in 2021, recording 12 receptions for 148 yards. He also has experience punt returning with 15 attempts for 88 yards. Earle saw limited time in the 2021 Goodyear Cotton Bowl and national championship due to an injury that kept him out three games prior.
Christian Leary and Thaiu Jones-Bell both saw action in multiple games last year that will help their experience and growth for the upcoming season.
Alabama's A-Day game is Saturday, April 16, 2022, at 2 p.m. CST. Admission is free.
Starting Alabama Quarterbacks Under Nick Saban
Here is every quarterback that has started for the Crimson Tide under Nick Saban.
Tuscaloosa's High School Football Programs
Here are some of the high school football programs located in or around the Druid City!
The 2021 Alabama Football Schedule in Photos