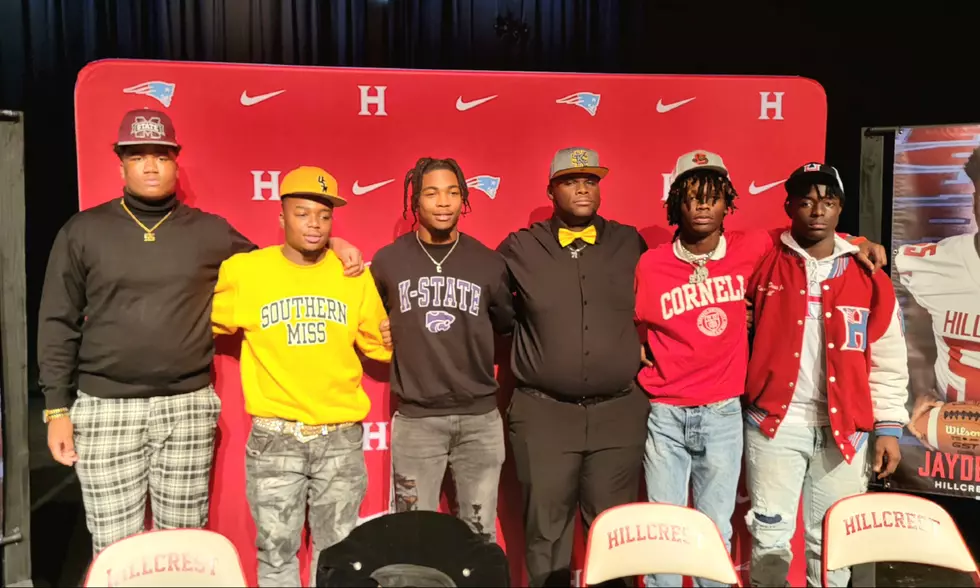 Six Hillcrest Football Players Signed NLI's
Jalen Prince
The fantastic adventure that six young men will undertake began Wednesday when the Hillcrest Patriots had six players sign their National Letter of Intent to play football at the collegiate level. The early National Signing Day was held at Hillcrest High School Auditorium where Patriots' Ethan Crawford, Braylon Howard, Corr'yon Watson, Jayden Hobson, and Kendrick Davis signed their NLI's to play college football. This was an incredible occasion for these guys to have in front of family, friends, and coaches.
ETHAN CRAWFORD: SOUTHERN MISS, QB
Quarterback Ethan Crawford signed his letter of intent to play for the University of Southern Mississippi. Crawford made an early commitment to the Golden Eagles in June. Throughout the process, he remained devoted to them and never doubted that this was the place he wanted to be.
"The way that me and Coach Hall connect on the first time I met him," Crawford said. "The relationship we had, and he had with my coach and the things he talked about us doing together. The pieces that he has down there, and he is the perfect person to put those pieces together and I was just the missing piece, I think.  I wanted to go down there and help any way I can."
COLLIN DUNN: KANSAS STATE, LB/DB
"The process was the atmosphere," Dunn said. "The fans love me on the first day and I didn't even have an offer there yet.  Fans wanted autographs, pictures, and everything. The coaching staffs' ways they could develop me and the abilities and players that are there."
JAYDEN HOBSON: MISSISSIPPI STATE UNIVERSITY, OL
Lineman Jayden Hobson will be close to home. He signed his letter of intent to play for Mississippi State in Starkville. The 6-foot-4, 285-pound lineman committed to the Bulldogs in November. Hobson is excited to play in the SEC, but he is even more excited that his family will be there to support him.
"It's wonderful," Hobson on being close to home. "Straight road there, 30 minutes away, it's great. The SEC it's where the big-time players are but it doesn't scare so I am ready for it."
CORR'YON WATSON: KENNESAW STATE UNIVERSITY, OL
Corr'yon Watson, another lineman, also signed his letter. Watson will attend Kennesaw State University. Watson only committed to the Owls a week ago, but all it took was one visit to a KSU camp and the rest is history.
"Ever since I met all the coaches, they liked me," Watson on his recruiting. "During the season they watched me all season, watched my film, and I went on a visit down there I loved it. The coaches gave me a full scholarship, so I told them I was there."
BRAYLON HOWARD: CORNELL UNIVERSITY, DB
Braylon Howard, a defensive back, is heading to the Ivey League to play for Cornell. Howard made his commitment to the Big Red Bears in early November. For him, signing with Cornell was about obtaining a degree from the Ivy League rather than football.
"It was about life after football," Howard on going to Cornell. "A lot of people can say that have a degree, but a lot of people can't say they can get an Ivy League degree, so this moment is real special to me."
KENDRICK DAVIS: UNIVERSITY OF NORTH ALABAMA, LB
Kendrick Davis, the last of the Hillcrest six to sign an NLI, will attend the University of North Alabama. In August, the 5-foot-11, 221-pound linebacker committed to UNA. Davis remained devoted to the Lions despite Coach Chris Willis' departure. UNA's new coach, Brent Dearmon, reassured Davis that he is still wanted in Florence.
"I had committed with them at first and Coach Willis was the head coach then they let him go," said Davis. "When coach Dearmon came, he called me and said my offer is still there, so I loved it event."
The Hillcrest community is extremely proud of these young men, and it was a proud time for all of the families and coaches. No coach was more thrilled than Hillcrest head football coach Jamie Mitchell. Coach Mitchell joined Hillcrest two seasons ago and seeing some of his players on that platform at that time meant a lot to him.
"Each one of these guys have a different story," said coach Mitchell. "The biggest thing that stands out about them is their talent level.  They help us reach some heights that will be hard press to continue but they all are outstanding kids. Their paths are going to take them so many different places across the US. So excited to see how they all pan out and I know they will do great things to represent our program."
Getting to the next level is difficult. Few people ever get the chance to see numerous athletes succeed, have the potential to further their careers, and have the ability to significantly impact so many of their family's lives. The families are proud of these young men, coaches are proud to have coached them and watched them grow and Tuscaloosa area residents are never tired of hearing about young people who will go on to achieve great things in their life.
Iconic Photos From Alabama's 18 National Championships
Claimed or recognized, no FBS football program has more national championships than the Tide. Look back on all 18 titles in Alabama history with these photos.
Lies Auburn Fans Tell Themselves About Bama Football
Crimson Tide Class of 2023 Commits
A look at all Alabama commits from the class of 2023.