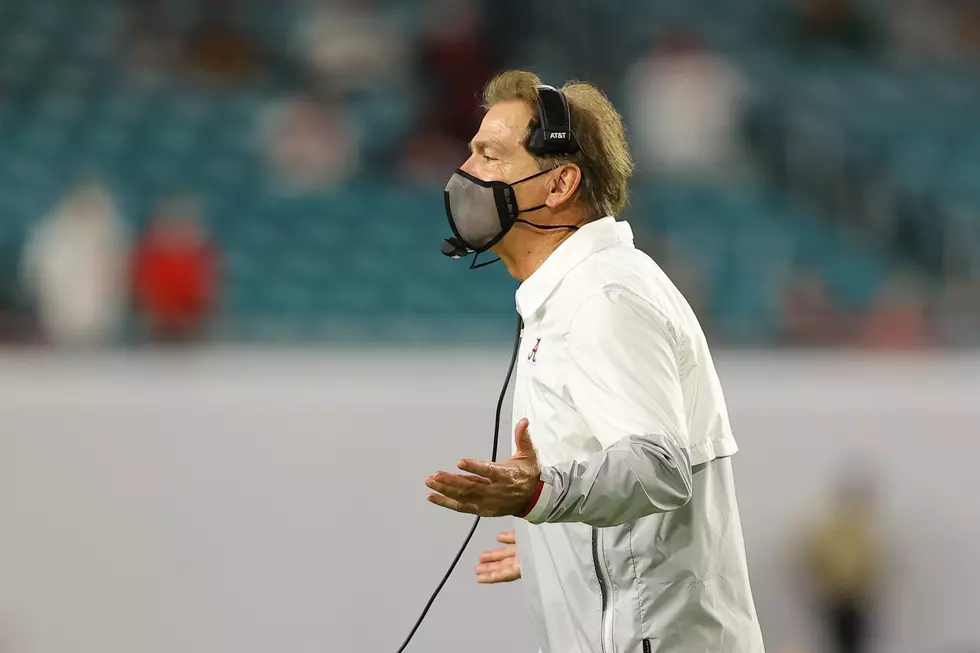 The "Nick Saban Rule" Could Be Coming to an End This Week
Getty Images
This week could mark the end of the "Nick Saban rule". The rule prevents head coaches from leaving campus and going on the road during the spring evaluation period. Discussions will continue this week at the NCAA council meetings.
Coaches were allowed to talk to high school coaches and teachers about potential recruits. They were not allowed to speak with recruits, but there was a belief at the time that some coaches were bending the rules by arranging "coincidental" path-crossings with players. As a result, the "Nick Saban rule" was created in 2008. The rule confining head coaches to their offices could be coming to an end this week allowing Saban and the rest of CFB's head coaches the ability to hit road.
"A lot of guys don't like to recruit. They see it as a necessary evil," Saban said at the time. "I like the relationships with the players, with the coaches. I like watching football practice."
Coach Saban's 2008 recruiting class essentially started the greatest dynasty in college football history. A class that featured Julio Jones, Mark Barron, Mark Ingram, Barrett Jones, Courtney Upshaw, Dont'a Hightower, Terrence Cody and Marcell Dareus.
The rule has certainly not slowed down Saban, he has won six national championships and brought in a number of top ranked recruiting class during his time in Tuscaloosa.
The Crimson Tide brought in the highest-rated class ever according to 247Sports ever in the 2021 recruiting cycle, so it might be time for the NCAA to dump it entirely.
As college football's 13-month recruiting dead period comes to end on June 1, coaches will once again allowed to meet with recruits and evaluate talent in-person.
CHECK IT OUT: See the 100 most popular brands in America