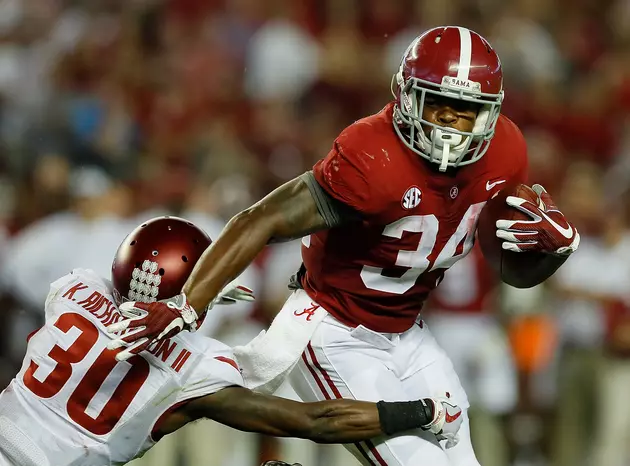 3 Takeaways from Alabama's Win over Arkansas
Getty Images
The Alabama Crimson Tide continues to roll through the competition in the SEC as they defeated the Arkansas Razorbacks 41-9.
Despite turnovers and a slow second quarter, the Crimson Tide on the defensive side of the football held the Razorbacks to just nine points and the Crimson Tide get their 11th straight win over the Razorbacks.
Here are three takeaways from Alabama's homecoming victory over the Razorbacks this past weekend:
Jalen Hurts isn't the throw for 300 yards quarterback
We've seen seven games from quarterback Jalen Hurts in his sophomore campaign, and although there has been improvement in some aspects of this game, throwing the ball down field isn't going to be a part of the game plan, and for good reason. Hurts is one of the most threatening dual-threat quarterbacks in the country, but he still shows some inability to get the ball to his receivers. This doesn't mean he's a bad quarterback, we are talking about a guy who's only loss one game as a starting quarterback, but if you are one of those critics who think Hurts is going to throw for 300 plus every game with 20-30 completions that just won't be the case. Similar to Florida under Tim Tebow, who also struggled as a passer, Hurts has enough weapons and a ton of talent around him to still get the job done and take the Crimson Tide back to another championship game. Just don't expect him to be Tom Brady or Aaron Rodgers over night. If it ain't broke don't fix it and how he's playing now is fine because he's still winning.
The defense ability to stop the run will be a difference maker
The Crimson Tide defense continues to do a great job stopping the run this season. The most rushing yards they've giving up this season was against the Colorado State Rams where they rushed for 144, but despite that disappointing performance they've held the rest of there opponents under 100 yards per game. This is against some talented run games including Vanderbilt's Ralph Webb and Texas A&M run core. They continue in this game holding Arkansas to 27 yards rushing, the least amount they've allowed this season. This will play a big factor moving forward considering they are going up against two talented backs in upcoming games. John Kelly for Tennessee who has rushed for 552 yards and six touchdowns and Derrius Guice for LSU who has rushed for 435 yards and five touchdowns. Both teams have struggling quarterbacks so the offense rely heavily on these two backs, but the way Alabama has been stopping the run, these next two games could be a breeze for the Crimson Tide.
Need to limit those turnovers and get that streak started again
Both the Crimson Tide and Jalen Hurts had a streak going to where they didn't commit a turnover. Last week that ended with a fumble by Robert Foster, this week Henry Ruggs and Trevon Diggs fumbled on punt returns, with Ruggs losing one, and Hurts threw a interception. If Alabama wants to continue their winning streak this season, they will have to go back to the forgotten turnover streak and get back to playing clean football. They've had fumbling issues in the past, and luckily most of them still worked in Alabama's favor, but with the competition in the conference getting tougher, those plays could make a difference between a win or a tough loss.