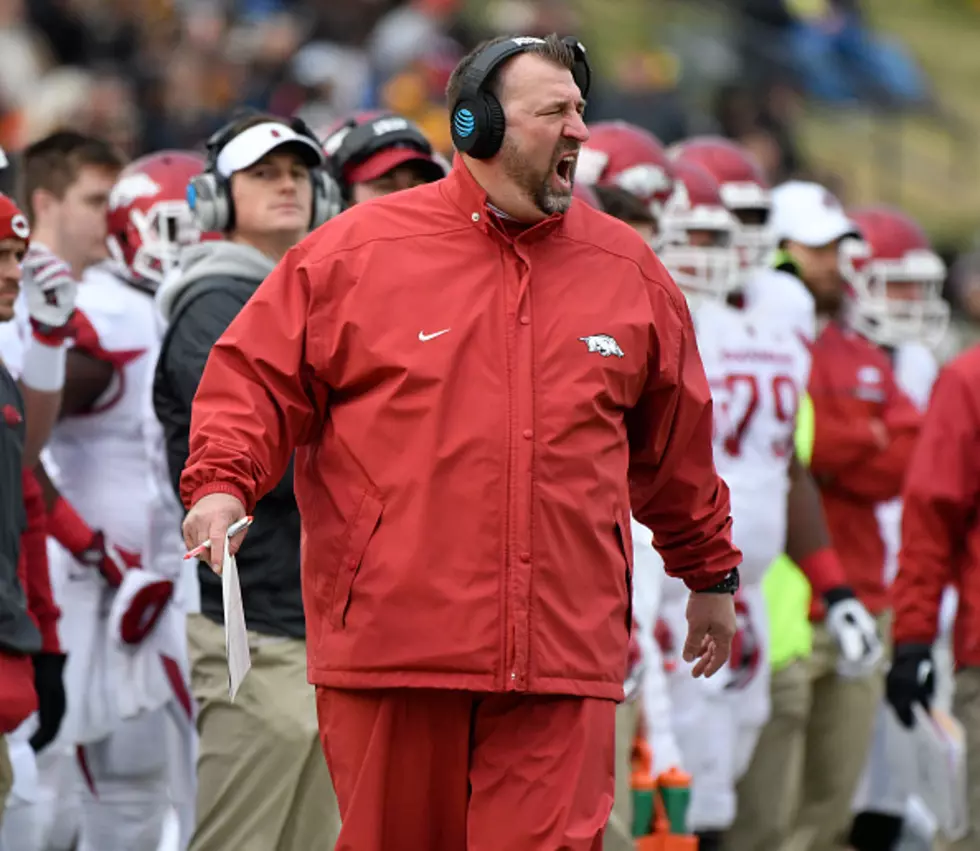 Three Things You Need to Know about Arkansas
Getty Images
A special weekend is around the corner for the Alabama faithful as the Crimson Tide football team returns to Bryant-Denny Stadium for homecoming against the Arkansas Razorbacks.
Since Nick Saban's arrival in 2007, Alabama has won all 10 meetings against Arkansas including last season's 49-30 victory in Fayetteville.
While Alabama surges into homecoming with a 6-0 record, Arkansas is limping into the game at 2-3 including back-to-back losses in SEC play.
The Crimson Tide leads the all-time series 19-8 (20-7 on the field) and has won six straight contests against the Razorbacks in Tuscaloosa.
Prior to Saturday's contest, check out three things you need to know about the Arkansas Razorbacks.
Futility vs. SEC Competition Since 2012
During the last two seasons of Bobby Petrino's four-year run in Fayetteville, Arkansas posted conference records of 6-2 in both 2010 and 2011.
Since Petrino's dismissal before the 2012 season, Arkansas has won more than four SEC games in a season once. In fact, their 5-3 conference mark in 2015 is the only time that they have exceeded three conference wins under John L. Smith or Bret Bielema.
Under his leadership, the Razorbacks have a record of 10-24 against SEC teams.
Arkansas' main concern entering Saturday night's game is on defense. After holding Florida A&M to 175 total yards in their season opening win, the Razorbacks have given up an average of 393.8 yards per game over their last four games including an average of 162.5 yards per game allowed on the ground.
Over their last four games, opponents have scored 37.5 points per game on Arkansas including a 50-point effort by Texas A&M and 48 points last week by South Carolina.
In last season's 49-30 loss to Alabama, Arkansas surrendered 264 of their 517 total yards allowed on the ground.
Juco Transfer Receiver Jonathan Nance
Despite Arkansas' early season struggles, one newcomer has been a huge bright spot.
Junior college transfer Jonathan Nance is making his impact on the Razorbacks with outstanding play at wide receiver. Nance is tied for first in the SEC with five touchdown receptions and ranks in the top ten in receptions (23), receiving yards (374), receiving yards per game (74.8) and first down receptions (12).
Concerning big plays, Nance has converted 17 of his 23 receptions into either first downs or touchdowns.