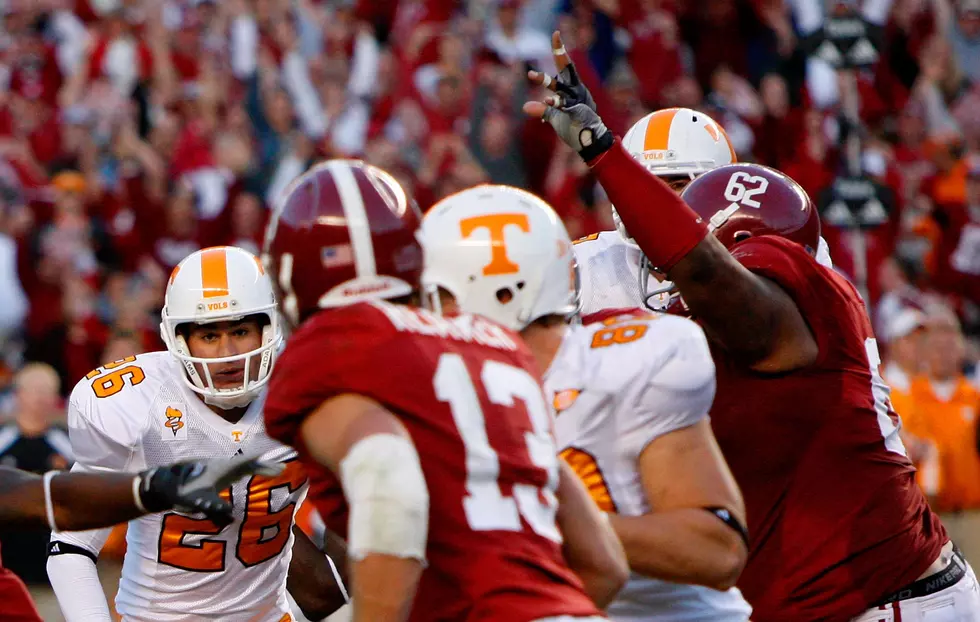 Tide 100.9 Score Predictions: Alabama vs Tennessee
Photo by Kevin C. Cox/Getty Images
It's payback time for Alabama this Saturday. The Crimson Tide faces off against Tennessee after last year's close game.
Here are the score predictions from our Tide 100.9 show hosts and producers.
The Martin Houston Show
Martin Houston: Alabama 31 - Tennessee 20
Xavier Houston: Alabama 38 - Tennessee 21
"Alabama takes another big win."
- Martin Houston
"Alabama dominates and comes out on top."
- Xavier Houston
Inside the Locker Room
Wimp Sanderson: Alabama 23 - Tennessee 20
Barry Sanderson: Alabama 27 - Tennessee 24
The Gary Harris Show
Gary Harris: Alabama 27 - Tennessee 17
"This game won't resemble last year's game in style or outcome. Bama's defense comes up big! The Tide gets payback for last year's demoralizing 52-49 loss in Knoxville. "
The Millers' Edge
Christian Miller: Alabama 24 - Tennessee 17
Corey Miller: Alabama 31 - Tennessee 20
Big Noon Sports
Lars Anderson: Alabama 34 - Tennessee 31
Matt Coulter: Alabama 27 - Tennessee 20
The Game
Ryan Fowler: Alabama 28 - Tennessee 20
Predictions from the Tide 100.9 Producers
Simon Besnoy: Alabama 27 - Tennessee 17
Justin Jones: Alabama 29 - Tennessee 23
Wyatt Fulton: Alabama 28 - Tennessee 24
Noah Haynes: Tennessee 21 - Alabama 20
Mason Woods: Tennessee 20 - Alabama 16
"Offensive line is going to need its best game. Milroe has to stay upright and make his throws. Run game needs to step it up, defense has to have a day."
- Wyatt
Top 10 States That Have Produced the Most NFL Players in History (Population/Per Capita)
Ever wondered how many NFL players the state of Alabama has produced compared to other states? Here you go!
Gallery Credit: Mary K
The 6 Alabama Crimson Tide Bowl Logos ranked!
Highest Rated Recruits in Bama Hoops History
Take a look at the highest rated recruits to play for Alabama since 2000 according to 247Sports.
Gallery Credit: Jacob Harrison