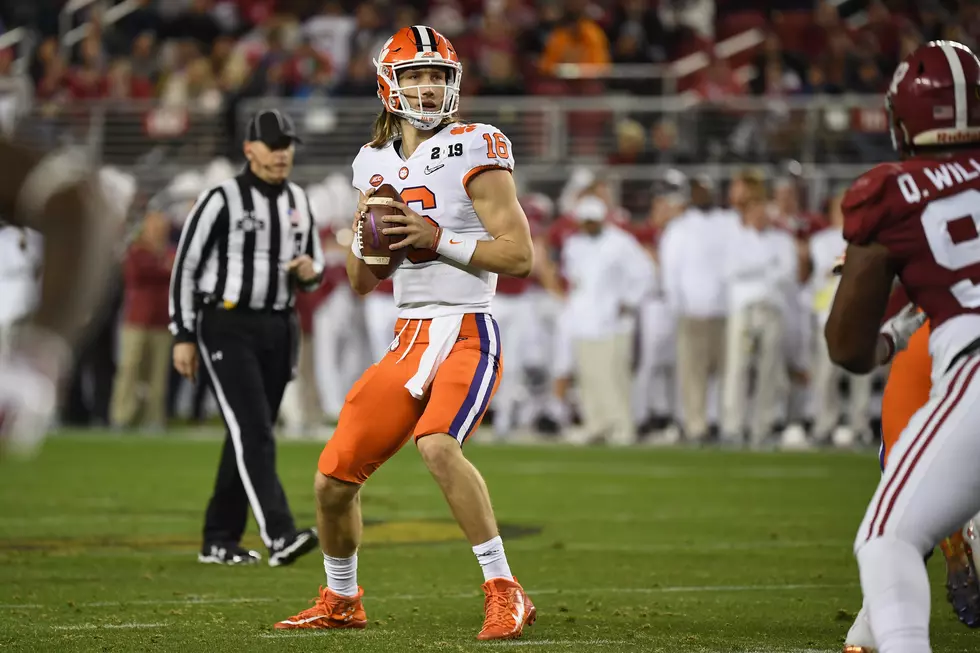 Trevor Lawrence Tests Positive For COVID-19
Getty Images
Clemson star and Heisman frontrunner Trevor Lawrence has tested positive for COVID-19 and will miss the Tigers' upcoming matchup with Boston College, Head Coach Dabo Swinney announced Thursday.
"Trevor has authorized us this evening to announce that he has tested positive for COVID-19 and is now in isolation," Swinney said. "He is doing well with mild symptoms but will not be available for this week's game against Boston College."
The ACC Medical Advisory Board's COVID-19 protocols require any person that tests positive to isolate for at least ten days before they can return to practice, meaning Lawrence could potentially be unavailable for Clemson's bout with No. 4 Notre Dame next Saturday.
In his career at Clemson, Lawrence has only missed playing time once back in 2018 when he was knocked out of a game against Syracuse.  Backup quarterback Chase Brice came in for Lawrence and played well enough for Clemson to come from behind in the fourth quarter and win.  Unfortunately for the Tigers, Brice transferred this offseason and took the starting job at Duke, leaving the Tigers with true freshman D.J. Uiagalelei.
While Uiagalelei is a very promising former five-star recruit, he has very little meaningful experience this season. The young quarterback has seen time in five games, completing 12-of-19 passes for 102 yards.
This season, Lawrence has played lights-out for the Tigers, passing for over 1,800 yards and 17 touchdowns.  With Lawrence being a frontrunner for the Heisman, missing two games could severely hurt his chances at winning the coveted trophy. Many around the country felt the third-year quarterback was a shoo-in for the award this year, but with potentially missing two games, one of which will be Clemson's most important game of the regular season, will Lawrence still be in the running to hoist the trophy at the end of the year?