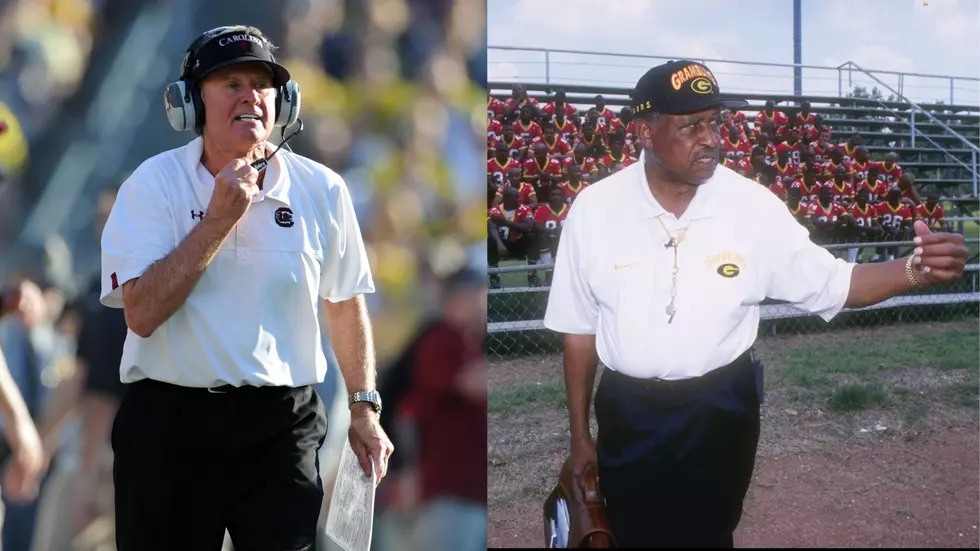 Two Trailblazing Coaches Win the First Nick Saban Legacy Award
Photo Courtesy of Getty Images and Canva
Coach Steve Spurrier and the late coach Eddie Robinson accepted the Nick Saban Legacy Award on Monday evening, presented by the Monday Morning Quarterback Club.
According to SportsBusinessJournal, "The award will be presented by Saban to a coach who has made wide-ranging contributions to the game, from player and coach development to charitable contributions, many of the same attributes Saban, a seven-time national champion, has brought to coaching."
Coach Steve Spurrier has made a significant mark in the college football world both as a player and coach. The 1966 Heisman trophy winner was a two-time All American and SEC Player of the Year in 1966, leading the Gators to a 9-2 season and winning the 1967 Orange Bowl.
His coaching history dates back to the late 1980s, coaching the Duke Blue Devils and winning ACC Coach of the year back-to-back. He became the head coach of the Florida Gators from 1990-2001, a five-time SEC Coach of the Year winner, a six-time SEC champion, and a national champion. He finished his Gators career with a 122-27 record. From 2005-15, Spurrier coached at South Carolina. He finished with an 86-49 record and won two more Coach of the Year awards.
Coach Eddie Robinson coached at Grambling State for 56 years and finished his career with a 408-165-15 record, the third-most wins of all-time. He won nine black college national championships, along with 17 Southwestern Athletic Conference (SWAC) championships.
According to the MMQBC website, "The purpose of the club is to support children's medical needs through the club's charitable arm, Quarterbacking Children's Health Foundation."
This is the first year of the award.
Nick Saban's Coaching Tree: Where Are They Now?
Crimson Tide's NFL Draft First-Rounders During Saban's Tenure
Take a look back on the Crimson Tide's first round selections under head coach Nick Saban.