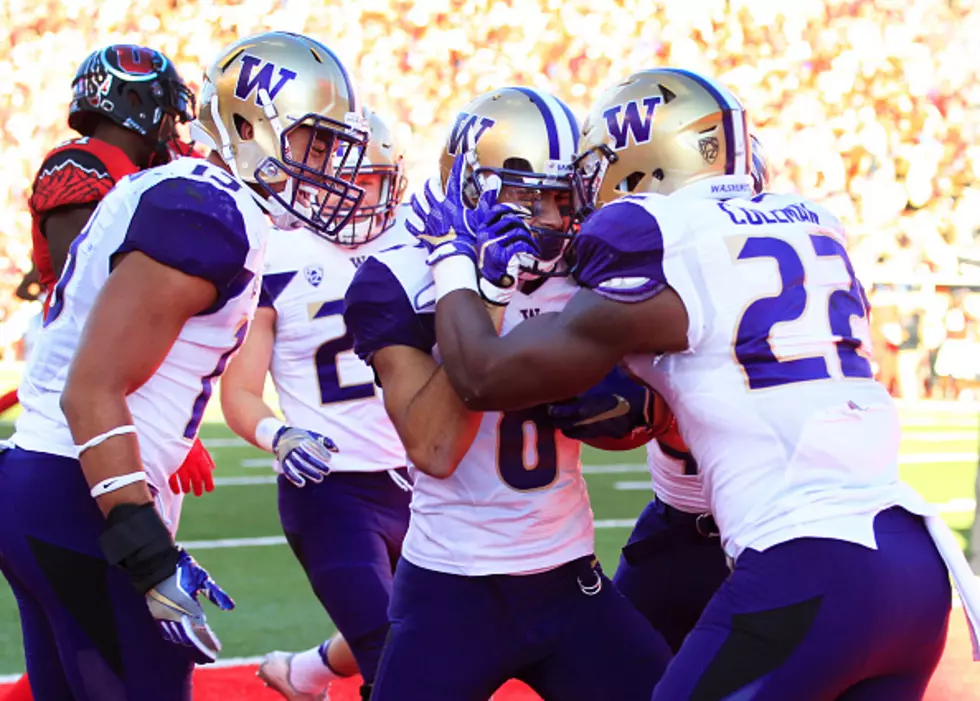 3 CFB Teams On Upset Alert in Week 10
(Photo by George Frey/Getty Images)
Now more than ever, college football fans should expect the unexpected. As the season begins to draw to a close, many teams are searching for just one big win to define their season.
The amount of close calls and upsets in week nine is testament to this revelation. Just in case you missed any of the action, here is what you missed:
South Florida scored 28 points in the first quarter, and #22 Navy never recovered as the Bulls pulled out a 52-45 win.
A late touchdown pass helped #5 Louisville survive an upset bid from Virginia as the Cardinals won, 32-25.
#6 Ohio State entered the fourth quarter tied with Northwestern. However, the Buckeyes managed to win 24-20.
A game winning field goal helped Texas give #8 Baylor its first loss of the season.
Oklahoma State also gave a BIG 12 conference foe their first loss of the season as the Cowboys beat West Virginia, 37-20.
Wyoming took a firm hold of the Mountain West by upsetting Boise State, 30-28.
#18 Tennessee's season took a turn for the worst after losing to South Carolina, 24-21.
This week has the potential for just as many upsets and close calls. For the reader's benefit, we will break down the three teams that are most likely to struggle against an underdog.
**All stats are courtesy of cfbstats.com**
#8 Wisconsin at Northwestern

Line: Wisconsin -7.0

Wisconsin is riding high after handing Nebraska its first loss of the season last week. The Badgers did so in an old fashioned slugfest. Now they are tasked with remaining focused on the task at hand and taking care of Northwestern.

Taking care of the Wildcats may not be so easy. After all, Northwestern nearly defeated Ohio State on the road. The Wildcats' defense stepped up big time in the upset bid. The Buckeyes have one of the best offenses in the BIG 10, but they could not get anything going against the Wildcats. With Wisconsin being ranked 11th in the conference in total offense, Northwestern has a much better chance of pulling off the upset this week.

(Photo by Jamie Sabau/Getty Images)

(Photo by Jamie Sabau/Getty Images)

Iowa certainly has seen its fair share of upsets including a loss to North Dakota State earlier this season. Now the Hawkeyes are trying to pull an upset of their own. Iowa will need to take advantage of controlling the clock and slowing down Penn State's offense.

Of course, the Nittany Lions will not go down easily at home. However, the excitement that comes when you beat a team like Ohio State may make a team a little bit to cocky for a lack of a better word. Having said that, Penn State may also be motivated to play ever better. It will just be a difficult task to pull off against an Iowa squad that is out for blood.

(Photo by Matthew Holst/Getty Images)

(Photo by Matthew Holst/Getty Images)

#5 Washington at California

9:30 pm CT on ESPN

Washington has to be pretty upset that they did not make it into the top four in the initial College Football Playoff rankings. That may cause the Huskies to go out and try to dominate every opponent that they play. That still does not take away from the fact that they have a huge target on their back.

California certainly will need to establish a much better defense if they want to upset Washington. The Golden Bears will need to force a few turnovers, but they do have a passing threat unlike any other that Washington has seen. If they can successfully score against this stingy Washington defense then that will be over half the battle as they try to pull off the monster upset.

Icon Sportswire via Getty Images

Icon Sportswire via Getty Images