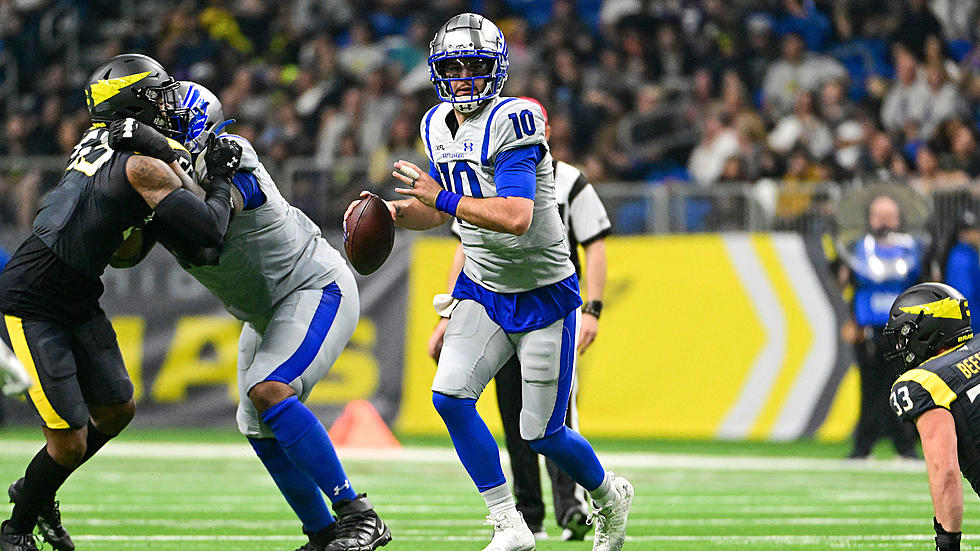 AJ McCarron Delivers Emotional Postgame Speech After Week 2 Win
Photo courtesy of @XFL2023 via Twitter.
AJ McCarron made his return to the world of professional football as a starter for the St. Louis BattleHawks under the XFL. McCarron led the team to a comeback victory against the San Antonio Brahmas in week 1 and shared a heartfelt moment with his family after the game.
Week 2 saw the BattleHawks take on the Seattle Sea Dragons in another nail-biting contest with McCarron once again, helping his team achieve a comeback win by leading a drive that set up the game-winning field goal.
After the game, McCarron was asked what he would tell his family about times like this in his career.
"You know, ever since I came out of college, I've been kind of counted out a little bit, and it's just fun to come out here and play. I miss playing, not always just being a backup. That's a great living, it really is and I absolutely love it, but I love playing. This is special and I can't thank the XFL enough."
XFL co-owner, Dwayne Johnson took to Twitter to congratulate McCarron.
Johnson also tweeted about how much it means to him to see people like McCarron playing again.
Alabama vs South Carolina Men's Basketball
Alabama Crimson Tide in Super Bowl LVII
Here are the best shots of former Tide stars Jalen Hurts, Landon Dickerson, Devonta Smith, and Josh Jobe in Super Bowl LVII. All four men played for the Philadelphia Eagles, who came up just short in one of the most competitive Super Bowls of all time, falling to the Kansas City Chiefs 38-35 in the waning seconds of the game.
Alabama vs South Carolina Men's Basketball