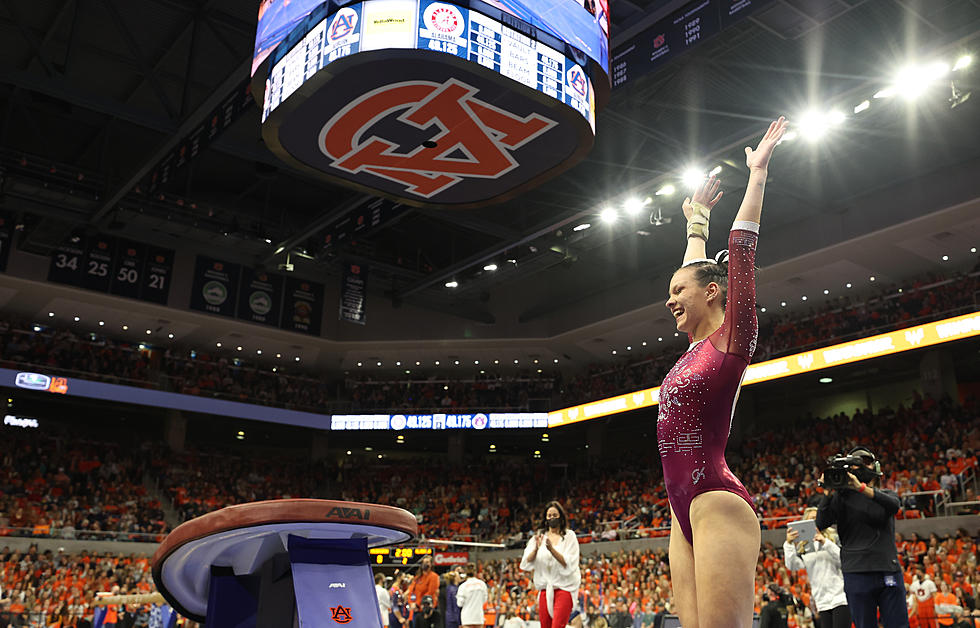 Alabama Comes Up Short in Gymnastics Iron Bowl
Crimson Tide Photos / UA Athletics
While the Crimson Tide didn't walk away from Auburn with the victory, the team did finish with five 9.900+ on arguably the hardest event in gymnastics, the balance beam.
Ella Burgess led Alabama off with a 9.900. Makarri Doggette had a significant balance break after Burgess and scored a 9.700. The next three gymnast who followed Doggette– Lexi Graber, Mati Waligora, and Lilly Hudson– all scored a 9.925. Luisa Blanco finished the beam rotation and competition with a 9.975.
Alabama Head Coach Dana Duckworth said one of her goals this season was to see all six girls competing on beam score a 9.900 or higher in the same meet because she knew that they were all capable of it. They came pretty close to hitting their goal in only the fourth meet of the season.
Another one of Coach Duckworth's points of emphasis were sticking their landings. This is a goal that the team needs to continue working on because not sticking their landings on the uneven bars and vaults hurt the Tide because Auburn stuck nearly every bar landing and had minimal mistakes on vault.
The Crimson Tide knew they would need to have a close to perfect routine, but they got off to a slow start on the uneven bars.
"We didn't get off to the start we wanted to tonight. We wanted to come in and handle the chaos, but I felt like we held back on the first two rotations," said Duckworth.
Hudson started Bama off on the uneven bars with a 9.775 which in gymnastics, a 9.800 or better is considered a good score. Waligora followed Hudson with a 9.800; however, Auburn's Sophia Groth scored a 9.850 which put the Tigers in the lead, and they never looked back.
Doggette had an uncharacteristic night on bars when her foot hit the mat on a transition to the low bar resulting in a 9.425. Blanco closed the lead on Auburn slightly when she was the anchor on bars and scored a 9.925.
The Tide hoped to put the disappointing uneven bar performance behind them, but their vaults were not nearly as good as they were against the Kentucky Wildcats. Shallon Olsen was the only Alabama vaulter to score a 9.900 or higher. Bama had three vaults score below a 9.800; however, they did upgrade their vaults and competed all 10.0 start-value vaults this week.
Blanco had a somewhat quiet day besides her high beam score. She had a shoulder surgery done after last season ended. Duckworth wanted to ease her back into competition which is why she hadn't competed on vault the past three meets. Her season vaulting debut didn't go as planned. She under-rotated her 1.5 yurchenko and fell resulting in a score of 9.275.
Even though the outcome wasn't what Alabama wanted or expected, they will take their strengths and weaknesses into next week's meet against Western Michigan and UNC.  Coach Duckworth says she is proud of the way her team fought against the Tigers.
"To compete like that– whee we were aggressive, strong and showed great composure in this kind of environment– is what makes a championship team. We will use these lessons to make us better and to move forward."
The Tide will host their second home meet of the season on Feb. 4 at 7:30 p.m. and the theme is capes and crowns. It will also be broadcasted on the SEC Network.
The 10 Greatest College Football Rivalries
10 Most Dangerous Animals in Alabama
The state of Alabama is known for many things, such as college football and southern hospitality, but it is also home to some not-so-friendly critters. This is a list of some of the most dangerous animals in random order.
Tiny House Paradise located Riverside in Fosters, Alabama
Fall in Love on the River at this Foster, Alabama Tiny House