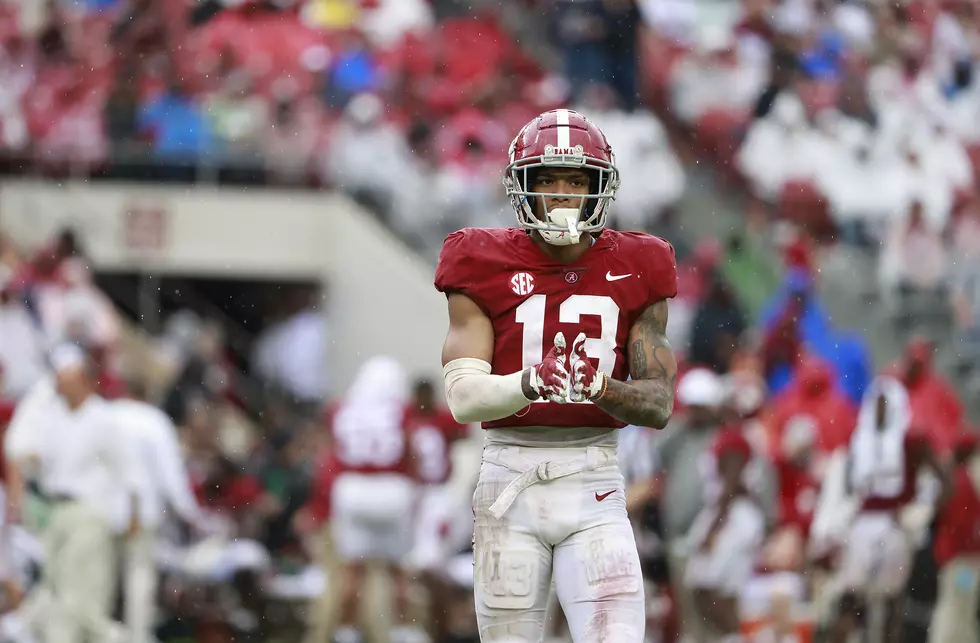 Alabama Defensive Back Clearly Putting In Work In Offseason
Crimson Tide Photos / UA Athletics
The Alabama Crimson Tide is 50 Days away from kicking off against Utah State to open the college football season. The Tide is expected to field one of its fiercest defenses in the Nick Saban era in 2022 and one of the defensive backs looks ready to make his mark on the Alabama defense.
Junior defensive back Malachi Moore was recently photographed speaking to a group and he appears to be prepared for the upcoming campaign. Moore has clearly been putting in work in the weight room over the offseason, he looks like he's capable of imposing his will on opposing ball carriers.
The former Hewitt-Trussville Husky is listed at 6-foot, 190 pounds but he surely is pushing the limit of 200 pounds now as his biceps, shoulders and pectoral muscles are bulging through his shirt.
Moore started at Star in the first 11 games of his freshman year before a hamstring injury hindered his playing time. The Freshman All-American earned an offseason NIL deal with Milo's Tea and played in all 15 games in his sophomore year but Brian Branch replaced him as a starter due to a lingering back injury that Moore battled through.
He's tallied 61 total tackles, defended 11 passes, intercepted four balls, forced one fumble, and recovered another with one defensive touchdown through two seasons with the Crimson Tide.
It is ultimately up to Saban whether Brian Branch or Malachi Moore end up starting in the secondary this year but one thing is apparent, Moore has certainly taken the offseason seriously.
Perhaps he's made the switch from sweet to unsweet tea?
Alabama Football Eats Steak and Beans After A-Day
The Alabama Crimson Tide celebrates the end of spring practice with the annual Steak and Beans dinner. Team White enjoyed a nice steak dinner while Team Crimson was relegated to beanie weenies.
The Top 10 Hottest Alabama Players from the 2021 Season
Alabama has seen its fair share of smoke shows and the 2021 team is no exception. We look back on the season and rank our top 10 hottest players; some we will see next year, and others we will mourn not seeing in Crimson again.
Crimson Tide Will Anderson Jr. 90s Playlist
Here are some songs that we think Alabama Crimson Tide player Will Anderson Jr. should add to his playlist, or better yet, he should just listen live on the free WTUG app.